SDI Productions / iStock
Founded in 1971, social service outreach organization Crossroads of Michigan is on a mission "to care for any person in need." The Detroit-based nonprofit serves 15,000 low-income or unhoused residents each year, and in 2021 alone, it distributed over 190,000 pounds of food, as well as medical supplies, clothing, and monetary assistance. But due to often limited resources, there is only so much that traditional case management — the process for helping those in need through assessment, communication, education, advocacy, and free community resources — can achieve. For the people who work at Crossroads, though, there is no cap on caring.
Faced with frustration when they were unable to fully meet certain clients' needs at work, staff members often turned their lunch breaks into brainstorming sessions, determining how else they could help on their own. When Executive Director Bill Sullivan, who assumed his role seven months ago, saw what was happening, he had an idea. To "test this caring power," he enlisted every single employee — from social workers to the bookkeeper, custodian, and the soup kitchen director — onto a team he calls "the village."
Courtesy Crossroads of Michigan
The plan was to get creative, to help one client at a time achieve their stability goals, and to do so by having employees donate their own time, money, skills, and anything else they could offer.
"The cool thing about caring power, and the village in particular, is that we are not asking more of our staff," Sullivan told Nice News. "Instead, we are saying that we believe in them and the power of care that lies within them."
The lack of hierarchy within the village, as opposed to how the nonprofit traditionally operates, allows people to feel comfortable giving what they can, when they can, as all donations are unnamed. "Someone who donates a car is no more relevant to caring power than the person who sits and listens to the client to let them feel loved and cared for," said Sullivan.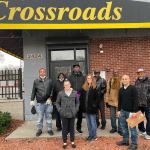 Courtesy Crossroads of Michigan
The results have been a success. The first person to benefit from the pilot program was an unhoused man whose car had been stolen — along with his food, medication, clothing, and driver's license. Within just three weeks, the village provided him with a car and an apartment, therapy to deal with his depression, and budget and credit counseling. To achieve that, the village members not only took it upon themselves, but reached out to others in their personal lives to join in the cause.
For Sullivan, the power of caring that he was eager to test is clear and has lasting effects — not just on the people who benefit from donations, but also on the ones doing the donating.
RELATED: Women in Addiction Recovery Find Healing in Creating Through Nonprofit Unshattered: Exclusive
"Caring with absolute permission to connect to your best self, with few or any limits, can result in an understanding of ourselves, who we are, and how worthy we actually are [and that] can be personally transformative," he said. "Systems and resources for nonprofits can be fragile, but caring power is mighty because it is limitless and provides purpose — something we all strive to achieve within our lives. Many call this love."
If you'd like to help Crossroads and the village, donations can be made here.