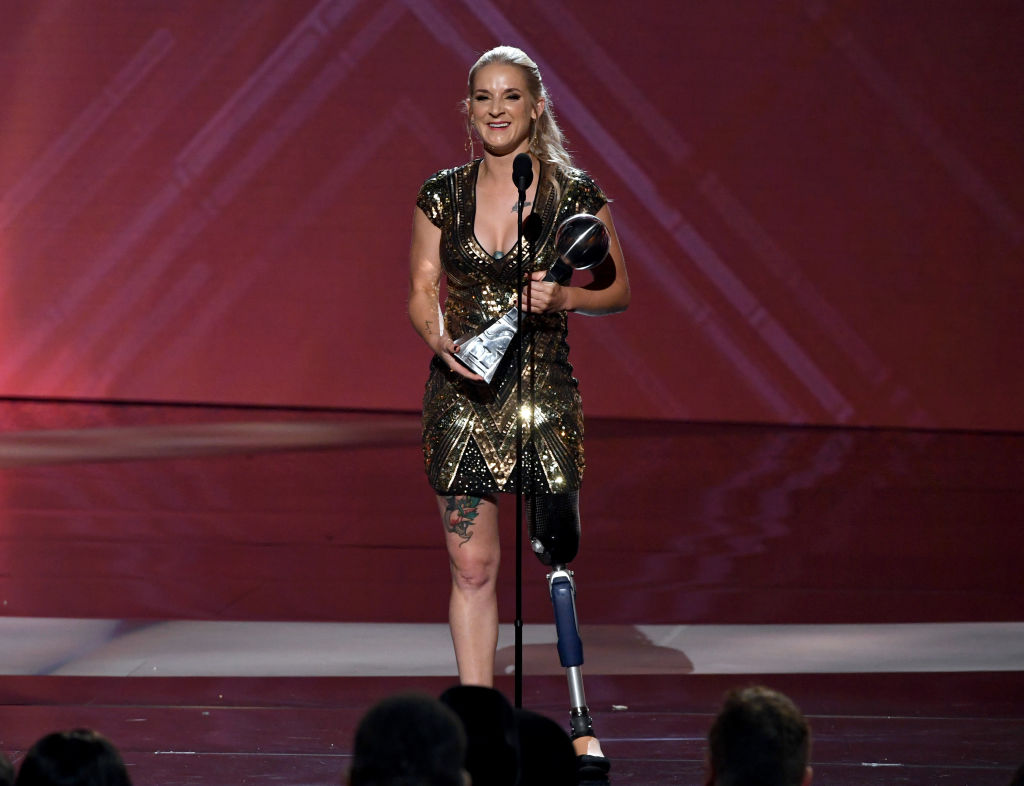 Kevin Winter / Getty Images
Looking at a timeline of Kirstie Ennis' life, it's clear that to call her a go-getter would be a considerable understatement. The 31-year-old has completed three master's degrees, worked as a Hollywood stuntwoman, earned a real estate license, walked 1,000 miles across England, and climbed six of the world's tallest mountains. And if that wasn't impressive enough, she accomplished it all after a tragic accident that resulted in the loss of one of her legs.
The former U.S. Marine sergeant — she enlisted at just 17 years old — was riding in a helicopter above Afghanistan in 2012 when the aircraft went down, a crash that nearly killed her and left her with brain, spine, and ankle injuries. She underwent 40 surgeries over the next three years, and in 2015, a severe infection required her left leg to be amputated. Forced into medical retirement, Ennis needed to figure out a way to both process her trauma and continue to protect people, one of her main motivations for joining the armed services in the first place.
She found the answer in the great outdoors. She began snowboarding and climbing, participating in sponsored events to raise money for nonprofits. Soon, she had a more specific goal in mind: She would scale all Seven Summits — the highest peaks on each of the seven continents. Since beginning in 2017, she's checked six of them off her list, according to Axios. Next spring, she's set to tackle her final frontier, and the most difficult climb, Mount Everest.
If you have any doubts at all about her abilities, Ennis would love to hear them. "I like people looking at me and being like 'She's small, she's a woman, she has one leg,' and me being like 'All right.' I like being the underdog," she said on an episode of Real Sports with Bryant Gumbel.  
Besides her lofty climbing goal, Ennis is on a mission to prove that nothing is impossible — and, from this vantage point, there is seemingly nothing she can't do. According to her Instagram page, the intrepid young woman is flying planes, riding motorcycles, and scuba diving.
She's also set up the Kirstie Ennis Foundation, which helped earn her the Pat Tillman Service Award at the 2019 ESPYS. The organization partners with nonprofits, offering educational and healing opportunities to veterans and people who have lost limbs and introducing medical device technology to underserved parts of the world. Its mission is fitting: "To inspire individuals to stubbornly climb the mountain in front of them." 
Update (6/28/23):
This spring, Ennis scaled Mount Everest for the second time, making it within just 200 meters of the summit before deciding to turn back, per NPR.
"If something got sideways as far as my prosthetic limb or my prosthetic device, I didn't have the right team with me. And there were hundreds, literally hundreds, of people ahead of me and below me," she explained to the outlet. "So even if my 10-hour summit day was successful, [and] we didn't run out of oxygen or anything, it would still take me 24 hours to get down."
Ennis added: "I'm very, very proud of the fact that I made that decision, because there are a lot of [other] people [climbing] that got hurt that night. I wouldn't be able to live with myself if anybody on my team got hurt."