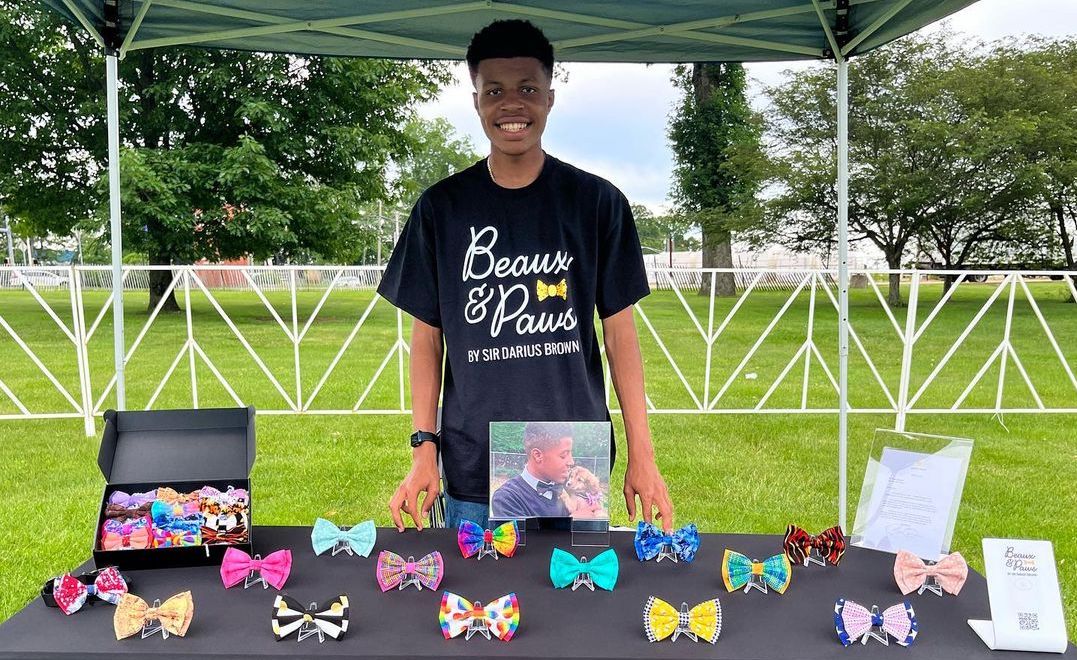 sirdariusbrown/ Instagram
Not all heroes wear capes. In fact, some make bow ties. Young entrepreneur Sir Darius Brown designs and creates bow ties for pets through his website Beaux & Paws to advocate for shelter animals. The New Jersey teenager began sewing at the age of 8, something his sister suggested to help him with his fine motor skill delays, and he soon discovered a passion.
Since 2017, in the aftermath of Hurricane Harvey and Hurricane Irma, Brown, now 16, has been making bow ties for displaced pups in an effort "to increase their chances of being noticed and getting adopted faster into fur-ever homes," his website explains.
Speaking to The Washington Post back in 2021, he elaborated on his creative idea. "Even something small like a tie can help get an animal adopted because a bow tie is unique and helps bring out a pet's personality," he said.
Lorri Caffrey, executive director of the Mt. Pleasant Animal Shelter in East Hanover, New Jersey, confirmed the boost in appeal the bow ties provide. "Animals who wear them get adopted right away because people find them instantly charming," she told the outlet, adding: "We'd never used bow ties before and right away we saw a big difference."
Today, Brown is as passionate about the cause as ever. For every accessory purchased from his store, he donates one to a shelter pet as part of his "Buy One Give One Promise." Brown told Good Morning America: "The overall mission from Beaux & Paws is to make sure that dogs and cats around the world are as safe as possible."
And that mission has earned the enterprising animal lover a great deal of attention. He's been commended for his community service by former President Barack Obama, and in 2020, he received a Diana Award. Per the organization's website, the annual awards recognize young people from around the world who have "demonstrated their ability to inspire and mobilize new generations."
Brown is all about turning that recognition into action to help further his mission. He told GMA that ever since his first time donating a batch of bow ties, he's been "pushing for shelter pet advocacy and awareness," adding that he wanted "to use the platforms like Instagram and Facebook to really use [his] voice and spread the message."
In addition to selling and donating the tiny ties, Brown donates "Wag Bags" filled with essential items to shelters, and has leveraged his social media and online following to raise over $300,000 for rescue pets. His inspiring message for other people looking to make a difference? "Find something that you're very passionate about and start today," he told GMA. "No matter how young or old you are right now, you could start."