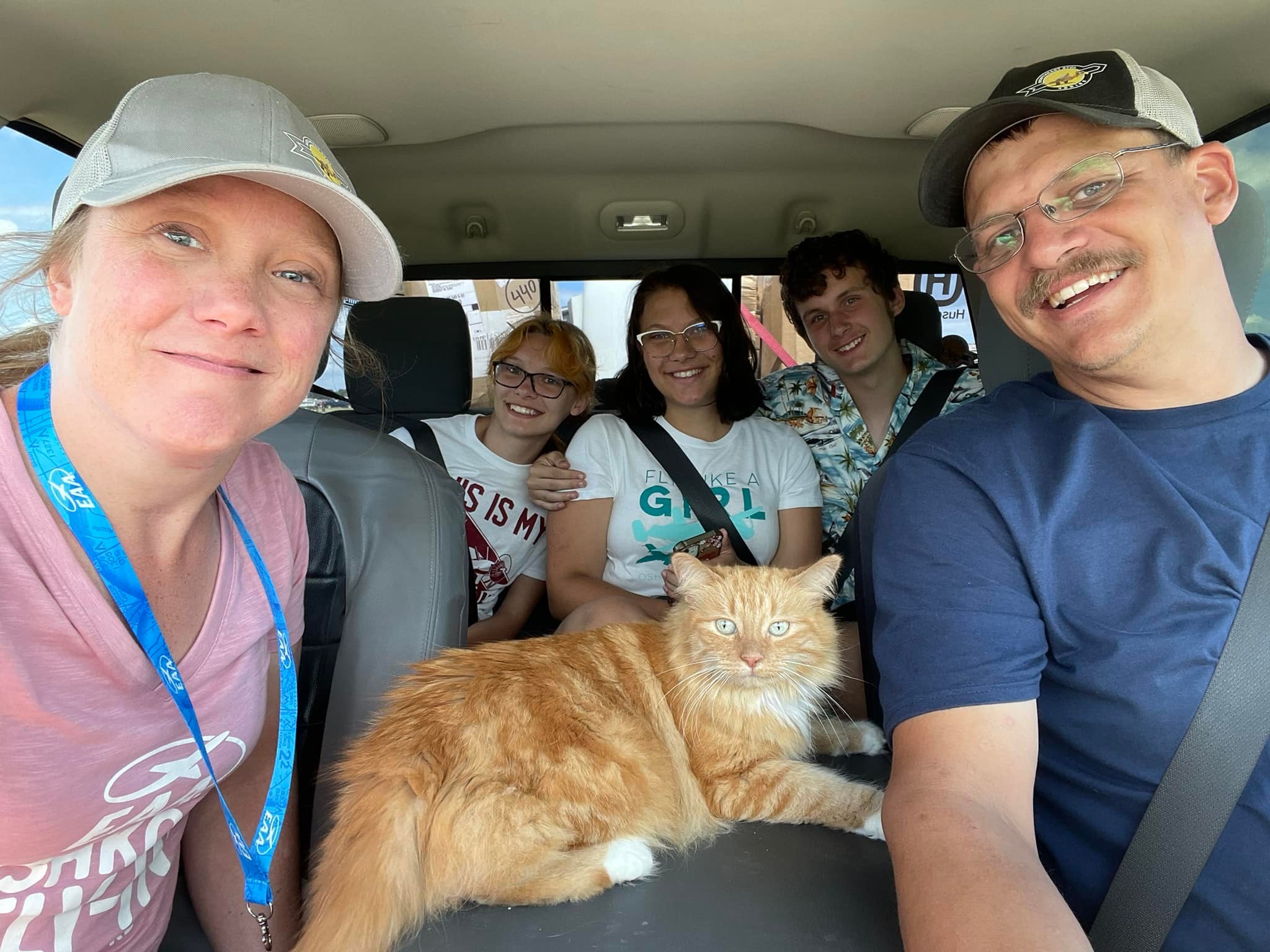 Andrea Scholten via Facebook
Whoever said cats can't get attached to their owners hasn't met Delilah — the orange, fluffy, and crafty kitty who made herself a "stowaway" on her family's road trip.
The Scholten family of St. Albans, Maine, left in July for a long-awaited trip to EAA AirVenture, an aviation show in Oshkosh, Wisconsin. After throwing pillows and last-minute items into their pop-up camper, Andrea Scholten, her husband, and their children hopped in the car and made the first leg of the drive to Toledo, Ohio, about 900 miles away, News Center Maine reports.
After getting out for the pit stop, Scholten opened the camper's door and was greeted by an unexpected family member: their beloved (and sneaky) feline.
"I open the door, and there's Delilah," said Scholten. "I just screamed 'Delilah!' and my husband and the kids were like, 'Delilah!' So, we went to Target, we bought her food, litter, a collar that we could write her name on because we were completely unprepared for this."
In a post on Facebook, Scholten said Delilah "must have snuck in when Jay loaded the pillows this morning." Sharing a picture of the cat peering out the van window during the road trip, she added that "the plan so far is to see how she does as a camper cat, if she doesn't do well we'll have to find a kennel."
Scholten later shared that Delilah had adjusted well to being on the road, making "herself quite at home. She is clearly not bothered at all by camp life."
Since then, Delilah has become a regular feature on the family's Facebook page — and has garnered cross-country attention. Drawing viewers with the hashtag #stoawayoshkoshcat, the Scholtens documented Delilah eagerly watching the air show, relaxing in the van, and lounging with her family.
"We put a story up with a photo of her and people thought it was hysterical," Scholten told News Center Maine. "They were commenting 'We want more Delilah,' so we did. Every day a couple of times a day I would put up a post and we used the hashtag … People loved Delilah."
Throughout the family's stay at the airshow, their charismatic cat was treated to gifts from other show-goers and even received a kitty shape drawn in the sky by a talented skywriter, who Scholten said gave "a tip of their hat" to Delilah.
Delilah is now back home after an adventurous return journey, which included a stop at Niagara Falls: the conclusion of her "epic stowaway adventure."
But this might not be the end of Delilah's travels. The family is already considering taking the cunning cat along on another road trip to the airshow next year.