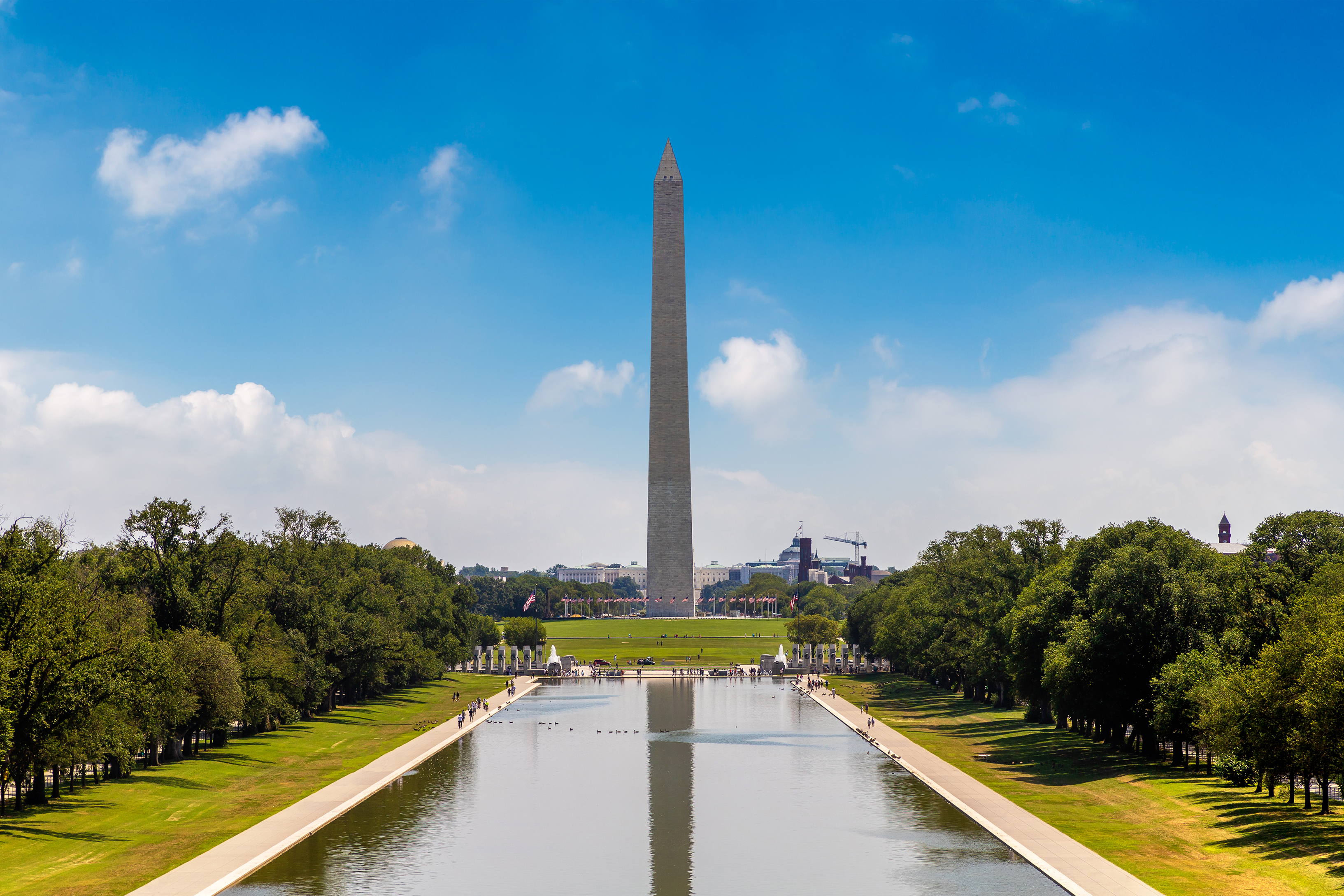 bloodua/ iStock
Dubbed "America's Front Yard," the National Mall in Washington, D.C., has long been home to several of the United States' most iconic monuments, commemorating individuals and events that helped shape the nation. Now, a new exhibition is showcasing some elements of the country's history that haven't previously been honored in the public space.
Running from August 18-September 18, "Beyond Granite: Pulling Together" features six special projects, including an audiovisual memorial, artwork, and interactive installations. It was curated by Philadelphia-based nonprofit Monument Lab and marks the first official outdoor exhibition at the National Mall.
"The artists of 'Beyond Granite: Pulling Together' have created 'prototype monuments' for the National Mall that reflect American history as a living force. The artists are opening up possibilities for what monuments can look, sound, and feel like," the exhibition's curators told Nice News. "They are also pointing us toward a greater understanding of the role we need monuments to serve toward mending our democracy. We're so grateful to our partners at the Trust of the National Mall, National Capital Planning Commission, and the National Park Service for inviting us to experiment and engage on the National Mall through public art."
Each project was created in response to a central question: "What stories remain untold on the National Mall?" with the ultimate goal being "to bring together innovative and experimental forms that explore Indigenous legacies, histories of enslavement, civil rights, LGBTQ activism, pathways for immigration, environmental justice, and other defining narratives of American resilience," per the event's website.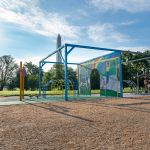 Courtesy AJ Mitchell | Monument Lab
One of the installations is a unique statement on segregation in the form of a fully operational playground. It was designed by Baltimore artist Derrick Adams, and visiting kids have been gleefully making good use of it since the launch, NPR reports. "What does it mean to have a monument on the Mall that you can play on?" asked co-curator Salamishah Tillet. "For children to feel like it's their space, their Mall, a site of joy and happiness, is a pretty radical intervention."
While play is a critical element of the installation's intended function, Adams notes that his piece, entitled "America's Playground: DC," also "transforms the playground into a site of contemplation, and remembrance."
Keep reading to learn about the other five projects.
"For the Living"
Courtesy AJ Mitchell | Monument Lab
A sprawling world map in mixed-media earthwork, Tiffany Chung's piece traces some of the past "routes of exile" taken by immigrants and refugees, encouraging viewers to shift their perspectives on how those routes shaped U.S. history and geography.
"For me, instead of erecting something to really hit the sky, I want to spread it out on the earth," Chung told NPR. "Because this is us. This is where we will go back to after we leave the world. And this is beautiful. The grass will grow. The sun will wash the things away, maybe including the material that created this map. But that's the brevity of life!"
"Of Thee We Sing"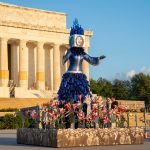 Courtesy AJ Mitchell | Monument Lab
This "inventive, communal statue" from vanessa german, who prefers to write her name in lowercase letters, honors late singer and activist Marian Anderson. During her operatic "Voice of Freedom" concert in 1939, she performed a moving rendition of "My Country 'Tis of Thee" on the steps of the Lincoln Memorial.
"I want to see the figure of a Black woman in sculpture at the Mall," german said in a statement on the project page, "something more joyful than commemoration: an intimation to take up space."
"The Soil You See…"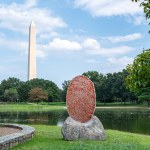 Courtesy AJ Mitchell | Monument Lab
Artist Wendy Red Star is a member of the Apsáalooke (Crow) Nation, and showcases the United States' legacy of making treaties with Indigenous tribes in this massive fingerprint. In its ridges are the names of "50 Apsáalooke chiefs and tribal representatives who brokered treaties with the US government between 1825 and 1880."
The artwork is intended to "illuminate the fact that every tribe in America has their own experience with treaties and the complexities of the decisions made by their tribal leaders," Red Star shared. It sits in the Constitution Gardens, next to a memorial for the 56 signers of the Declaration of Independence.
"Homegoing"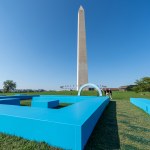 Courtesy AJ Mitchell | Monument Lab
Adjacent to the Washington Monument is Ashon T. Crawley's moving "audiovisual memorial about the impact of the AIDS crisis that centers spirituality as a means of honoring fallen Black queer church musicians." The composition comprises three movements performed in an open air shrine, per the project page.
The memorial connects modern music made popular through Black communities and singers to the prayers of Muslim ancestors taken out of Africa centuries ago, NPR reports. "If you did not have that sonic practice of prayer, you wouldn't have the blues," Crawley told the publication. "And you wouldn't have gospel music." From above, the monument forms the Arabic word amin, meaning "let this prayer be accepted," he said.
"Let Freedom Ring"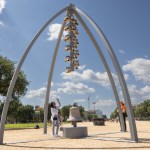 Courtesy AJ Mitchell | Monument Lab
"Let Freedom Ring" by Paul Ramírez Jonas is an interactive bell tower with a giant, 600-pound bell that visitors can ring to complete an unfinished version of "My Country 'Tis of Thee" as performed by Marian Anderson in 1939 (the same concert referenced in german's "Of Thee We Sing").
Those who ring the bell are invited "to proclaim for what or whom they ring this bell of freedom," the project page explains.