golero/ iStock
Christmas is fast approaching, and if you're planning on counting down the days to the Dec. 25 holiday with an Advent calendar, now is the time to pick one (or two or three) out.
Advent, derived from the Latin word for "arrival," is the four-week period beginning on the nearest Sunday to the feast of St. Andrew, on Nov. 30, and has been celebrated since around the 4th century A.D. But it wasn't until the early 20th century that the first commercially produced Advent calendars arrived on the scene as a way for people to mark the 25-day countdown to Christmas, per NPR. 
Over the decades, the tradition evolved and expanded, and today, Advent calendars come in all sorts of styles and themes — accompanied by all manner of delicious treats. We rounded up some of this year's standouts, including one for book lovers, those who have a sweet tooth for shortbread cookies, and even an option for the family dog to get in on the fun. 
Rifle Paper Co. Snow Globe Advent Calendar
Courtesy of Anthropologie/Rifle Paper Co.
Rifle Paper Co. is known for making pretty printed things, from stationery to wallpaper, so it's no surprise that this snow globe Advent calendar is so visually appealing. It features four illustrated holiday scenes and is adorned with gold foil. 
Lego Harry Potter Advent Calendar
An Advent calendar for the Lego and Harry Potter lovers in your life — whether they're children or adults. Construct 18 locations in Hogsmeade, several that have opportunities for multiple mini-builds. It also comes with six figurines and other iconic items from the book and movie series. Any Star Wars and Lego fans reading? This one's for you. 
National Geographic Science Advent Calendar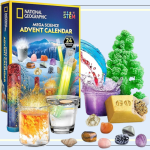 Courtesy of National Geographic
For a countdown with a side of learning, go for Nat Geo's "mega science" Advent calendar for kids, complete with 13 science experiments and 11 fossils and gemstones, like snowflake obsidian, gastropod, geode, and tiger's eye. Or check out this magic Advent calendar, another cool option from the brand.  
Harry & David Deluxe Advent Calendar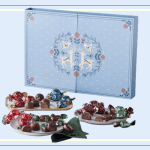 Courtesy of Harry & David
Harry & David's deluxe Advent calendar exemplifies decadence: It's beautiful to look at and comes with a total of 104 gourmet treats — four kinds of chocolate truffles as well as dark and milk chocolate mini mints. Plus, it's sturdy enough to save and refill year after year.
Amish Country Popcorn Advent Calendar
Courtesy of Amish Country Popcorn
If you're reading this a little late in the game, or just prefer to count down the 12 days to Christmas, Amish Country Popcorn's calendar is a great choice. Enjoy eight bags of different popcorn varieties, like rainbow, baby white, and blue, as well as four containers of popcorn seasoning — sea salt and caramel, dill pickle, ranch, and cheddar cheese.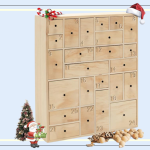 Crafty celebrants or families with kids can have some extra holiday fun creating their own Advent calendar with HyggeHaus' DIY option. Paint or cover with contact paper or stickers, fill with your favorite trinkets or treats, then reuse or reinvent it next year.
The Purple Cow My World Advent Calendar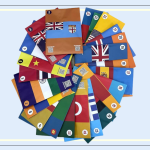 Courtesy of My Purple Cow
Perfect for aspirational world travelers of all ages (but especially youngsters), this Advent calendar lets you explore the globe from the comfort of home. Open a different country envelope on each day to reveal interesting facts and an arts and crafts project tied to that location. Come Christmas, you'll have 24 handmade creations.
The Book Lover's Advent Calendar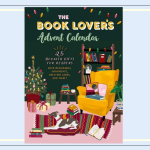 It's clear that Nice News readers tend to be readers in general, and we're guessing many of you can actually call yourselves full-on book worms. If so, snatch this one up before it sells out — it's already flown off the (virtual) shelves at several other online retailers. The calendar comes with 25 literary surprises, including a magnetic bookmark, ornaments, and reading-themed stickers.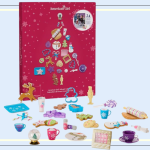 Courtesy of American Girl
The American Girl Advent Calendar comes with 24 darling Christmas doll-sized props to count down with, including a tiny snow globe, festive faux cookies, a rolling pin and dough, a box of candy canes, and other adorable items. It's perfect for the American Girl in your life.
McCrea's Gourmet Caramel Advent Calendar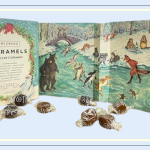 This calendar features a beautifully illustrated wooded scene by New England artist Cindy Hendrick, and each of the 24 doors opens to reveal one of the brand's award-winning caramels. The black lava sea salt and tapped maple flavors sound particularly delicious. 
Tea Forte Warming Joy Tea Advent Calendar
Countdown each day to Christmas with a hot cup of Tea Forte's gourmet tea. The pyramid box includes 24 different organic tea varieties, including classics like English breakfast, herbal blends like blueberry merlot, and holiday flavors like harvest apple spice. The brand also offers a mini "Winter Chalet" version with 12 cozy teas. 
Bonne Maman Limited Edition Advent Calendar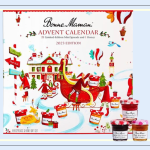 Founded in a small village in a region of France known for its superior fruit, Bonne Maman is beloved for its delicious gourmet jams and preserves. A wonderful gift for a foodie, the brand's 2023 Advent calendar features 23 different mini spreads — everything from raspberry chocolate to pineapple with ginger — as well as one mini honey.
Walker's Shortbread Advent Calendar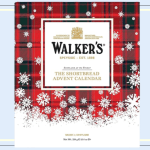 Baked in small batches in Scotland, Walker's family recipe shortbread is made with only four ingredients: butter, flour, sugar, and salt, meaning no preservatives or artificial flavors. In addition to the classic cookies, enjoy five other varieties, including chocolate chip and salted caramel squares. It will be a true test of willpower not to eat more than one each day!
SmartBones Furry Christmas Advent Calendar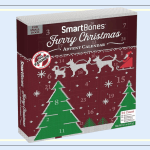 We can't leave out the four-legged members of the family! This option is for small dogs and includes 24 rawhide-free chews made from chicken and vegetables. The brand also sells adorable holiday-themed treats shaped like festive human food. For pups of all breeds and sizes, check out this option by Himalayan Dog Chew. 

Bonus: Create your own custom, virtual Advent calendar to send to friends for free.