Manoj Patel Design Studio
Manoj Patel, an architect based in Gujarat, India, uses everyday materials in unexpected ways to create designs that benefit people and the planet. One of his latest projects involves repurposing clay roof tiles to create beautiful, functional furniture that's naturally cool, comfortable, and eco-conscious.
As Patel explained to The Better India, most outdoor furniture is made with metal and plastic, which are high heat conductors. In India, where daytime temperatures routinely top 100 degrees Fahrenheit during monsoon season, that means outdoor furnishings may be unusable until sundown. Anyone who has sat on a metal park bench on a summer's day, only to burn themselves, knows that pain. Clay, meanwhile, absorbs but doesn't conduct heat, meaning it remains relatively cool, even in the midday sun.
Clay has been used in construction for millennia as it's a strong, long-lasting, and heat-resistant renewable resource. However, Patel's clay tile furniture is the first of its kind. In addition to outdoor stools, benches, and chairs, Patel and his team have fashioned table-tops, indoor furniture, and other surfaces using recycled tiles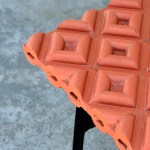 Manoj Patel Design Studio
The architect, who received a degree in architecture and a postgraduate degree in climate change and sustainable development, told The Better India he has always been interested in "climate responsive architecture." He is also invested in making quality, eco-conscious designs accessible.
"Working with eco-friendly material in such a way that it stays affordable is our strength," Manoj said. He explained each tile costs between five and eight rupees, meaning an average piece with 200 tiles costs under 2,000 rupees, less than $26.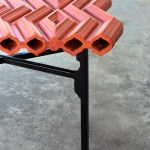 Manoj Patel Design Studio
Forging new territory is rarely easy, and Patel and his team overcame challenges pursuing their vision. Laying clay tiles on a flat surface is straightforward enough. Meticulously assembling pieces to produce an optical illusion resembling a natural volumetric mass is a different story.
"Made in earthy tones, this series features an exploration of existing profiles into a new outcome through intricate handcrafted details," Patel told Architectural Digest.
All the hard work is worthwhile, though, as the result is a playful yet elegant design that syncs perfectly with its natural surroundings. This feature of modern art-meets-nature is characteristic of Patel's work. Another example is an office interior built using clay tile and granite to infuse the commercial space with a tranquil alfresco ambiance.
Manoj Patel Design Studio
Although Patel's pieces are as stylish as functional and affordable, you won't find them in Target anytime soon. Patel and his fellow artisans craft each item by hand and have no plans to sell the furniture commercially. Instead, they partner with other design and architectural firms that utilize the pieces in their projects.
"We are not looking at any sort of mass production of these pieces. Each one is a labor of love and handcrafted by our artisans," he told The Better India.