Julianne Belcher
When Rob Belcher and Scott Thayer met in the sixth grade, they bonded over fishing, bike riding, and hockey — particularly a shared love for the Boston Bruins — and were close friends from that moment on. Decades of friendship later, Thayer learned he had pancreatic cancer and died at age 62 in May 2022, just six months after the firefighter was diagnosed.
"We found each other just for camaraderie and just the benefits of having a good friend and that carried through into our adult lives," Belcher, from South Walpole, Massachusetts, told Nice News. "It was a great relationship, and I truly — I miss him dearly, and it was so sad to see him get pancreatic cancer and how quickly it took him."
Thayer's memory was one of the driving forces behind Belcher's recent bike ride across the United States, from Seattle to Cape Cod. As part of a fundraiser for The Pancreatic Cancer Action Network, Belcher raised over $23,000 of his $100,000 goal to help others who are fighting the deadly disease. And in addition to raising money and awareness, he checked off an adventure that's long been on his bucket list.
"I spent a lot of time thinking about Scotty, about the things that we had done and I remembered things that I hadn't thought about in 30 years," Belcher, who started the trip in June and ended about two months later, added of the cross-country journey. "That was a great part of it."
Averaging 58 miles per day during the 86-day ride, he was also shocked by the acts of kindness from strangers he encountered.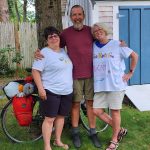 "I was really surprised and just overwhelmed by people's kindness," he said, recalling the man who went out of his way to let him know that an upcoming route was closed off, a couple who gave him cold water on an extraordinarily hot day, and the community of people who opened their homes to him along the route, offering warm showers and meals.
He also spoke with many who related to his loss. "I would say 90% of the people we talked to had a cancer experience," he said.
Belcher rode a total of 3,788 miles to complete the trip and purposefully finished on August 27: what would have been Thayer's 64th birthday.
The bicyclist said of Thayer's lasting legacy: "Scotty embodied all that is good in a person — devoted family man, committed firefighter, staunch outdoorsman, and faithful friend."
RELATED: Teen Donates Books to Children With Cancer Following Her Own Father's Diagnosis: Exclusive