Gilbert Carrasquillo / Getty Images
The Walt Disney World Resort in Florida is continuing a two decades-long tradition of giving back this Thanksgiving. Chefs at Disney will prepare a special holiday meal with all the trimmings — including turkey, mashed potatoes, gravy, stuffing, green beans, and of course, pumpkin pie — for residents of the Coalition for the Homeless of Central Florida.
As with every year, the culinary team will partner with Disney VoluntEARS to serve warm, home-cooked meals for the unhoused. The VoluntEARS program connects Disney cast members (employees who work at the parks or in Disney stores) and other staff with opportunities to address needs in their communities and beyond. Collectively, VoluntEARS have clocked more than 158,000 hours on community projects over the course of the last year.
"It means the world to be able to give back and prepare a Thanksgiving meal for those in need as part of our annual tradition," Bill Brown, an executive chef at Walt Disney World Resort, said in a press release. "The entire culinary team is involved across the park each year, and it fills me with joy to see our chefs and culinarians take such pride in the food they prepare for our community."
The coalition serves more than 500 adults and children through its residential programs, and more than 100 unhoused individuals through community initiatives in Central Florida. Disney is a longtime supporter of the coalition, dating back to the 1990s, Attractions Magazine reported. Meredith Bekemeyer, director of development for the coalition, told the magazine in 2020 that Disney's contributions have been vital to the organization's reach and impact.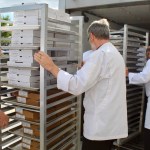 "They are just amazing," she said. "They provide support on just about every level, from financial to food donations and volunteer help. The relationship is just phenomenal. They really are truly invested in what we do here and want to get involved in as many ways as possible."
The Florida park's annual Thanksgiving tradition is just one way the company addresses community hunger and food insecurity. Since 2020, Disney Parks has provided 2.1 million meals through food donations to food banks across the U.S. This fall alone, Disneyland Resort donated over $200,000 to food banks in Orange County, California, and Walt Disney World donated $100,000 to Second Harvest Food Bank of Central Florida.
And while the media enterprise's substantial monetary contributions can't be understated, its true magic seems to lie in the people involved: the big-hearted cast members and employees who, in addition to putting smiles on visitors' faces, continually donate their time, money, and energy to help others in need. There's one more reason to call it the Happiest Place on Earth.