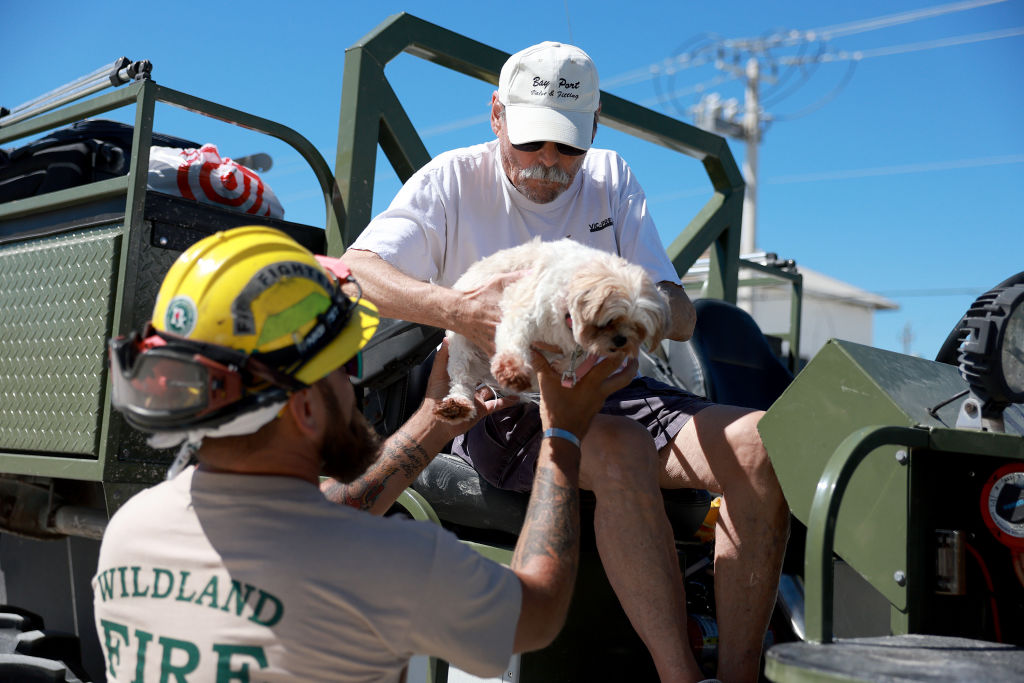 Joe Raedle / Getty Images
Hurricane Ian, one of the deadliest storms in Florida's history, prompted the largest ever federal search-and-rescue mission — and that includes the state's pets.
In addition to helping residents, efforts have since expanded to help the four-legged and furry friends that have also been displaced from their homes and families after the Category 4-storm made landfall on the Gulf Coast on September 28.
Nonprofit American Humane announced that it "immediately deployed [rescue teams] to the flood zones to provide critical aid in the storm's aftermath." And the ASPCA was on the ground in Fort Myers — one of the hardest-hit areas in Florida — conducting land and water rescues. More than 630 animals have been assisted through the organization's response efforts so far, the organization announced.
On a more local level, a special operations team led by Captain Greg Hubbard of Orange County Fire Rescue in Orlando donned wetsuits and set out in boats to rescue individuals and their pets.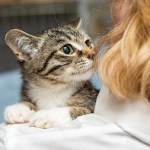 "We would never leave a dog behind," Hubbard told Today. "I think it's safe to say we exceeded the capacity of the boats in some instances, but I think some rules were meant to be broken, and that was one rule we were willing to break on that day and under those circumstances."
The humanitarian efforts also extended to shelters across the county. At least eight staff members and volunteers from PAWS Chicago, the city's largest no-kill humane organization, brought more than 40 cats and 12 dogs back to the Windy City.
"Everything was underwater," Joan Harris, director of K-9 training and behavior at PAWS, told ABC7. She added: "When we got there, we saw lots of dogs, lots of people, everybody loading up, everybody helping. There were lots of volunteers."
Even Floridians with no formal search-and-rescue training have been taking matters into their own hands. In a video that has reached nearly 4 million views on Twitter, 29-year-old Naples resident Mike Ross can be seen trudging through knee-deep water to rescue a cat. Ross and his girlfriend have since taken in the kitty. At first they appropriately chose Ian as the moniker, but decided to name her Storm after they "realized it was a girl." The couple also created a fundraiser to help restore their badly-damaged home, and in honor of Storm the cat, half of the proceeds will go to the Naples Humane Society. The couple raised over $30,000.
And the Good Samaritans are not only focused on helping pets and domesticated animals. More than 200 baby sea turtles were rescued by the Sea Turtle Preservation Society and brought to the Brevard Zoo in Melbourne, Florida. Luckily, the reptiles are now thriving under the zoo's watch and are "acting like regular sea turtle babies," Lauren Delgado, communications manager for Brevard Zoo, told Treehugger. She added: "They spend their days whizzing around their tank, napping on makeshift rests that mimic plants they might lay on in their natural range, and, of course, eating."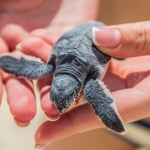 At St. Petersburg's Sunken Gardens, staff had to get creative to protect its flamboyance of flamingos before Ian made landfall. The botanical gardens' resident flamingos were ushered into a public restroom onsite, Forbes reported. The restrooms made for an ideal "bird bunker" — with no windows and a sturdy foundation, they remained safe.
"The flamingos are having quite the hurricane party; eating, drinking, and dancing while the Brazilian red-footed tortoises love to snuggle on their way to larger indoor accommodations," Sunken Gardens wrote on Instagram. Using the hashtag #BirdsinBathrooms, others also shared photos of creative animal bunkers, including chickens in showers.
Without human intervention, many of these creatures would not have survived the devastation brought on by Hurricane Ian. Even after the rescues, people are continuing to step up to foster and adopt displaced animals as far as Chicago and Texas. These helpers are evidence that not all heroes wear capes — some instead provide treats, belly rubs, puppy crates, and love.
RELATED: Students' Letter Writing Campaign Successfully Boosts Animal Shelter Adoptions