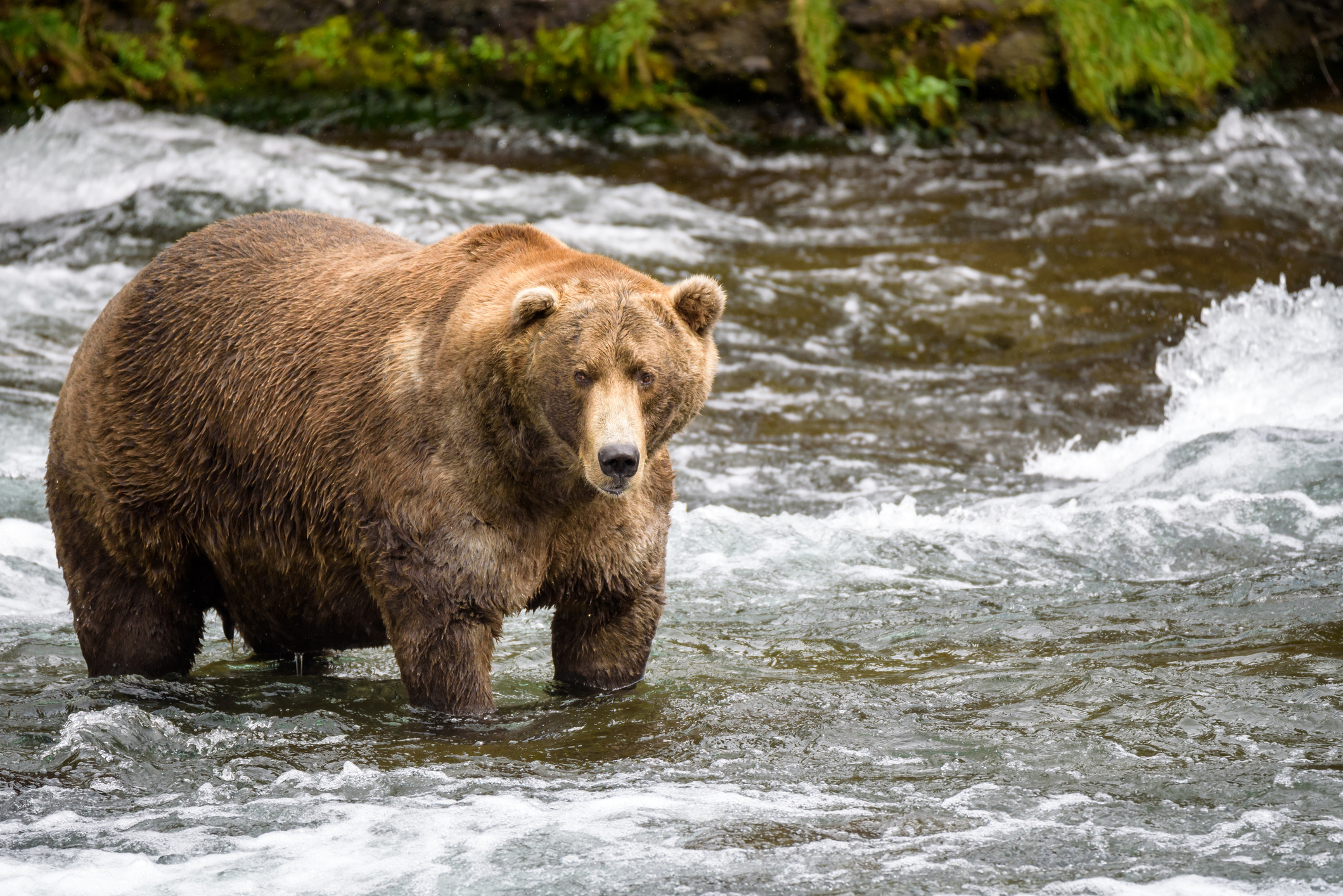 N8tureGrl/ iStock
Update (10/4/23): The 2023 competition is underway — cast your vote here.
Alaska's Katmai National Park and Preserve is home to some of the biggest bears on the planet, and it's just about time to decide which one is the heavyweight champion of the year.
Launched in 2014, Fat Bear Week 2023 takes place October 4-10, after the park's brown bears spent all summer bulking up for their monthslong winter hibernation, thanks in large part to Brooks River's ample supply of sockeye salmon. The annual event, a collaboration between Katmai and Explore.org, "highlights the accomplishments of these burly bruins and shines a spotlight on the healthy ecosystem in which they can thrive," per the National Park Service.
Here's how the single-elimination tournament, a bracket challenge in the vein of March Madness, works: The contenders and bracket are revealed a couple days prior to when voting opens. For each round of matchups, players choose between two big bruisers. The winning bears move on to the next round, and the last one standing is crowned fattest of them all. Players can vote in rounds on October 4, 5, 6, 7, and 9; the finals take place on October 10. You can also download your own (adorable) bracket to predict the winner.
"It really started out as just [a] celebration of this transformation that our bears go through," Keith Moore, an interpretive ranger at Katmai, told USA Today of the tournament. "Over the course of a few months, we'll see these bears potentially double in size in some cases, which is really remarkable."
Why is fatness the key to winning? For bears looking to stay nourished through winter, bigger is better: "fat exemplifies success," the event website explains. Fat is the animals' fuel as they hibernate; it's key to both their overall survival and reproductive health. And, boy, do they get big; the largest males can tip the scales at over 1,200 pounds in late summer and early fall, with females weighing in at about a third to a half of that size, mainly due to the energy required to raise cubs.
As for how you make your elimination decisions, that's up to you. "There's no real set criteria that you're supposed to vote on," Mike Fitz, Explore.org's resident naturalist, explained to The Washington Post. "You could vote on just simply the largest bear, or look at relative fatness or consider the extenuating circumstances of each bear's life like the challenges of raising offspring." Fitz hosts a live chat the day the tournament begins, during which he and other rangers share insights about the bears.
Each bear is given a biography so participants can get to know who they're voting for, and for those of us who took part in prior years, many of the furry players will be familiar. Bears like Chunk, Holly, Otis (a four-time winner), and the aptly named 747 (a two-time winner) are likely to grace the brackets.
"Few brown bears ever grow as large as the bear who shares an identification number with a jet airplane," 747's bio reads. You can see all of the past winners on the event's Hall of Champions page.
Fat Bear Week and the park's beloved fat bear cams aren't just entertainment, though — they also help stoke conservation efforts. A 2018 study determined that watching the park's bear livestreams generated a positive emotional connection to the animals, and that animal cams in general "can provide a global reach, minimize impacts, overcome socio-economic barriers, and provide multiple points of engagement across cultures."
Furthermore, the cams serve as an educational opportunity for young people looking to learn about the animals and their habitat. "We really love that children and teachers follow the bears," Naomi Boak, a media ranger for the park, told NPR. Teachers are encouraged to follow a special curriculum and have their students watch the livestreams. There's a special form kids can use to submit any questions they have about the bears before the tournament begins; the answers are then posted as videos on the site.
We suspect Fat Bear Week is also a boon to the well-being of all who get involved. While there may not be any hard science yet on just how much the tournament benefits humans' mental health, it's certainly hard to feel down in the dumps when you're voting for which ursine inhabitant is most rotund.
Bookmark this page to meet the contenders and cast your votes for fattest bear when the week kicks off on Wednesday.