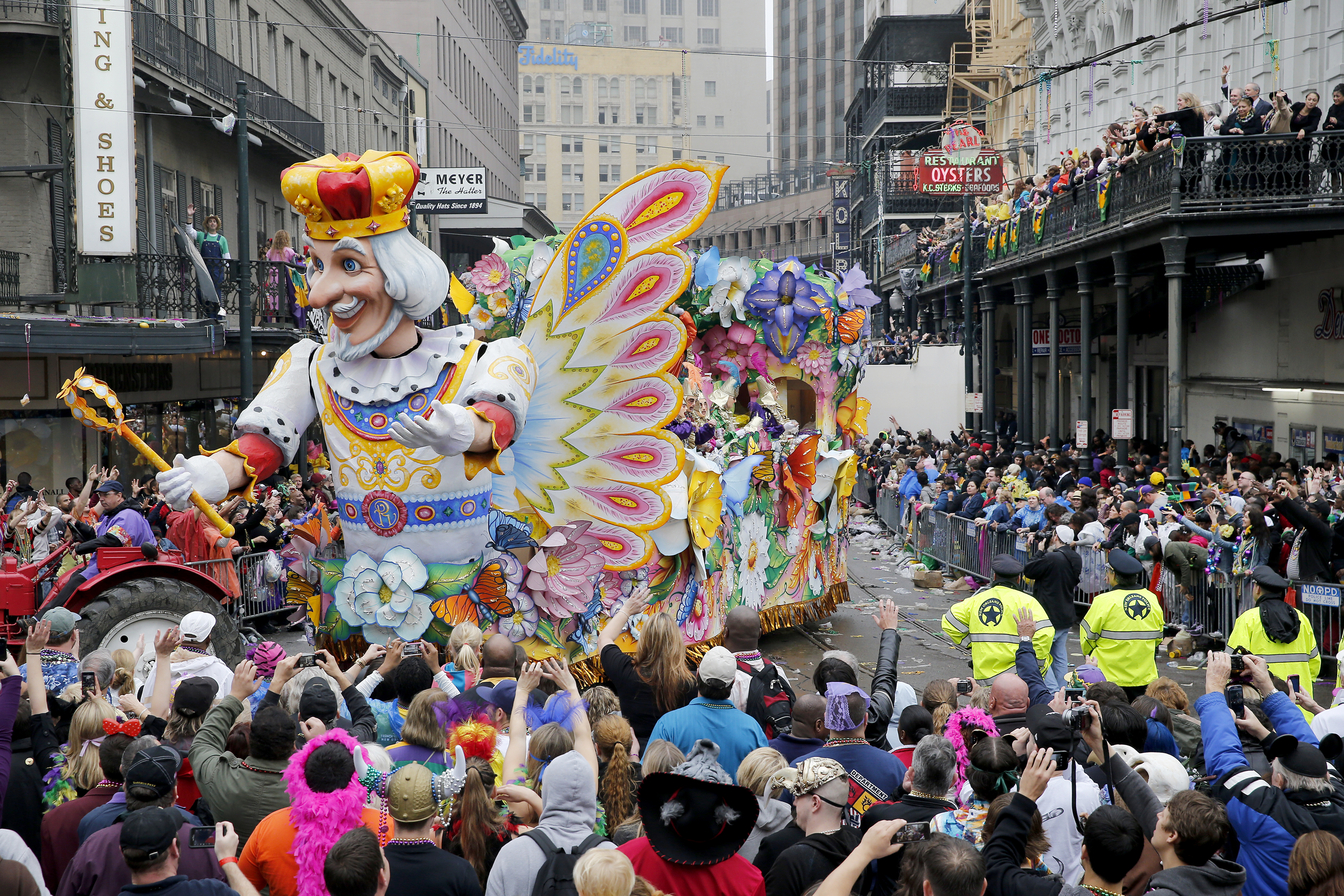 Rusty Costanza/ Stringer via Getty Images
Beads tossed from parade floats, elaborate masked balls, and the brilliant colors of purple, green, and gold. We're speaking, of course, of Mardi Gras, the raucous celebration that falls on the Tuesday before the Christian fasting period of Lent in February and March. Also known internationally as Carnival or Carnaval, the lively annual festival is the hallmark of New Orleans, Louisiana, but its rich history begins well before the establishment of the Big Easy in 1718.
Medieval Roots, French Legacy
The modern-day Mardi Gras celebration has its roots in medieval Europe, specifically in Rome and Venice, but it was the French House of the Bourbons in the 17th and 18th centuries that spread their traditional "Boeuf Gras" or "fatted calf" festivities to the masses, per the Mardi Gras New Orleans website. By that time, the celebration was linked to the Catholic Church and its attempts to discourage indulgences during Lent, according to Country Living.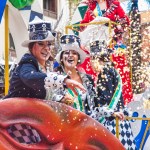 The English translation of the French Mardi Gras is literally "Fat Tuesday," and it was originally a single-day celebration in which revelers would eat, drink, and carouse as much as possible before midnight, when Ash Wednesday marked the beginning of Lent. It was a day that many recklessly released their inhibitions before the 40 days of fasting that lead up to Easter.
Based on research from the experts at History.com, French colonizers carried the traditions of Mardi Gras to the New World when Point du Mardi Gras was established in 1699 about 60 miles south of present-day New Orleans. There, a simple celebration was held, eventually turning into an event that over 1 million people attend every year, Kelly Schulz, senior VP for communications with New Orleans and Company, explained to 4WWL last year.
Secret Societies, Parades, and Beads
New Orleans may be considered the city of Mardi Gras today, but Mobile, Alabama, actually has the distinction of oldest annual Mardi Gras celebration in the U.S. In 1703, settlers held the inaugural Mardi Gras celebration in Mobile.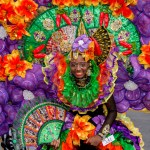 John de la Bastide/ iStock Stock photo
A secret society known as the Masque de la Mobile popped up a year later. History.com states that this society was the forerunner to today's krewes and hosted the first Mardi Gras parade through the streets of Mobile. Through the years, the parades and floats grew ever more elaborate, each secret society or krewe sponsoring a different parade and attempting to outdo each other in extravagance.
The Twelfth Night Revelers, reports Mardi Gras New Orleans, was Mardi Gras' second krewe, and it introduced "throws" in 1870, which kicked off the tradition of tossing keepsakes from floats into the crowd. While some Krewes, like the krewe of Zulu, choose to throw "coveted" odd items like coconuts, most krewes stick to purple, green, and gold beads, the official colors of Mardi Gras.
Modern Mardi Gras
Except for the crowds, today's Mardi Gras isn't that different from its colonial origins. Secret societies still rule the parades, revelers still try to catch the throws, and indulgence remains the common thread for the entire week of festivities. There's no experience quite like a New Orleans Mardi Gras experience, so as people say in Cajun French at Mardi Gras New Orleans, laissez les bons temps rouler — "let the good times roll!"