Salwan Georges / The Washington Post via Getty Images
Each winter, ornithologists and amateur birdwatchers come together to participate in the National Audubon Society's Christmas Bird Count (CBC), a holiday tradition with a purpose. The count, which started on Christmas Day in 1900, is the longest-running citizen science project in North America, per Birds Canada, and involves thousands of volunteers stationed at more than 2,000 locations throughout the Western Hemisphere. It produces one of the world's "largest sets of wildlife survey data," per the organization, which scientists, environmental planners, and naturalists use to assess bird populations and distribution changes as well as support conservation efforts. 
According to the National Audubon Society, the count originated as an alternative to the Christmas "Side Hunt," a tradition wherein hunters competed to see who could bring in the biggest haul of furry and feathered prey. At the time, hunting birds for sport was a popular pastime among the wealthy, according to Smithsonian Magazine. Conservation, and the Audubon Society itself, was in its infancy at the time, per the organization, and many bird lovers and scientists were worried about diminishing populations. Ornithologist Frank M. Chapman suggested a "Christmas Bird Census" replace the hunt. Just 27 people took part that year, counting around 90 species, per National Geographic.
Today, according to the publication, the count typically involves more than 30,000 people counting more than 2,400 species. Since bringing Latin America into the fold in 1972, per Nat Geo, the count now includes locations from Canada to Colombia.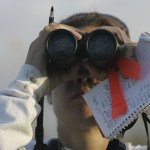 Joe Raedle / Getty Images
Due to a persistent decline in bird populations because of factors like habitat loss and climate change, the count is as crucial as ever. The Audubon Society's 2014 Climate Change Report, for example, examined how climate change could impact 588 North American bird species. It found more than half are likely to be threatened, according to the organization.
Counters, led by Audubon Society chapters and partner organizations, are given one 24-hour period — from December 14 through January 5 — to count all the birds they see and hear in their "Count Circle." Each circle is 15 miles in diameter, broken into specified routes. Experienced count leaders, or compilers, organize the efforts. Volunteers don't need any experience to help, and it's free to participate. And while counters are encouraged to join local groups, individuals can pitch in from home, too. At the end of the day, the compiler collects the group's data at a "tally rally," and it's then sent to the National Audubon Society.
"It's a lot easier to address threats to a species before it gets critically endangered," Audubon Society Christmas Bird Count Director Geoffrey LeBaron told Na Geo in 2014. "It's easier to study them because they're out there more, and it's not as expensive to find them. It's an early warning report."
As playwright and novelist Mehmet Murat Ildan said, "Wherever there are birds, there is hope." Audubon's 123rd Christmas Bird Count will be held from Dec. 14, 2022 to January 5, 2023. Find more information on the Audubon Society website.