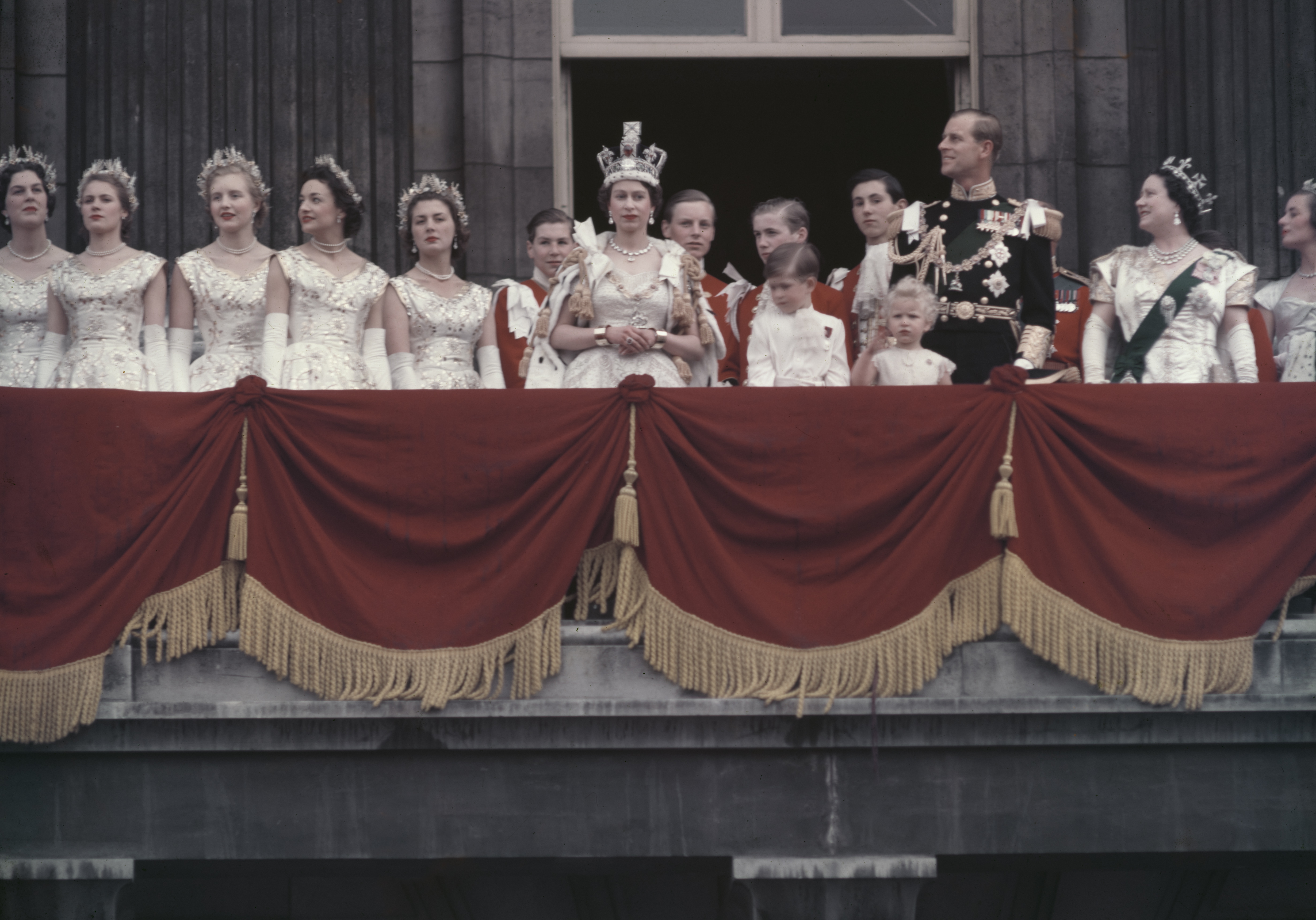 Fox Photos/Hulton Archive/Getty Images
Floral embroidery made for Queen Elizabeth II's coronation gown, the dress she wore during her crowning in 1953, will be offered this month at an auction. The framed, multicolored needle and thread embroidery sample is estimated to sell for upward of $2,400 at Hansons Auctioneers' Monarchs and Majesty Auction on May 16 — 10 days after her son Charles III was crowned king of the United Kingdom.
"This embroidery is exquisite and a stunning auction find," said Hansons' textiles consultant Notty Hornblower, owner of Derbyshire's Hope House Costume Museum, in a press release.
Seven decades old, the embroidery was found in Derbyshire, along with watercolor clothing designs dated pre-1952. The latter were made for the then Princess Elizabeth and the Queen by famous designer Norman Hartnell.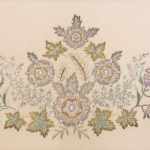 A leading British fashion designer at the time, Hartnell was known for his extensive work for the royal family. His most notable design was Queen Elizabeth's coronation gown, which is regarded as "one of the most important dresses of all time," the release explains. He also made her wedding gown a few years prior.
Per Vogue, Hartnell wrote in his autobiography, Silver and Gold:
"One October afternoon in 1952, Her Majesty the Queen desired me to make for her the dress to be worn at her Coronation. I can scarcely remember what I murmured in reply. In simple conversational tones the Queen went on to express her wishes. Her Majesty required that the dress should conform in line to that of her wedding dress and that the material should be white satin."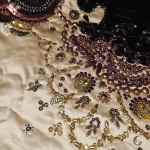 Isabel Murtough Co/Hansons
Hartnell spent eight months researching and drafted nine design ideas. During the production process, "examples of decorative embroidery were made for the Queen to approve" — including the one set for auction.
One June 2, 1953, Queen Elizabeth II was crowned in Westminster Abbey. The ceremony was history-making as it was the first to be televised, with 27 million people in the U.K. tuning in to watch. Hartnell's dedication in creating the gown was time well spent: Hornblower said the Queen liked the dress so much, she wore it six more times, including at the opening of Parliament in New Zealand and Australia in 1954.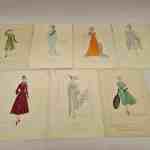 Isabel Murtough Co/Hansons
The embroidery depicts "the emblems of the four home nations and the Commonwealth, in silver and gold thread, diamante, silver bullion, and mother-of-pearl," according to the release Additionally, it's accompanied by handwritten notes that explain the colors and materials of each emblem.
"It demonstrates the remarkable care and attention to detail that went into creating a gown worthy of the Queen," Hornblower explained.
RELATED: Queen Victoria's 140-Year-Old Postbox — Containing a Christmas Card — Found in English Cottage: "She Enjoyed Sending Letters"
Isabel Murtough Co/Hansons
Why is the embroidery up for sale now after all of these years? The seller's late aunt worked for Hartnell for 43 years and was given the embroidery as a gift.
For more than 20 years, the seller displayed it on her wall. However, Hornblower said the seller made the decision to put it up for auction because she thinks "it may be the largest surviving embroidery sample from the gown," which is why she'd like to see it go on display for the public.
"It is thanks to Hartnell's kindness that this sample has been saved for posterity," said Hornblower.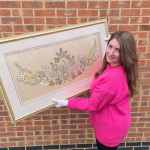 Isabel Murtough Co/Hansons
In 1947, before the coronation, Queen Elizabeth said in a radio address on her 21st birthday, "I declare before you all that my whole life, whether it be long or short, shall be devoted to your service."
More than 70 years later, Queen Elizabeth would become the longest reigning monarch in British history, serving until her death at the age of 96 on September 8, 2022.
Said Hornblower of the embroidery: "For any admirer of our late Queen, I can't think of a more touching royal memento to cherish."
RELATED: A Moment in History: WWII Airman Chronicled Experience in Scrapbook and Flying Log — Set for Auction in March (Photos)