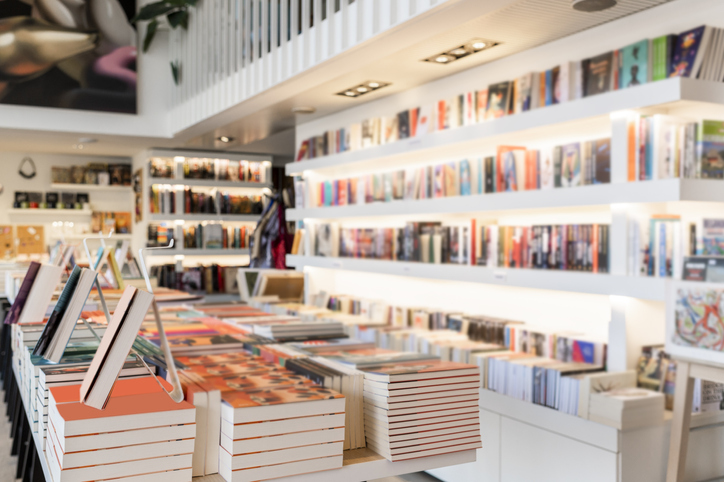 EXTREME-PHOTOGRAPHER / iStock
Passionate readers can attest to the appeal of a local bookstore: the incomparable pleasure of strolling through the aisles waiting for a book to beckon from its spot on the shelf before being placed atop a towering stack and taken to a quiet corner where its crisp pages can be perused. Unfortunately, due to the oppressive impact of the pandemic on brick-and-mortar shops, small booksellers began to see declining sales. But in a hopeful turn of events, it seems that not only did independent bookstores survive the pandemic, but they're also thriving and diversifying.
According to the American Booksellers Association, more than 300 independent bookstores have opened shop in the last few years, and another 200 are expected to open in the next couple. Sales are going up as well. The organization took a survey of booksellers in early 2022 and found that 80% of respondents saw higher sales in 2021 than in 2020, and nearly 70% said their sales last year were higher than 2019, Allison Hill, the chief executive of the American Booksellers Association told The New York Times. "It's kind of shocking when you think about what dire straits the stores were in in 2020," Hill said. "We saw a rally like we've never seen before."
The news comes just a few months after an announcement by Amazon Books — which has become one of the largest bookstore chains in the country — that the company plans to close all of its physical retail stores. So what is it that these smaller stores offer that buyers can't get from big-box sellers?
According to professor Ryan Raffaelli, who examined an earlier resurgence of small bookstores that occurred after the industry took a hit from big brand competition in the early 2000s, the answer is community. "The key to independent bookstores' growth in the digital era has been their strong and deep ties to neighbors," Raffaelli wrote in a report for Harvard Business School.
Lucy Yu, a 27-year-old former chemical engineer, knows all about those ties. Last year, Yu, NYT reported, decided her neighborhood needed a bookstore — and apparently her neighborhood agreed. She raised about $20,000 on GoFundMe and was awarded a $2,000 neighborhood grant for books and shelves. In December 2021, in downtown Manhattan's Chinatown, Yu opened Yu and Me Books, which amplifies the voices and stories of people of color.
"People were hungry for a place focused on Asian American and immigrant stories," said Yu. "That's something I was always searching for when I went to bookstores, and I wanted people to come here and not have to search."
Yu is one example among many of how the bookselling industry is transforming to be more representative of people of color.
Terri Hamm, the owner of Kindred Stories in Houston, decided to open her bookstore after her daughter, now 14 years old, expressed disappointment in the selection of books her mother brought home for her to read. "It dawned on me that she didn't have a space in Houston to discover and explore all the amazing works in the market that are written by Black voices," Hamm told NYT. "There wasn't a space curated with her in mind."
As the industry becomes more inclusive and retail stores open more doors in the near future, readers can rest assured that the magic of the local bookstore will live on. And if you're interested in buying online, many independent booksellers use Bookshop.org to list their books.