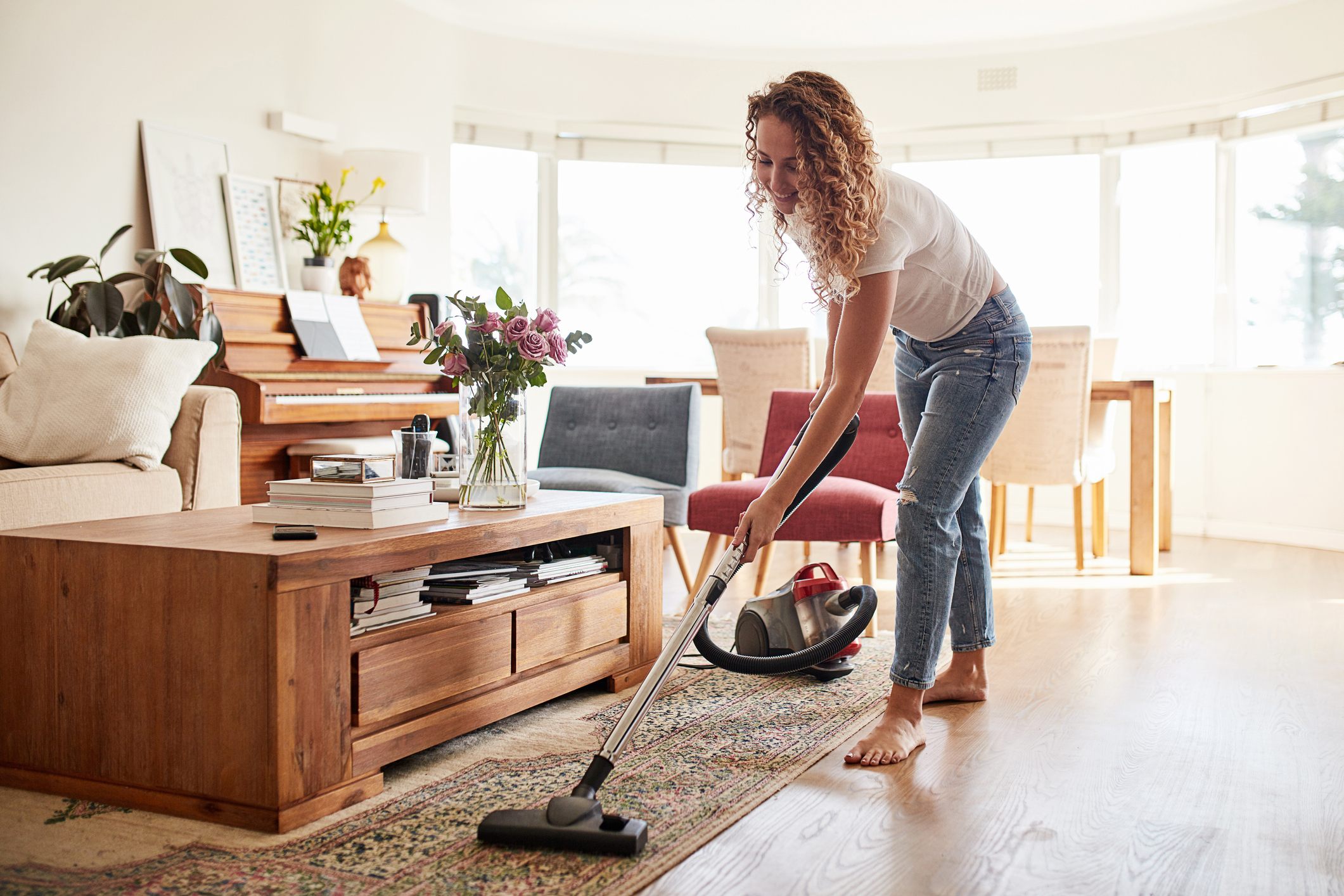 LumiNola/ iStock
Spring has sprung! The flowers are blooming, the sun is shining, and — more than likely — your space is crying out for a good cleaning.
With roots dating back centuries and spanning multiple cultures, spring cleaning is more than just a lineup of chores: It's a chance to shake off the dust accumulated throughout the darker winter months and wipe your slate clean, both literally and metaphorically. And the practice actually benefits your mood and health in addition to your home, according to the Cleveland Clinic.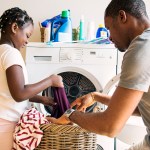 To help make this year's housekeeping blitz as pleasant as possible, we've compiled 15 of our favorite spring cleaning products, from organizational how-to guides to eco-friendly detergent and a label maker that connects to your smartphone. Keep scrolling to see what else made the list!
Blueland Clean Essentials Starter Kit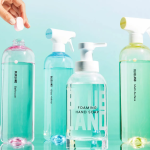 Spare your surfaces, and your skin, the harsh chemicals included in many cleaning formulas. Blueland products are "plant-based and planet-friendly," and each comes in refillable packaging, so running out doesn't mean throwing out.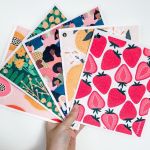 While undeniably convenient, paper towels contribute to deforestation and pollution. Cut down on your use with Papaya's adorable version of classic Swedish dish towels — just one of these zero-waste, reusable sheets replaces 17 rolls. They're antibacterial (meaning no mildew smell) and compostable, so when you're ready to part with them, you can say goodbye without the guilt.
Coway Airmega AP-1512HH Air Purifier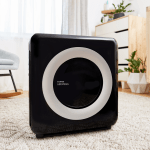 A Wirecutter "top pick" since 2015, the Coway Airmega's impressive capabilities set it apart from other purifiers. Using True HEPA Technology and a vital ionizer, the sleek device removes 99.9% of ultra-fine particles like viruses, bacteria, and pollen, and filters out pet hair and odors. It also includes an antimicrobial treatment to deactivate the spread of contaminants. How's that for a breath of fresh air?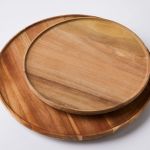 Pair acacia wood with a space-saving spinning mechanism, and voila: your pantry instantly becomes prettier and tidier. Store spices and oils for easy access when cooking, or go classic lazy Susan style and display it on your dining room table.
Chill Bill Refrigerator Deodorizer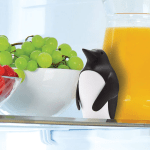 Meet your refrigerator's new best friend! Fill Bill with baking soda to neutralize odors and absorb moisture in your fridge — but unlike a plain old box of baking soda, he's sure to bring a smile to your face, too. He's easy to refill and clean, and is made of durable food-grade materials. Who says functional can't also be fun?
Dirty Labs Bio Enzyme Laundry Booster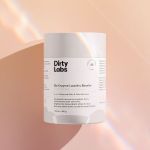 Get those dirty clothes even cleaner with this non-toxic, biodegradable laundry booster featuring a "groundbreaking" bio enzyme that helps get rid of stains and odors. Scent-free and hypoallergenic, the "high-efficiency" formula packs a ton of power in a small, recycled cardboard package. Even the wooden scoop is sustainable!
Stackable Kitchen Counter Basket With Bamboo Top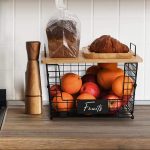 Have you noticed that no matter how expansive a kitchen counter, there's somehow still never enough space? Keep your fruits, vegetables, quick-grab snacks, coffee-making supplies, or anything else in need of a home in these convenient stackable baskets. The bamboo tops double as cutting boards and the chalkboard labels add charm.
Clutter Keeper Organizational Guides, Workshops, and Planners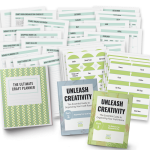 Declutter your space (and your headspace) with help from Clutter Keeper. Whether you're looking to tidy up your home or take charge of your budget, this family-owned company offers workshops, guides, planners, and ideas all aimed to empower you to get organized — and stay organized, long after your spring cleaning is complete.
Urban Outfitters Talia Customizable Hook Set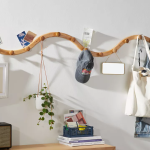 If you've ever meticulously decorated a room only to decide a few months later that you want a change of scenery, this wall-mounted hook set is for you. Its 12 hooks can be reconfigured into four different patterns, and each hook can sustain up to 15 pounds, meaning they're pretty enough to drape necklaces on but sturdy enough to hold your winter coats.
Bissell Little Green Portable Carpet and Upholstery Cleaner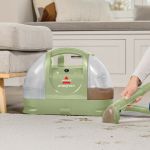 If you've got a furry little buddy who loves to sit on your lap, but leaves paw prints and pet hair on your furniture in the process, the Bissell Little Green is a must-have. Staff writer Rebekah Brandes uses hers whenever she has guests over. Even better than its quick and easy cleaning capabilities, the handy machine helps pets find their forever homes: for every purchase, the company donates to the Bissell pet foundation.
Brother P-Touch Cube Smartphone Label Maker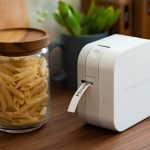 Say goodbye to that old-school embosser that's due for an upgrade, and meet this next-generation label maker. Choose from 450 symbols and a variety of fonts to create personalized labels straight from your Apple or Android smartphone. The cube prints your design on flexible cable or fabric tape that comes in a variety of colors.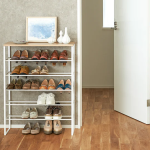 A shoe rack shouldn't be a hallway eyesore, but rather an unobtrusive and, dare we say, stylish element of your home decor. This sleek, steel model is "as practical as she is pretty," with six-tiers for shoe storage, clip hooks for hanging umbrellas, and a classy wooden top to set your keys on or display family photos.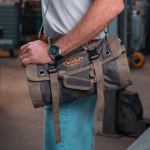 Anyone else have a tool drawer or box that requires you to dig through layers of clutter to find the instrument or hardware you're looking for? Consider switching out your current receptacle for the Ryker Bag — a roll-up style carrier that holds everything from tiny screws to hefty wrenches. It's easy to move from room to room and fits cozily in your closet when not in use.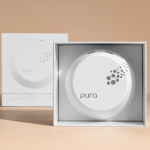 For a healthy home fragrance experience that steers clear of harmful chemicals, this is a diffuser with a difference. It's programmable via your smartphone — you control when and how to dispense your favorite fragrances! Best of all, there's a dazzling array of clean, premium fragrances to choose from that are safe for the whole family (including kids and pets). It's the perfect way to cap off your spring cleaning.
Public Goods Walnut Scrubber Sponge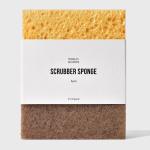 Another eco-friendly offering, the Public Goods walnut sponge is made of natural vegetable cellulose. It's strong enough to scrub off grease and grime without including potentially toxic chemicals, like triclosan, that are present in some other household sponges.