shapecharge/ iStock
There's something special about cultivating a garden: A certain kind of quiet pride comes with planting seeds in soil, nurturing them as they take root and grow, and then admiring the fruits of that labor.
In fact, gardening provides a whole host of physical and mental health benefits. Not only can it serve as a great form of exercise, it's also been shown to decrease anxiety and depression and increase emotional well-being. A 2006 study even found that daily gardening reduced the risk of dementia by 36%.
To help make the activity even more enjoyable, we've rounded up some unique and essential gardening accessories. Whether you're a pro with a trowel or you're just learning how to care for houseplants, we have you covered with funky vegetable seeds, a comfy portable bench, an adorable ceramic piglet planter, and much more. Scroll to see the full list — happy gardening!
Roo Gardening Apron With Pockets and Harvesting Pouch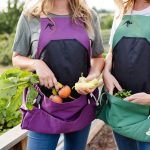 Tote everything you need to and from the garden with this convenient canvas apron. Multiple chest pockets store your tools and accessories, freeing up your hands to work the earth. The large, harvesting pouch for produce is water-resistant, and the apron's ergonomic strap design keeps weight off your neck, so you can comfortably carry up to 65 pounds.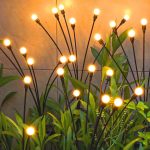 Just like your plants and flowers, these innovative solar lights depend on the sun as a source of energy. No cables or plugs are needed; simply place where you like and flip the switch on the bundle of bulbs. Best of all, they gracefully sway in the breeze, resembling fireflies dancing over your garden.
Bees help pollinate the world's food and flowers, and your garden helps provide essential nutrients to the beneficial little buzzers. In addition to nectar and pollen, bees need H2O. Install this handmade glass ball to give them easy access to drinking water while adding a touch of elegance to your yard or deck. Available in three colors.
The Well-Gardened Mind: The Restorative Power of Nature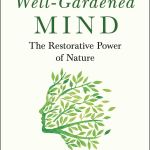 Weaving together personal observations, history, and horticulture, psychiatrist Sue Stuart-Smith emphasizes how nature benefits both body and soul in what the Sunday Times called "the most original gardening book ever."
Garden Kneeler Seat With Tool Bag Pouch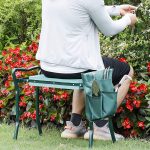 Portable kneelers and benches are essential for giving your knees and back a break when pulling weeds or planting — not to mention they spare you from having to sit in the dirt. This one serves as both: Use as a seat when it's upright, or flip it over to kneel on its foam-padded cushion. It has a weight capacity of 250 pounds and even comes with a detachable tool bag.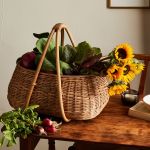 We're absolutely charmed by the Olli Ella Mosey basket, and willing to bet your favorite gardener will be too. The vintage-inspired piece is pretty enough to be placed atop a counter and filled with freshly picked flowers, and plenty sturdy too, capable of carrying produce or a picnic lunch. Have a child in your life? Gift them this adorable mini basket.
Life Is Good was founded by two brothers on a mission "to spread the power of optimism." We couldn't be more on board! The brand's stylish, unisex hats are perfect for keeping the sun off your face, and they're also adjustable and pre-washed for softness. Even better, 10% of all net profits go toward helping kids in need through the Life Is Good Foundation.
Emma Bridgewater Handmade Ceramic Mug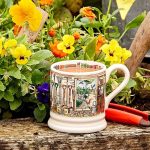 Cozying up with a hot cup of tea or coffee makes for a peaceful pre- or post-gardening ritual, and Emma Bridgewater's collection of half-pint mugs, handcrafted in England, lend a little extra loveliness to each sip. We love the potting shed imagery above, though the "My Garden Is My Happiness" design is another great option.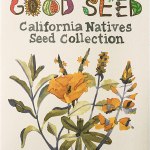 How does your garden grow? With seeds, of course! The Plant Good Seed Company is dedicated to "connecting plants and people," and offers herb, vegetable, and flower varieties that have all been sourced either from the organization's farm in Ojai, California, or its network of like-minded growers.
Click & Grow Indoor Herb Garden Kit With Grow Light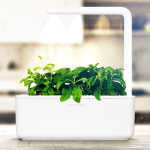 You don't need a yard, or even sunny weather, to be a master gardener; Click & Grow's indoor herb garden makes it easy to have fresh greens at the ready. Drop in the preseeded pods (there are over 50 options to choose from, including wild strawberries, thyme, and chili peppers), fill the water reservoir, turn on the LED light, and you're all set.
Garden Tool Set With Bag and Gloves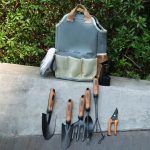 Every gardener needs a good tool set. We like this one because it comes with a trowel, cultivator, weeder, hand rake, pruner, a spray bottle, and pair of gloves — and they all fit in an included bag with space left over to carry other accouterments.
Enchanted Talavera Ceramic Piglet Planter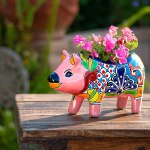 Looking to add a bit of whimsy to your garden or windowsill? This hand-painted ceramic piglet planter is cute as can be. Two sizes are available, and both come with pre-drilled drainage holes to prevent soggy soil. Crafted "with love" in Mexico, each item is unique, making them thoughtful gifts for friends and family.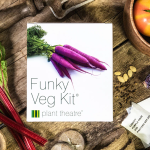 Orange carrots are classic, but cosmic purple offers a little pizzazz! Turn your garden up a notch with Plant Theatre's Funky Veg Kit, featuring five fun seed varieties: purple carrots, Rubine Brussels sprouts, stripy tomatoes, golden zucchini squash, and rainbow chard. Each kit comes with five pots, peat discs, and plant markers, as well as a packet of "sowing & growing tips." Check out the company's other kits for more creative gardening ideas.
Sprout Plantable Coloring Pencils
These coloring pencils will bring life to your imagination — and your garden, too! Once they're too short to use, simply pop them into soil for a second start. Each of the eight colors carries different non-GMO seeds: basil, thyme, sage, chia, forget-me-not, daisy, carnation, and cilantro. With every pack purchased, a tree is planted by Eden Reforestation Projects.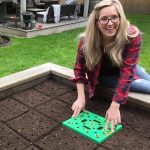 Planting seeds may seem simple, but ensuring your spacing is even and accurate can be tricky. Enter: the Seeding Square. It's a magnetic template that helps maximize your garden yield with tidy rows of perfectly-spaced sprouts. An organized garden not only saves water, but also leaves less room for weeds. Associate Editor Ally Mauch recently gifted the square to her mother, and she absolutely loves it!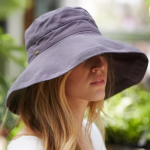 A roundup of fabulous gardening products wouldn't be complete without a classic gardener's hat, and we adore this stylish yet practical option from Anthropologie. The one-size-fits-all accessory is handmade and comes in eight colors. It includes an inner drawstring for easy adjusting and has a spacious five-inch brim. Plus, the hat's breathable cotton provides UPF 50 to help protect you from the sun's rays.
RELATED: 15 Spring Cleaning Essentials to Make Your Space Sparkle — From Sustainable Detergent to a Smartphone Label Maker