studiogstock/ iStock
The breadth of human accomplishment is mindblowing: We've cured diseases, implemented programs to take care of and give back to one another, and developed technology to make our lives easier. One area humanity could still stand to improve upon, however, is the negative impact we have on our planet.
Each year, people produce more than 400 million tons of plastic waste globally, per the United Nations. And of the over 7 billion tons so far generated, less than 10% has been recycled. A significant portion comes from single-use items: water bottles, packaging, disposable silverware, and more.
It's essential that each of us is cognizant of how we contribute to those statistics, as well as to the many other damaging processes that harm Earth: from food and water waste to unnecessary energy usage and deforestation. But making lifestyle changes doesn't have to be a daunting task. By being aware of the simple choices we make, we can cut back significantly on our individual carbon footprints.
Those choices include the items we use daily. Check out this list of some of our favorite eco-friendly products, like a living composter that turns your leftover food into fertilizer for houseplants and a biodegradable phone case. Remember, you don't have to change everything all at once to make a difference — each small, sustainable substitution is something to celebrate.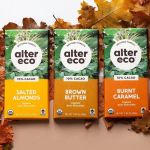 We're starting our list off on a sweet note! Sustainability doesn't equate to sacrificing enjoyment, and Alter Eco is the perfect example. The fair-trade, "chocolate with a conscience" company is climate neutral-certified and dedicated to regenerative agriculture. With compostable packaging and delicious flavors like brown butter and raspberry blackout, these tasty treats are anything but a guilty pleasure.
Raising the cool quotient exponentially for eco-friendly kitchen products, this biomorphic composter relies on hardworking worms to turn over two pounds of food scraps a week into healthy fertilizer for your houseplants. Keep it outside on the deck or inside on your counter; it's entirely odorless, and the simple, futuristic design will complement any home aesthetic.
World's Strongest Reusable Produce Bags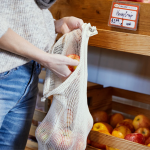 Many people already opt to bring their own reusable grocery totes to the store rather than go home with the paper or plastic ones available at checkout. The next step in sustainable food shopping? Saying farewell to those single-use plastic produce bags. These organic cotton options are expandable, sturdy, and machine washable, and each 9-pack comes with small, medium, and large sizes.
For eager explorers, this interactive water bottle showcases all 63 U.S. national parks and comes with colorful stickers so you can mark which ones you've visited. Stainless steel with a 32-ounce capacity and leakproof straw, it stays cold for 24 hours or hot for 12. Best of all, 5% of each purchase supports the National Parks Conservation Association and helps protect our public lands for future generations to enjoy.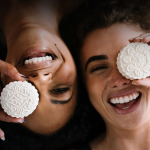 Beauty products account for a substantial portion of single-use plastic packaging, and particularly hygiene items that require people to make new purchases each month or so. That's where these shampoo bars come in. According to Viori, the handy bars have helped keep more than 2.8 million plastic bottles from ending up in the trash and saved over 2 million gallons of water. Handcrafted from natural ingredients that are sulfate-free, cruelty-free, and sustainably sourced, they'll keep your conscience as clean as your hair.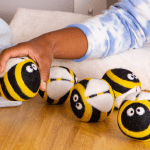 Not only are Friendsheep's wool dryer balls adorable, they're also an eco-friendly alternative to disposable dryer sheets. Helmed by a former biologist and her husband, the company is dedicated to reducing waste and saving energy, and partners with the Eden Reforestation Project to plant a tree for each item sold — so this purchase will have you feeling warm and fuzzy in more ways than one.
This plastic-free unisex razor allows you to shave with style — and without waste. A refillable stainless steel single-edge blade complements the streamlined, high-performance razor design, for a product that delivers a close, quality shave from head to toe. Available in six colors, including mercury, black, and rose gold.
The Humble Co. Bamboo Toothbrushes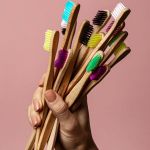 These plastic-free bamboo toothbrushes were developed by dentists to combat plaque, protect from cavities, and keep bad breath at bay. And for each one sold, a child in need receives their own, or an alternative oral care product. How's that for a reason to smile?
Siblings is the antidote to throwaway candle culture. Showcasing a dazzling array of sumptuous yet non-toxic fragrances, the innovative brand sells eco-friendly wax that can be poured into old candle containers, jars, or other vessels you already own. Plus, it's packaged in 100% compostable bags. Savor the scent, skip the waste.
Biodegradable Bamboo Cotton Swabs
Cotton swabs are bathroom staples, but they're also often made of plastic and can wind up polluting the ocean or languishing in landfills. That's why we love this eco-friendly product: They're made from cotton and bamboo, and come in recycled packaging.
Public Goods Walnut Scrubber Sponge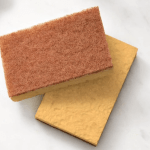 The Public Goods walnut sponge is hypoallergenic and made of natural vegetable cellulose. It's strong enough to scrub off grease and grime without including potentially toxic chemicals, like triclosan, that are present in some other household sponges.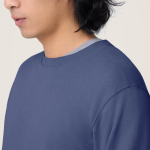 Get cozy in Allbirds' R&R classic crewneck sweatshirt, for "resting, recreation, [and] rendezvousing with friends." The stylish tops are made in Peru from cotton, hemp, and Tencel, and Allbirds is committed to sustainability. Read about the company's climate-friendly practices here.
Baggu Recycled Nylon Fanny Pack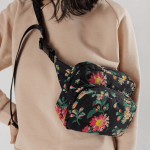 Have you heard? Fanny packs are back in, and in a big way. We've featured Baggu's chic canvas totes before, so including this adorable recycled nylon bag in our list of eco-friendly products was a no-brainer. Available in a ton of different designs, it's machine washable and arrives in 100% recycled paper stock packaging.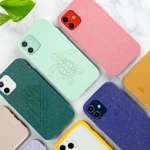 You don't have to add every eggshell and orange peel to a kitchen compost bin to help out the environment (though it's great if you do!). By fashioning stylish phone cases from flaxseed fiber, Pela is on a mission "to create a waste-free future." Whenever you're ready to part with your case, mail it to the company for free, and Pela will send it "back to the soil," as founder Jeremy Lang says.
Girlfriend Collective Compressive High Rise Leggings
There's a reason people go wild for Girlfriend Collective. The company makes attractive, sustainable apparel that feel good to wear and to buy. Another perk? Finding squat-proof leggings can sometimes be as tricky as actually doing the squats, but these high-rise options stay snug as you get your workout in.
RELATED: Got a Green Thumb? Try These 16 Must-Have Gardening Products