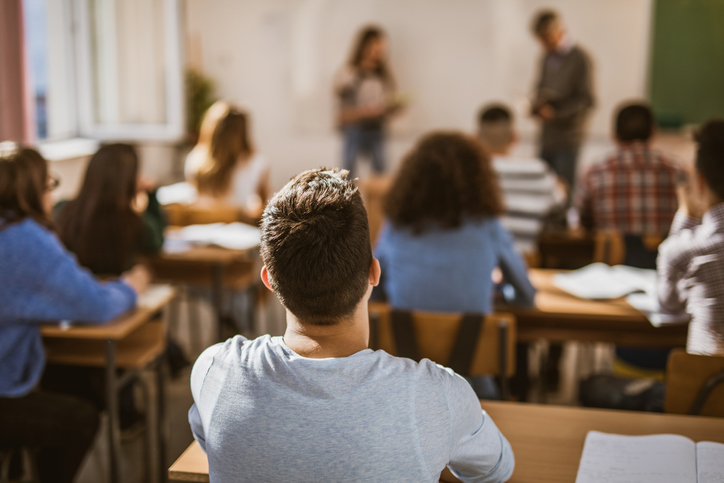 skynesher / iStock
Great teachers have the power to create vivid memories from our youth that we carry with us into adulthood. But one middle school teacher in Montclair, New Jersey, has been using a memory from his own childhood to share an important lesson about empathy and acceptance.
When Daniel Gill was 9 and living in New York City, he and his friend Archie set out to attend a birthday party for a friend. Gill is white; Archie was Black. "The woman who is the mother opened the door and said that I could go in but that Archie couldn't because there were no more chairs," Gill told CBS. Confused, Gill offered to sit on the floor, but the woman simply repeated that she didn't have enough chairs. Eventually, Gill understood that Archie wasn't welcome because of the color of his skin. In tears, the two boys left together.
Inspired by his friend and that formative moment, the now-75-year-old has kept an empty chair in his classroom at Glenfield Middle School for the past five decades as a symbol of inclusion.
Gill, who teaches social studies, first shared the memory in the 1980s when expounding upon the Civil Rights Movement. The story profoundly impacted his students, and the empty chair became a fixture in his classroom from there. "Kids work well with symbols," he told Today. "It's a reminder that they can do better — better academically, socially, and emotionally — but also to make people feel welcome and make this a better place to live."
As a young man, Gill moved to Montclair, where he worked to integrate Glenfield Middle School and turn it into a magnet school for the arts. Then, he stayed put for the next 50 years. Principal Erika Pierce appreciates his creative lesson. "It keeps us anchored, and so sometimes, when we get distracted and politics get in the way or you hyper-focus on something that's not as important, Mr. Gill can always bring us back," she told CBS.
Gill plans to retire next year, but his story doesn't end in the classroom. Last month, at a book-pitching contest held at the Montclair Literary Festival, Gill shared his idea for a children's book titled No More Chairs. According to NorthJersy.com, a publisher has already reached out with an offer. "This is a story for our times. People are desperate for messages that connect us rather than pull us apart," Arielle Eckstut, the contest organizer, told the outlet.
Archie and Gill lost touch in adulthood, and Archie passed away last year. But recently, Gill turned to social media to locate his old friend's family members. He plans to reach out to Archie's daughter to include her in the process of writing the book, CBS reported.
Hopefully, Gill's lesson in empathy and equal rights will reach even more families. "Not all of us can become president, not all of us can become senators, but if all of us do our due diligence in how we treat other people, then this will be a better world," Gill said.