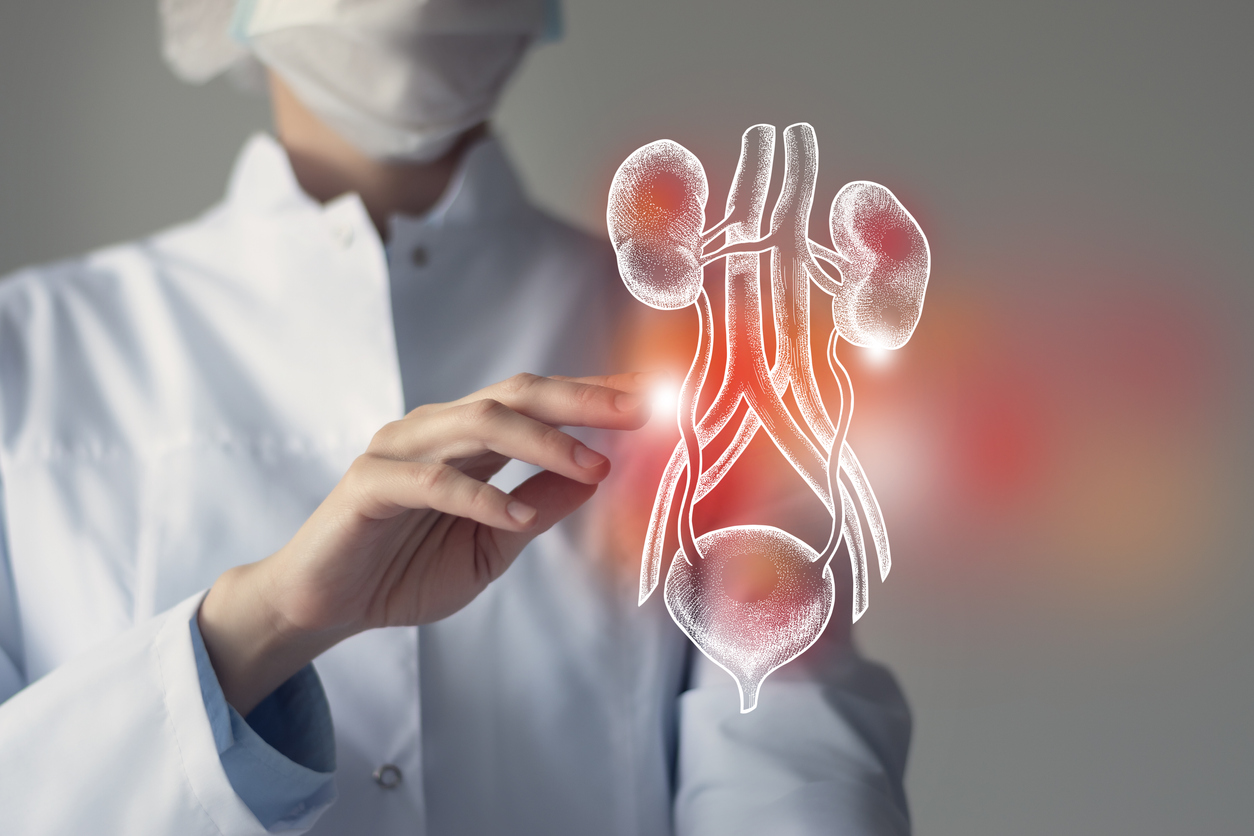 mi-viri/ iStock
Urologists at the University of Southern California's Keck Medicine are preparing to perform the world's first bladder transplant on a human patient. Part of a newly launched clinical trial, the surgery could be "a historic step in improving lives," USC Urology's Executive Director Dr. Inderbir Gill, who is leading the trial, shared in a statement.
The procedure hasn't been previously performed in part due to the pelvic area's complicated vascular structure. But following years of preparation and in-depth research, Gill and his team have developed a plan to use robotic surgery to complete the technically complex operation, wherein the patient's diseased bladder will be removed and replaced with a healthy organ from a deceased donor.
Per a news release from Keck Medicine of USC, the advanced technology relies on a "​​high-definition, three-dimensional camera to guide a robot to perform surgery using smaller, more precise incisions with more dexterity than is possible using hand-held surgical tools."
Bladder cancer is one of the top 10 most common cancers in the United States, with an estimated 82,290 new cases diagnosed annually, according to the National Cancer Institute. And that figure is just a small fraction of the hundreds of millions of people around the world affected by varying degrees of bladder disease and dysfunction each year.
Some of those patients require bladder reconstruction, a procedure that requires the affected organ to be removed and a new one be created from the patient's intestines. Not all individuals are candidates for the operation, however, and it carries a high risk of adverse side effects, the USC release explains.
"The intention of this clinical trial is to develop a new treatment option for a certain subset of patients with debilitating bladder conditions that can severely hamper quality of life and ultimately, even shorten life," said Dr. Nima Nassiri, a urologic surgeon and collaborator on the trial. "We have worked diligently to expand the boundaries of what is considered possible for severely compromised patients who traditionally have had few options."
The trial is currently screening potential participants, with plans to follow up with the five selected patients post-procedure "at three, six, nine, and 12 months and then every three months for the first year and once a year thereafter." The trial currently has a predicted primary completion date of October 2024, with a study of the results predicted to conclude the following year.
Said Gill: "We could be on the verge of a medical advance that has the potential to revolutionize how we treat terminally compromised bladders."