Sumner County Schools / Kelly Flood
High schoolers in Tennessee have made headlines for an innovative act of kindness: creating a robotic hand for their classmate. 
When Sergio Peralta, 15, started the year as a new student at Hendersonville High School, he tried to conceal that he was born with a right hand that didn't fully form. "In the first days of school, I honestly felt like hiding my hand," Peralta told CBS News. "Like nobody would ever find out."
Eventually, a teacher in the engineering program, Jeff Wilkins, learned about Peralta's hand, and suggested that his engineering students might be able to help. "They ended up offering me, like, 'We could build your prosthetic hand', and I never expected it," said Peralta.
Though the teens were unsure if the idea would work, they didn't let uncertainty stop them from trying. They spent four weeks designing, sizing, and creating a prosthetic hand with online models and a 3D printer, ultimately discovering firsthand how engineering can be used to make a practical and meaningful difference.
Sumner County Schools / Kelly Flood
"You're supposed to be engineering, coming up with new ideas, solving issues," Hendersonville High School student Leslie Jaramillo told WTVF, a local CBS affiliate, "and just making things better than how they used to be".
According to the BBC, Peralta had become proficient at using his left hand to write and do "nearly everything else." But there were certain things that weren't attainable, like catching a baseball in his right hand.
RELATED: Inspiring Teen Invents "POSH Pillow" to Help Breast Cancer Patients Travel More Comfortably in Cars: Exclusive
So after about a month of building the prosthetic — and developing a friendship with Peralta along the way — the students tested the robotic hand with none other than a game of catch. The results: For the first time, Peralta was able to play catch with both hands.
"I never expected this. Living without a hand for 15 years and they actually offered me two is actually pretty cool. No one has ever offered me this stuff, " he told WTVF.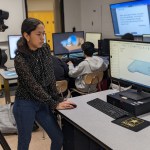 Sumner County Schools / Kelly Flood
This ambitious project not only represents the vision, but also the leadership behind the engineering program, said Hendersonville High School principal Bob Cotter to the BBC of Wilkins' class, Engineering: Design and Development, which was aimed to take the theoretical "and turn it into reality." Cotter added that the robotic hand is "a testament to the students we have here who care about each other and the programme that Jeff Wilkins has built."
It's a beautiful lesson of the power of kindness and creativity that will go far beyond the classroom. Peralta told CBS, "They changed my life."