Shauna Townley/ Focus Features
Growing up, Kevin Iannucci didn't often see himself represented in his favorite movies and TV shows, so he came up with a solution to change that. 
"I started rewriting them to include myself in the plot," the 28-year-old, who has Down syndrome, told Nice News via email ahead of World Down Syndrome Day. "I've always believed that film and television should look like real life — and real life includes people like me, too."
He doesn't have to do that anymore, though: Iannucci has a growing list of acting credits, most recently the heartwarming basketball comedy Champions, in which he stars alongside Woody Harrelson and Kaitlin Olson. Harrelson plays Marcus, a former minor league basketball coach who receives a court order to lead a team of players with intellectual disabilities. Initially disgruntled, he soon grows close to his players, including Iannucci's Johnny, and forges a romance with Johnny's older sister, Alex (Olson).
RELATED: Cookie Company CEO With Down Syndrome Is Creating Jobs for People With Disabilities
Iannucci cites meeting the Oscar-nominated Harrelson for the first time — "and getting to bear hug him" — as his favorite moment from making the film, which hit theaters earlier this month.
And though he's come a long way from adjusting TV scripts, he's quick to note he hasn't done it alone. "It takes a village!" he said, thanking his family and friends. Indeed, Iannucci's acting journey began with his loved ones, when his older siblings and their friends included him in their short films.
"It was amazing to get the chance to play so many different kinds of characters, and it made me want to pursue acting even more," Iannucci said, adding that his passion for acting grew from there and he now loves "everything" about his chosen profession.
"I enjoy being on set, making new friends with the cast and crew, and making people laugh," he said. "As a performer, I really enjoy the process of becoming each of my characters."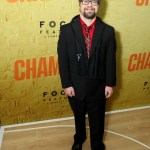 Marion Curtis/ StarPix for Focus Features
In honor of World Down Syndrome Day, celebrated annually on March 21, Iannucci emphasized the importance of representation on the screen. "I hope young people with Down syndrome and disabilities can see themselves in Champions and are reminded that they can accomplish more than people may think they can," he said.
"I first started acting because I believed in myself and wanted to chase my dreams, and it's been an unexpected and amazingly rewarding experience to have also become a role model for others along the way," he continued. "I am very proud to be a role model for others with [intellectual disabilities], and I hope they continue to chase their dreams, just like me."
His final message? "Down Syndrome may make me different, but it doesn't mean I want to be treated differently than anyone else."
Champions is in theaters now.