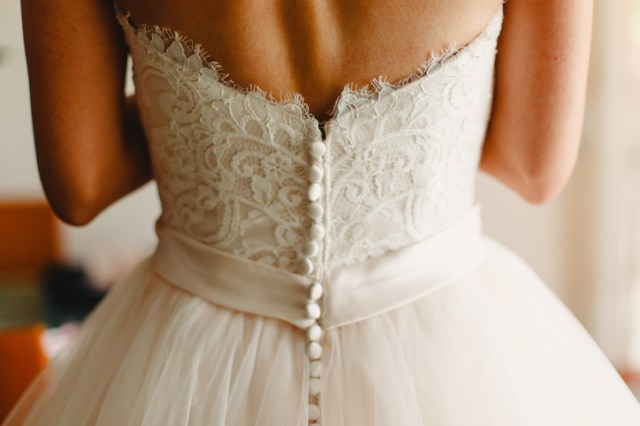 Joaquin Corbalan / iStock
The perfect dress can make a bride feel like royalty, but with the average gown costing $1,800 many women can't afford the dress of their dreams. Newlywed Gwendolyn Stulgis took note of this and donated her wedding dress so someone else could feel as beautiful as she did — starting a movement that has other brides doing the same.
Stulgis visited several shops and tried on many dresses before finding "the one," a stunning $3,000 champagne-colored gown with sheer long sleeves and intricate bead and lace details, at Evaline's Bridal & Tuxedo in Warren, Ohio. She told Insider it was love at first sight.
"I got emotional looking at it because it was everything I really wanted," she said. "I don't think I could have pictured myself in anything else. That dress was just made for me."
There was just one catch: the dress, made by Allure Bridal, cost $3,000, $2,000 more than she'd budgeted. But Stulgis couldn't pass it up. She purchased the gown and wore it to her May 6 nuptials to her husband, Frank Stulgis. 
After the wedding, Stulgis hung her dress in a closet but soon decided to donate it instead.
"I want someone else to feel the way I did on my wedding day — to look beautiful," she told the outlet. "I want them to get the dress of their dreams without worrying about buying one. A wedding dress shouldn't just be kept in a closet."
So less than two weeks after tying the knot, Stulgis posted on Facebook, sharing her wish to give a bride-to-be the chance to wear her dress.
"I want it to go to a woman who deserves to have a dress of her dreams that can't afford one or settled for something more in her price range. I felt absolutely gorgeous in it and want someone else to feel how I felt," she wrote.
In the post she shared on her profile and local pages, she stipulated the bride's wedding should be within the next three months and that the recipient must promise to pass the dress along. She asked brides to write her a message describing why they deserved the dress. On June 4, Stulgis chose a winner and donated her wedding dress to Margaret Hyde.
"Margaret is just an amazing person," Hyde's future sister-in-law, Alycia Ashley, told Insider. "She is the type of person that will give you the shirt off her back. She's always the one doing the giving."
Hyde had planned to make her own wedding dress, but then she saw Stulgis' post. "I was in complete shock; I feel extremely loved," she said. "I'm looking forward to feeling like a princess for a day."
Now, other brides are giving away their dresses through Stulgis' "Shared Dream Dresses" Facebook group, which currently has 1,300 members.
"I want to help as many women as I can find their dream dress," Stulgis said. "Everyone should feel the magic and beauty I felt the day I married my best friend."