I Love Books
The National Center for Education Statistics reports that roughly 1 in 5 U.S. adults are illiterate or possess low literacy skills. I Love Books is on a mission to change that, one book at a time.
The social impact organization, founded in 2021, aims to end illiteracy by ensuring that all children have access to books. Through selling apparel and accessories, I Love Books is able to provide new books to youth by investing "50% of [its] net profits in books and literacy programs," according to the company's website.
So far, it has donated over 3,000 books to elementary school students across three Kentucky cities: Louisville, Lexington, and Hazard.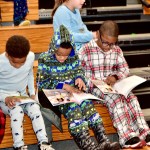 "One of the barriers to achieving a high literacy capability for kids is they don't have books in their homes, or they don't have books in their communities. Their schools may not have a lot of books, [and] if they do, they may not be the types of books that they want," founder Jonathan Beatty told Nice News. "If you're a parent and you've got to choose between your meal or rent or whatever bill that you may need to pay and a book, you'd probably choose the prior."
Poverty and illiteracy are closely linked, so increasing access to books for future generations could help break that cycle, as reading gives young people access to more information and inspiration. Beatty has witnessed the power of books in his own life.
"Books have given me access to information that I would have otherwise never had, including how to build and scale a business [and] how to wire my brain and think more positive in a world that doesn't necessarily encourage that," he shared, noting that his favorite book is The Alchemist by Paulo Coelho. "For anyone [who] decides to go on a journey to really fulfill their 'personal legend' as [Coelho] calls it, I think it is a necessity to be able to read and get information from people who've done what you want to do, people who think in a way that you're aspiring to think."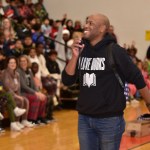 To spread literacy among young readers, I Love Books hosts an interactive giveaway called #booksgiving, in which the organization partners directly with schools and nonprofits to provide books on a quarterly basis. For one of the first giveaways, more than 300 children from the Promise Academy at William Wells Brown Elementary got their own copies of LeBron James' I Promise, which is read at the school each morning.
I Love Books also hosts a program called B.A.M., combining books, art, and music.
"Instead of just making this about books we wanted to expand and say, 'What does it look like for us to focus not just solely on reading and literacy? What if we expanded it to show how literacy gives you the ability to write songs or understand music lyrics better?' As an artist, maybe you want to read more about art or create your own, you're going to need to read to be able to perform at the highest of levels in that regard as well," said Beatty.
As for the future of I Love Books, the organization is converting into a nonprofit, which will eventually put 100% of net profits toward books, Beatty explained.
His ultimate message? "To parents, to caregivers, read with your children and read to your children and let your children read to you," he said. "It's very important for all parents to make sure they give their time and invest in their children's literacy, not just their education."