Memorial Hermann Memorial City Medical Center
In a beautiful ceremony that an ICU nurse described as "one of the best memories of the hospital," a woman battling stage 4 cancer wed the love of her life in the building's chapel.
Norina and Ramon Navarro met through mutual friends and began dating about five years ago, often going dancing. Before long, the two had fallen for each other and realized they wanted to spend the rest of their lives together, through thick and thin.
Unfortunately, the hard times came sooner than later for the couple. In January of 2020, Norina was diagnosed with stage 4 rectal cancer, less than a year after the COVID-19 pandemic had sent the world into a tailspin. Ramon, who goes by Ray, dutifully took Norina to treatments, arranging rides home with her sister when he couldn't be there.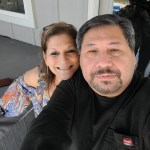 "He's been by my side," Norina shared with Nice News. "It just makes it smoother for me to be able to handle my disease process." Though Ray is quick to add that the TLC isn't one-sided: "She takes care of me, too," he said.
Norina's condition worsened, and one weekend this past November, her health drastically declined. She was admitted to the medical intensive care unit (MICU) at Memorial Hermann Memorial City Medical Center in Houston, Texas.
There, doctors explained to Ray how critical her situation was, preparing him for the worst. For the past year, the two had been planning to wed, and had already received a marriage license. Knowing that, one of Norina's oncologists suggested they speed up their timeline.
Ray took the idea and ran with it. Why not get married right there, in the hospital? He arose the next morning as a man with a plan. "I woke up, and jumped up, and I knew right then we were getting married," he said. "I walked over to Norina and I kissed her on the head and told her 'good morning.' And I said, 'We're getting married today.'"
Not many grooms are tasked with planning their wedding, but luckily Ray had the help of a team of doctors and nurses. Norina had already picked out and purchased her wedding dress and a matching tiara. Ray called family and friends to come to the wedding, then drove home to pick up the gown, along with rings and their marriage certificate.
"He picked up everything but his suit," Norina said, laughing. As he ran back home for that, the medical team helped Norina and her bridesmaids with their hair and makeup, and located a special hospital bed for her that would fit through the chapel doors.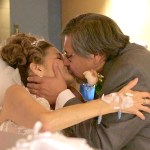 Memorial Hermann Memorial City Medical Center
In total, 25 family members attended the wedding, along with friends, and hospital staff — including the hospital chaplain, who married the couple.
ICU Nurse Megan Polvi recounted how patients and staff members cheered the wedding party on as they passed through the halls on their way down to the hospital chapel. "It was just the best feeling ever," she said. Polvi added that at the reception nurses threw for the newlyweds in the MICU after the ceremony, "Both Ray and Norina's smiles were just infectious … you could just feel the love coming out of the room."
Remarkably, Norina began feeling better after the ceremony, and she was discharged from the hospital two days later. Today, she and her husband are enjoying each other's company in the home they share.
"Every day for me is a blessing," she said. "You have to be positive. You have to move forward."
RELATED: 10-Year-Old Cancer Patient's Story Brought to Life by "American Idol" Alum