Alex Demetriou / Seaward Hotel
A community of care, compassion, and hope has blossomed at The Seaward Hotel in Weston-super-Mare, England, which is currently home to 22 Ukrainian refugees.
Following a pandemic closure, the seaside hotel only saw a small return of visitors since it reopened. So when Russia launched an invasion of Ukraine in February, owner Nitsa Michael and her daughter Michelle Michael stepped in to help: they closed its doors to tourists and instead decided to house refugees in need, reports Wales Online.
"She was feeling quite sad about it all, and that's when she came up with the idea of opening the hotel to refugees," said Michelle, 53, who runs the hotel.
"I felt for them — me and my family hope we're helping them," said Nitsa, 84. The great-grandmother of five has firsthand experience with war and tragedy. In 1974, Nitsa — who had emigrated from Cyprus to the U.K.in the mid-1950s — watched her husband's family flee their homes during Turkey's invasion.
She couldn't help but feel connected to Ukrainians facing similar circumstances. "Let's help, let's help in a big way, this is what I want to do," Michelle recalled her mother saying.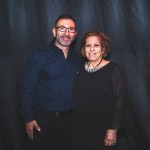 Courtesy of Alex Demetriou
Arrivals at the hotel are treated with kindness and dignity, with Nitsa visiting weekly to meet all of the guests and listen to their stories. Welcome kits are provided to guests along with a government-granted £200 (around $250) to help them get set up, including getting a National Insurance number and bank account.
In addition to being a safe haven, Michelle said their "aim and aspiration is to build a small community of like-minded people that look after the place like it's their home."
"They share meals and time together, and basically they heal together. We've been brought up to help give people what they want and need," she added.
Among the refugees is Yuliia, 31, who is living at the hotel with her husband and dog. Her story echoes that of Nitsa's — she left her parents behind and hadn't spoken to them for over a month before arriving at the Seaward in April. Since then, Yuliia has obtained a phone and is in contact with her family. She now helps translate for new arrivals who often don't speak any English.
The local community has also pitched in to help, donating clothing and electronics that will slowly, step-by-step, help the refugees rebuild.
"Together we've been able to contribute to hopefully a very good start for the refugees," said Michelle, per the BBC.
RELATED: Refugee Who Paints With a Toothbrush Nominated for Prestigious Art Prize: "My Message Is Love"