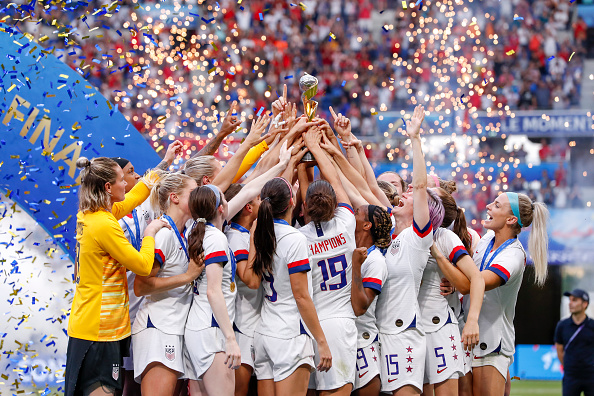 Catherine Steenkeste / Getty Images
The last few years have yielded plenty of challenges: political and financial unrest, the COVID-19 pandemic, poverty, habitat loss, and the effects of warming temperatures due to climate change, to name but a few. But there's still plenty of good in the world, from small and simple pleasures to larger advancements offering collective hope for a better tomorrow, and 2023 seems poised to deliver some truly excellent things on both fronts.
Advances in cleaner energy, a bounty of new works of art entering the public domain, and even the release of a brand new Girl Scout cookie are among some of the positive things this next year beholds (Spoiler alert regarding the latter: if you love chocolate and raspberry, 2023 is definitely looking like your year!)
For more things to look forward to, read on:
Books, Films, and Other Works Published in 1927 Will Enter the Public Domain
On January 1, a new wave of once-copyrighted works — all first copyrighted in 1927 — will be entering the public domain in the United States, which, according to Stanford University's Copyright & Fair Use page, very broadly means you are free to use these works without seeking permission as otherwise normally dictated by intellectual property laws. Among this year's new arrivals: the first three Hardy Boys novels, literary classics by Hermann Hesse and Virginia Wolff, Alfred Hitchcock's first thriller, and "the final set of Sir Arthur Conan Doyle's Sherlock Holmes stories," per CopyrightLately.com. Check out their website for a longer list of the books, musical compositions, movies and other works of art entering the public domain on the first of the year.
An important thing to note: public domain varies from country to country, and just because a title is under public domain in one country does not mean it's fair game in all of them. Be sure to thoroughly research the rights to any works you'd like to use or repurpose before proceeding, and/or seek out professional legal advice as the situation warrants.
The FIFA Women's World Cup kicks off in the co-hosting nations of Australia and New Zealand in July. From its inaugural year in 1991 as a 12-team tournament, the 2023 tournament has nearly tripled the number of participating nations to 32, marking welcome progress for a sport long plagued by gender inequality. Hard-won victories for the U.S. women's national soccer team, for instance, only came in 2022: In February, they reached a proposed settlement with the U.S. Soccer Federation after filing a class action equal pay lawsuit, which was granted preliminary approval by a judge in August. In May, the U.S. Soccer Federation announced that it would pay the U.S. Men's National Team and the U.S. Women's National Team equally, which will include the "equalization" of World Cup prize money, NPR reported. This year's Women's World Cup offers a particularly exciting glimpse at a tournament that is finally starting to receive the viewership, respect, and buzz it deserves.
The iconic Sydney Opera House — Australia's most visited tourist destination, according to the New South Wales government website — will celebrate its 50th birthday in October. A yearlong schedule of special events launched in October 2022, and the 2023 fall finale, which includes Tim Minchin, Vance Joy, and Ngaiire & Sydney Symphony Orchestra, is expected to provide next-level excitement.
"It's a wonderful opportunity to showcase the Opera House's immense contribution to the cultural fabric of our nation, and to attract more people from across NSW and around the world to experience this extraordinary building and all it has to offer," Minister for Tourism and the Arts Ben Franklin said in a statement.
2023 Movies to Look Forward to
There's a running list of new titles coming to the big screen in 2023, with no shortage of franchises rolling out hotly-anticipated cinematic spectacles, sequels and prequels. Star Wars, Guardians of the Galaxy, Star Trek, Dungeons & Dragons, Indiana Jones, John Wick, and Hunger Games are among them — and even this sampling is only scratching the surface of everything to come. If you love movies, there's a lot to get excited about in 2023.
New Partnerships/Goals for Climate Change and Conservation
The United Nations Climate Change secretariat is pulling out all the stops in combating the escalating effects of climate change. It has issued a call for partnerships between the U.N. and "any innovative, environmentally responsible organization" to tackle both its existing projects and initiatives and any other proposed ideas that partners may bring to the table.
First U.S. Neighborhood-Scale Microgrid to Go Online
The Chicago-area neighborhood of Bronzeville is set to become the first "U.S. neighborhood-scale microgrid" in early 2023. Microgrid, in essence, means the neighborhood will be capable of being powered by backup gas-powered generators, rooftop solar systems, and batteries, all capable of connecting to and disconnecting from the larger power grid infrastructure. This experimental "community of the future" is intended to find a way for "essential community needs, such as hospitals and nursing homes," per The Hill, to remain operational during power failures or outages, with an eye toward developing communities that may one day rely largely, and maybe even entirely, on environmentally-friendly energy sources.
America's Largest Solar Power Plant Is Scheduled for Completion
In April 2022, Nevada's new solar power plant Gemini received $1.3 billion in financing, and will be considered the largest continuous solar installation in the U.S. when completed in 2023, Canary Media reported. While much progress still needs to be made in the renewable energy industry, many experts remain optimistic about its future: as recently reported by Reuters, it is "already, in many cases, both more cost efficient and environmentally sound for businesses to start adding renewables into their power mix — if they haven't done so already."
Daylight Saving Time May Become Permanent
In March 2022, the Senate passed a bill to make Daylight Saving Time permanent, which would put a stop to the changing of the clocks twice a year. But as of November, Congress remained split on the decision, leaving the future of Daylight Saving Time hanging in the balance. Per Reuters, proponents of the bill will now need to reintroduce it in the Senate in 2023 and try again. Will 2023 be the year? Hope springs eternal, even as clocks will spring forward at least once more this coming March.
California Will Open a New State Park — the First in 13 Years
California is set to open a brand-new state park called Dos Rios Ranch, in Modesto, after a 13-year lull. The site will restore habitats for a number of endangered species, including Central Valley Chinook salmon and the sandhill crane. The park is expected to open to hikers in late 2023, and additional amenities will continue to be opened and developed over the next five years.
A New Girl Scout Cookie Will Be Released
Meet the Raspberry Rally, a chocolate-covered raspberry-flavored concoction being described as a cookie that "may look like Thin Mints'® sister," according to the official Girl Scouts website, but with a fruit-flavored focus instead. And this new entry will only be available for ordering online. USA Today reported in August that official Girl Scout Cookie season falls between January and April, but local councils are free to sell them a bit earlier. Check out the Girl Scouts website for more information on when and how to order.
There Will Be a Rare Total Solar Eclipse
Love unusual astronomical events? On April 20, a few regions — chiefly South/East Asia, Australia, the Pacific and Indian Oceans, and Antarctica — will be lucky enough to behold (at least part of) a total solar eclipse. Check out timeanddate.com for specifics on exactly if and when you can catch this event in your time zone.
In 2023, the iconic Hollywood sign will celebrate its centennial anniversary. And to celebrate its milestone birthday, the world-famous Los Angeles landmark underwent a makeover in the fall by way of 400 gallons of fresh paint, according to Deadline. If you're unable to stop by to admire the newly spruced up sign in person, the official website of the Hollywood Sign Trust has a 24/7 live webcam you can check out whenever you like.
Social Security Is Getting Its Biggest Boost in Over Four Decades
Social Security recipients can expect an 8.7% cost-of-living increase in 2023, CBS News reported. A monthly payment of $1,681 in 2022 will increase roughly $140 or so, to $1,827 each month, and combined with still-dropping gas prices, it offers a measure of immediate financial relief amid ongoing inflation.
The Grand Egyptian Museum in Giza Is Scheduled to Open
The long-anticipated opening of the Grand Egyptian Museum in Giza has been in the works since January 2002 and is currently slated to open in 2023. Last April, images of the compound's impressive exterior nighttime lighting display were released. The official GEM website describes the museum as "the largest archaeological museum complex in the world and host to more than 100,000 artifacts," which will naturally showcase its most world-famous feature: King Tut's entire treasure collection. GEM remains vague for now about the exact date it will finally open its doors to the public, but with anticipation running so high, it will undoubtedly be an opening for the ages, so to speak.