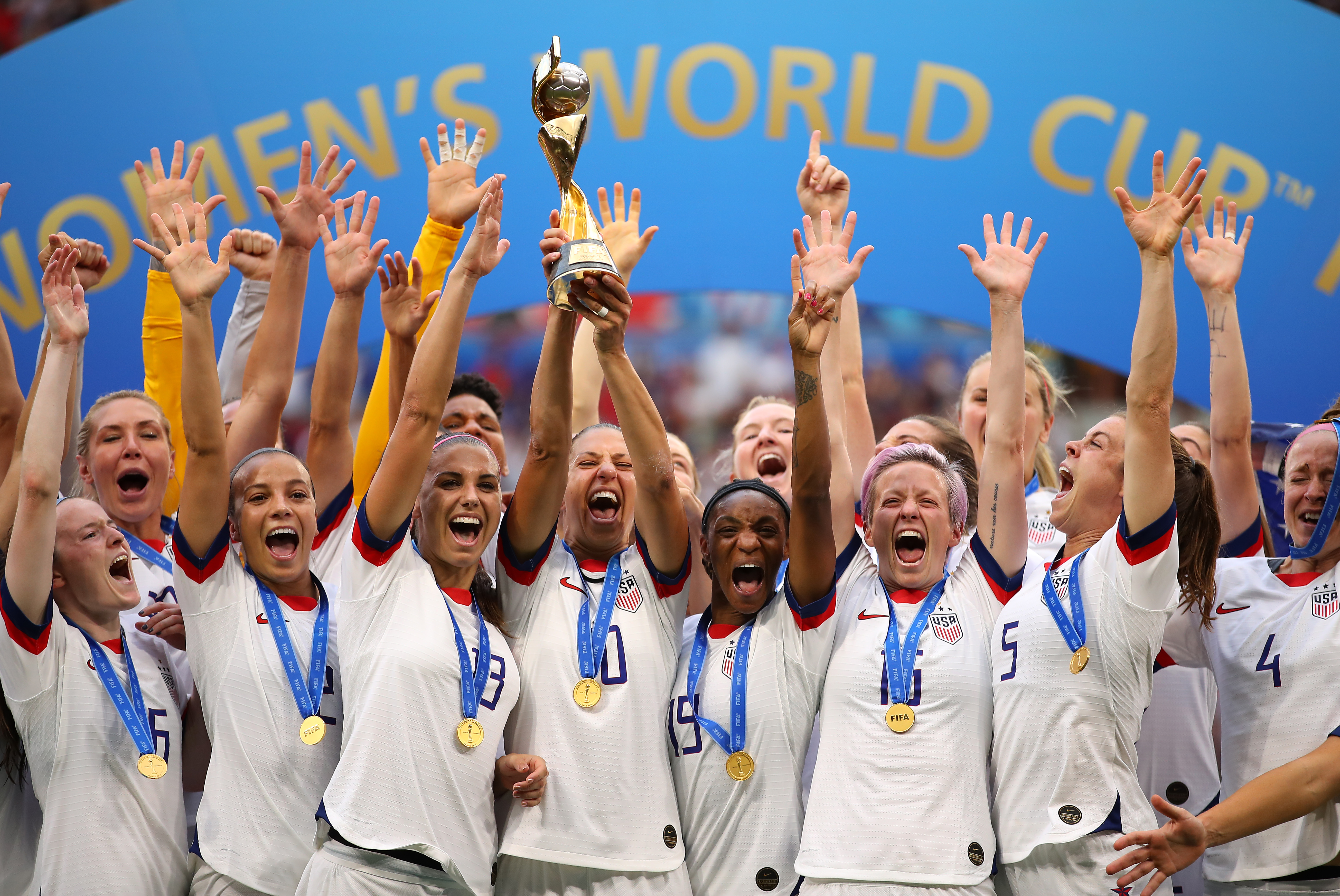 Richard Heathcote/Getty Images
If your goal is to keep up with the 2023 FIFA Women's World Cup, Nice News has you covered. This year's World Cup is the first to have more than one host nation, with matches set to be held in both Australia and New Zealand from July 20 through August 20.
In another historic first, more countries than ever have qualified to compete. The tournament began in 1991 with 12 teams, expanded to 16 in 1999, 24 in 2015, and now 32 for 2023. Among the teams making their debut are the Atlas Lionesses, Morocco's national team, the first to qualify from the Arab world.
The World Cup starts off as a round-robin-style tournament, during which each of the 32 teams play three games and accumulate three points for a win and one for a draw. The two teams with the highest number of points in their groups are then advanced to the knockout stage, which will begin August 5.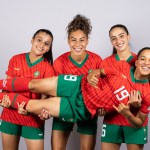 Martin Keep – FIFA/FIFA via Getty Images
Out of the eight groups at the beginning of the tournament, the United States is in Group E, competing against the Netherlands, Portugal, and Vietnam.
U.S. Women's National Team head coach Vlatko Andonovski selected 23 players in June to represent the country, nine of whom were part of 2019's winning team. It will be the fourth Women's World Cup for revered players Alex Morgan, Megan Rapinoe, and Kelley O'Hara, making them the 10th, 11th, and 12th USWNT players to be selected for four or more tournaments, the team said in a press release.
"We have the confidence that we need to go into a World Cup and prove why we deserve to win," Morgan, among the top stars to look out for during the event, told The Guardian in a recent interview. "I feel like we have the talent, we have the quality, we have the right coach, the right players, the right camaraderie, the right mentality."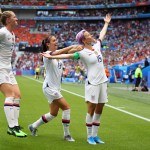 Richard Heathcote/Getty Images
How to Watch the 2023 Women's World Cup
If you want to watch the 2023 Women's World Cup live (in English), tune into Fox Sports, which is airing all 64 games on TV or the Fox Sports App. In yet another first for the Women's World Cup, 29 of the matches will be on Fox's broadcast network while the other 35 will be featured on Fox Sports 1.
Scroll down to check out the full USWNT roster, the country groupings, and the tournament schedule, compiled by USA Today.
USWNT Roster
Goalkeepers: Aubrey Kingsbury, Casey Murphy, Alyssa Naeher
Defenders: Alana Cook, Crystal Dunn, Emily Fox, Naomi Girma, Sofia Huerta, Kelley O'Hara, Emily Sonnett
Midfielders: Savannah DeMelo, Julie Ertz, Lindsey Horan, Rose Lavelle, Kristie Mewis, Ashley Sanchez, Andi Sullivan
Forwards: Alex Morgan, Megan Rapinoe, Trinity Rodman, Sophia Smith, Alyssa Thompson, Lynn Williams
Brad Smith/USSF/Getty Images for USSF
Country Groups
Group A
New Zealand
Norway
Philippines
Switzerland
Group B
Australia
Republic of Ireland
Nigeria
Canada
Group C
Spain
Costa Rica
Zambia
Japan
Group D
England
Haiti
Denmark
China PR
Group E
USA
Vietnam
Netherlands
Portugal
Group F
France
Jamaica
Brazil
Panama
Group G
Sweden
South Africa
Italy
Argentina
Group H
Germany
Morocco
Colombia
Korea Republic
Schedule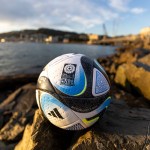 Maja Hitij – FIFA/FIFA via Getty Images
Thursday, July 20
New Zealand vs. Norway, 3 a.m. ET
Australia vs. Republic of Ireland, 6 a.m. ET
Nigeria vs. Canada, 10:30 p.m. ET
Friday, July 21
Philippines vs. Switzerland, 1 a.m. ET
Spain vs. Costa Rica, 3:30 a.m. ET
USA vs. Vietnam, 9 p.m. ET
Saturday, July 22
Zambia vs. Japan, 3 a.m. ET
England vs. Haiti, 5:30 a.m. ET
Denmark vs. China PR, 8 a.m. ET
Sunday, July 23
Sweden vs. South Africa, 1 a.m. ET
Netherlands vs. Portugal, 3:30 a.m. ET
France vs. Jamaica, 6 a.m. ET
Monday, July 24
Italy vs. Argentina, 2 a.m. ET
Germany vs. Morocco, 4:30 a.m. ET
Brazil vs. Panama, 7 a.m. ET
Colombia vs. South Korea, 10 p.m. ET
Tuesday, July 25
New Zealand vs. Philippines, 1:30 a.m. ET
Switzerland vs. Norway, 4 a.m. ET
Wednesday, July 26
Japan vs. Costa Rica, 1 a.m. ET
Spain vs. Zambia, 3:30 a.m. ET
Canada vs. Ireland, 8 a.m. ET
USA vs. Netherlands, 9 p.m. ET
Thursday, July 27
Portugal vs. Vietnam, 3:30 a.m. ET
Australia vs. Nigeria, 6 a.m. ET
Argentina vs. South Africa, 8 p.m. ET
Friday, July 28
England vs. Denmark, 4:30 a.m. ET
China vs. Haiti, 7 a.m. ET
Saturday, July 29
Sweden vs. Italy, 3:30 a.m. ET
France vs. Brazil, 6 a.m. ET
Panama vs. Jamaica, 8:30 a.m. ET
Sunday, July 30
South Korea vs. Morocco, 12:30 a.m. ET
Switzerland vs. New Zealand, 3 a.m. ET
Norway vs. Philippines, 3 a.m. ET
Germany vs. Colombia, 5:30 a.m. ET
Monday, July 31
Japan vs. Spain, 3 a.m. ET
Costa Rica vs. Zambia, 3 a.m. ET
Canada vs. Australia, 6 a.m. ET
Ireland vs. Nigeria, 6 a.m. ET
Tuesday, August 1
Portugal vs. USA, 3 a.m. ET
Vietnam vs. Netherlands, 3 a.m. ET
China vs. England, 7 a.m. ET
Haiti vs. Denmark, 7 a.m. ET
Wednesday, August 2
Argentina vs. Sweden, 3 a.m. ET
South Africa vs. Italy, 3 a.m. ET
Panama vs. France, 6 a.m. ET
Jamaica vs. Brazil, 6 a.m. ET
Thursday, August 3
South Korea vs. Germany, 6 a.m. ET
Morocco vs. Colombia, 6 a.m. ET
Round of 16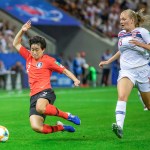 Mikolaj Barbanell/SOPA Images/LightRocket via Getty Images
Saturday, August 5
Match 49: 1A vs. 2C, 1 a.m. ET
Match 50: 1C vs. 2A, 4 a.m. ET
Match 51: 1E vs. 2G, 10 p.m. ET
Sunday, August 6
Match 52: 1G vs. 2E, 5 a.m. ET
Monday, August 7
Match 54: 1D vs. 2B, 3:30 a.m. ET
Match 53: 1B vs. 2D, 6:30 a.m. ET
Tuesday, August 8
Match 56: 1H vs. 2F, 4 a.m. ET
Match 55: 1F vs. 2H, 7 a.m. ET
Quarterfinals
Thursday, August 10
Match 57: W49 vs. W51, 9 p.m. ET
Friday, August 11
Match 58: W50 vs. W52, 3:30 ET
Saturday, August 12
Match 59: W53 vs. W55, 3 a.m. ET
Match 60: W54 vs. W56, 6:30 a.m. ET
Semifinals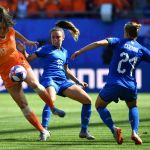 PHILIPPE HUGUEN/AFP via Getty Images
Tuesday, August 15
W57 vs. W58, 4 a.m. ET
Wednesday, August 16
W59 vs. W60, 6 a.m. ET
Third-Place Match
Saturday, August 19
4 a.m. ET
Final
Sunday, August 20
6 a.m. ET