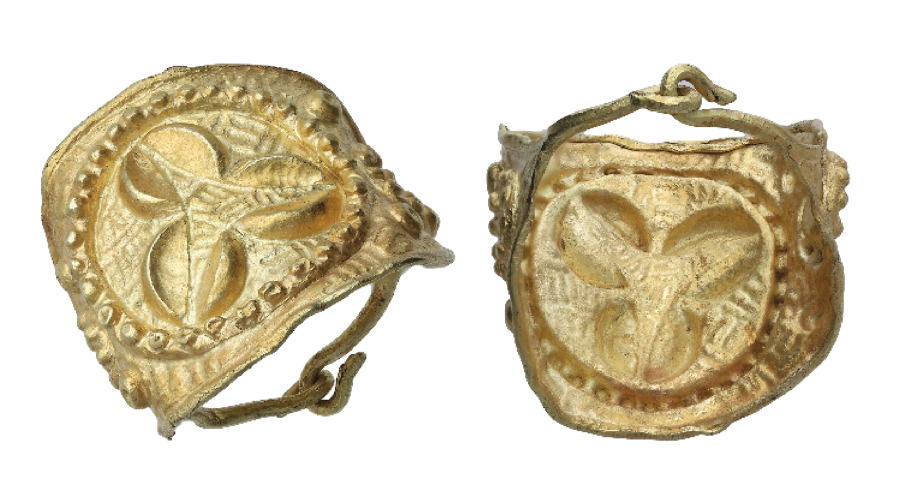 Noonans
An antiques collector in the U.K. bought a unique gold ring from a metal detectorist in the 1990s, and left it in a cupboard for nearly 30 years. The 66-year-old man, who wants to remain anonymous, finally decided to get it appraised this year — and was shocked to find that it dates back to about 100 B.C. and was likely worn by a Celtic tribal chieftain.
"I'm in my 60s, I don't know how long I'll be around," said the collector, who bought the ring for a few hundred pounds, per the BBC. "I thought it really wanted a good home so my children don't have to figure out what to do with it."
The Iron Age ring is 5.41 grams of gold; 22 millimeters in diameter and 25 millimeters wide; and was formed from sheet gold and die-hammered from behind, according to a description by Noonans, where it was auctioned. The ring was expected to fetch up to 30,000 pounds, but instead sold far above its estimated price: It went under the hammer for 36,000 pounds (nearly $43,000) on Wednesday, November 16 to a private British collector.
RELATED: "Ultra-Rare" 1913 Liberty Head Nickel Sells for Whopping $4.2M — One of Only Five in Existence
Gold was used conservatively during Britain's Iron Age, but its importance and status were revived by tribal nobility throughout the first century B.C., Noonans explained. The trefoil design appeared on coinage and is believed to be inspired by the three-leaved clover.
"It is the most exciting ring I have had the pleasure of examining and is likely to have been worn by an Iron Age chieftain from the Corieltauvi tribe which inhabited Yorkshire at that time," Nigel Mills, an artifacts and antiquities consultant at the auction house, said in a statement of the one-of-a-kind ring. "There is no other ring of this style which exists. It's an incredibly important piece," he told the BBC.
The ring was discovered by the metal detectorist in a field at Knaresborough in North Yorkshire, England, in 1994 and remains the only surviving finger ring of the Snettisham style V ornamentation. According to Noonans, it's likely that the ring was worn along with a neck torc and armbands — symbols that represented a Celtic chieftain's high status.
"It's jaw-dropping," the seller told BBC. "It's really quite a mysterious thing. We will never know for sure who owned it but it was probably a powerful Celtic chieftain. It's not quite King Arthur's ring but it's the next thing down. We're talking about the beginning of British written history."