supersizer/ iStock
Let's hear it for the dads!
Celebrated annually in the U.S. on the third Sunday in June, Father's Day recognizes all of the incredible paternal figures in our lives: the teachers of lessons, the givers of advice, the supporters of dreams, and the proud tellers of corny jokes (that we secretly can't get enough of).
Though many mothers are rightfully spoiled with breakfast in bed and trips to the spa on their holiday, fathers often wind up collecting a wide variety of neckties and "World's Greatest Dad" mugs. We're not knocking either gift — it's the thought that counts, after all — but we did compile our own list of ideas to kick it up a notch, with products that will ensure he's eating well, looking good, and having fun all year round.
Scroll below to find something special for the pops on your list, and click here for a roundup of fun activities to do together.
For the Home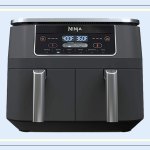 This bad boy has six functions, so he can air fry, air broil, roast, bake, reheat, and dehydrate — all with one kitchen appliance. It's a must-have for serving delicious meals with up to 75% less fat than those made with traditional frying methods.
Photo Courtesy of Butcherbox
Got a meat and seafood lover in your life? Finding quality cuts from humanely-raised animals can be tricky — and expensive — at your local grocery store, but each ButcherBox delivers right to your door and comes out to less than $6 per meal. Plus, this special offer will add in a year's worth of 100% grass-fed ground beef for free.
Another essential kitchen accessory, this defrosting tray allows you to thaw frozen food up to eight times faster than room temperature, without using electricity, running water, or taking up fridge space for a full day. It's non-stick, easy to clean by hand, and can get you cooking in just 10-20 minutes.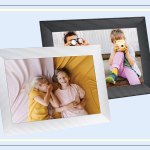 What more heartfelt gift than his family's beautiful faces smiling up at him from his desk? (Or his pet's smiling face if he and his fur baby share a special bond.) With Aura digital frames, you don't have to choose just one photo, or even a photo at all. The stylish pieces can store over 10,000 images and videos, uploaded by anyone who has access, so he can scroll through an array of cherished memories.
Gear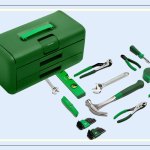 Photo Courtesy of Character
Make dad a DIY hero this Father's Day with Character's comprehensive tool set. It includes a hammer, screwdriver, pliers, measuring tape, and more — all made with durable materials for long-lasting performance. Plus, it all comes packed in a sturdy, stylish, steel box for easy storage and portability.
Photo Courtesy of Apple Watch
The Apple Watch SE is the must-have gadget in 2023. Among its many cool features, the sleek wrist device can send and receive phone calls and texts, stream music, track fitness and sleep, and even notify users if their heart rates are irregular. It comes in a range of styles and colors, and is water-resistant up to 50 meters.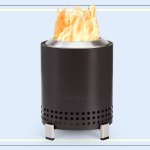 Photo Courtesy of Solo Stove
So many wonderful memories are made around a campfire: It's where we tell ghost stories, roast marshmallows, and take in the stars on cool summer nights. Get him a Solo Stove, and he can easily bring the (smokeless) campfire vibes wherever he goes — from a neighbor's back porch to the middle of nowhere, USA.
Apparel
Photo Courtesy of Lululemon
Lululemon is famous for its yoga clothes and sustainable practices, but did you know the brand is in the golf apparel game as well? Shop everything from socks and hats to shorts, polos, and even dress pants, designed to be worn on the move for those trips to the green mid-workday.
Free Fly Apparel Bamboo Hoodie
Photo Courtesy of FreeFly
A versatile, lightweight hoodie should be an essential element of any wardrobe. We love this one from Free Fly because it's made from bamboo for an ultra-breathable, "buttery soft" feel and comes in 15 different colors and patterns.
Huckberry's Flint and Tinder 365 Shorts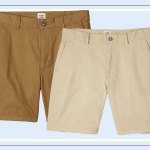 Photo Courtesy of Huckberry
Give his shorts collection a refresh by surprising him with a pair of these stylish threads from Huckberry. They're sharp and tailored-looking, but still comfy enough for casual days.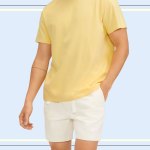 Photo Courtesy of Everlane
Everlane's line of Uniform premium-weight T-shirts are made with dense, durable cotton that's designed to get softer over the years. They come in 12 colors and are backed by a 365-day guarantee in the off-chance any fading or holes occur.
Photo Courtesy of Blundstone
We adore a classic boot, and Blundstone's Chelseas are particularly appealing: They're unisex, and leather-lined, and they feature an ergonomically engineered toe spring as well as increased shock protection in the heel-strike zones. They're also oil- and acid-resistant, and can withstand heat up to 284 degrees Fahrenheit.
Self-Care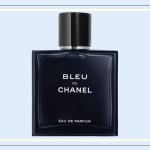 Photo Courtesy of Sephora
Does the dad on your list have a signature scent? If not, pick one you think would make him smell amazing! Or buy him a Sephora gift card and take him out for a lunch and shopping on Father's Day so he can select his favorite fragrance.
Manscaped Platinum Package 4.0
Photo Courtesy of Manscaped
Manscaped's Platinum Package 4.0 is a "full-body luxury grooming and hygiene kit" complete with everything he needs to look sharp and feel fantastic each morning, including a waterproof electric trimmer for grooming in the shower.
Kiehl's Men's Facial Starter Set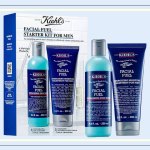 Photo Courtesy of Kiehl's
Kiehl's has a long history of offering quality self-care products: The brand's flagship apothecary opened in New York City back in 1851. This set includes an energizing face wash with caffeine and menthol to help revive and awaken the look of skin, and a daily moisturizer with Vitamins E and C to revitalize and hydrate.