Elizabeth Lara/ iStock
In June 2021, after a day of boating on North Carolina's Lake Waccamaw, three 13-year-old boys were playing in the water when they stumbled upon what would prove to be a nearly 1,000-year-old Native American canoe. Almost two years later, the canoe was finally excavated from the lake, and following preservation of the artifact, it will be returned to members of the Waccamaw Siouan tribe.
According to an on-camera interview conducted by local North Carolina outlet The News Reporter, Eli Hill, Jackson Holcomb, and Creek Hyatt first found the 28-foot-long canoe after spending the afternoon tubing with Hill's father, Jess.
Jess, who works as the Columbus County Clerk of Court, shared that he had taken Eli, Jackson, and Creek to go boating on the lake one Sunday, pulling the boys behind his boat in inner tubes. When they finished and Jess went to dock the boat, the boys hopped out to play in the water. The trio stumbled upon what they initially believed was a log, Eli told WECT, but after working to dig up the object with some help from his father the following day, it soon became evident that their discovery was in fact much more significant.
Soon after, the Hill family contacted the North Carolina Office of State Archaeology, and officials arrived by that Tuesday with scuba gear to investigate the discovery. Members of the archaeological team then scheduled a second visit, during which they excavated the canoe from its original location and moved it to a safe, secondary location. Radiocarbon dating was used to determine the approximate age of the canoe. According to the North Carolina American Indian Heritage Commission, the historic vessel is approximately 930 years old.
More time was still needed to prepare for the canoe's preservation. Finally, on April 12, the excavation took place, with the Hills joining in to bring it out of the water.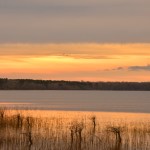 Waccamaw Siouan members observed the excavation while celebrating the discovery with songs and prayer. Per Columbus County News, after the relic is properly restored and preserved, it will be returned to the Waccamaw Siouan tribal grounds in Buckhead.
"That canoe at 28 feet long would have carried many a brave," Chief Michael Jacobs told KTTC. "We feel like in our heart, it's a history that we're still exploring and understanding because this is the first time we've had access."
"This canoe is about 1,000 years old," added state archaeologist John Mintz. "It's a southeastern Indian canoe that originated from this area, so we wanted the local Indian group to be part of it."
RELATED: WWII Ship Found Off Philippines Coast Is World's Deepest Wreck Ever Discovered
Jacobs further emphasized the significance of the find to the tribe. "We're looking forward to examining it, running some tests on it, really finding out and going back to our elders and getting the history of it to where we can teach the truth to our people and know that we've got concrete evidence to stand on," he explained, later adding, "Our history is still unfolding. When the colonists made contact with our tribe, there's a lot of the things that we hailed as historical and meaningful to us that we're still putting together."
In his interview with The News Reporter, Eli described the adventure with his friends as "a cool experience" and expressed his gratitude to the Waccamaw Siouan tribe. "I'd just like to thank the tribe for coming out here and supporting us, and I'm glad we could return it to them."