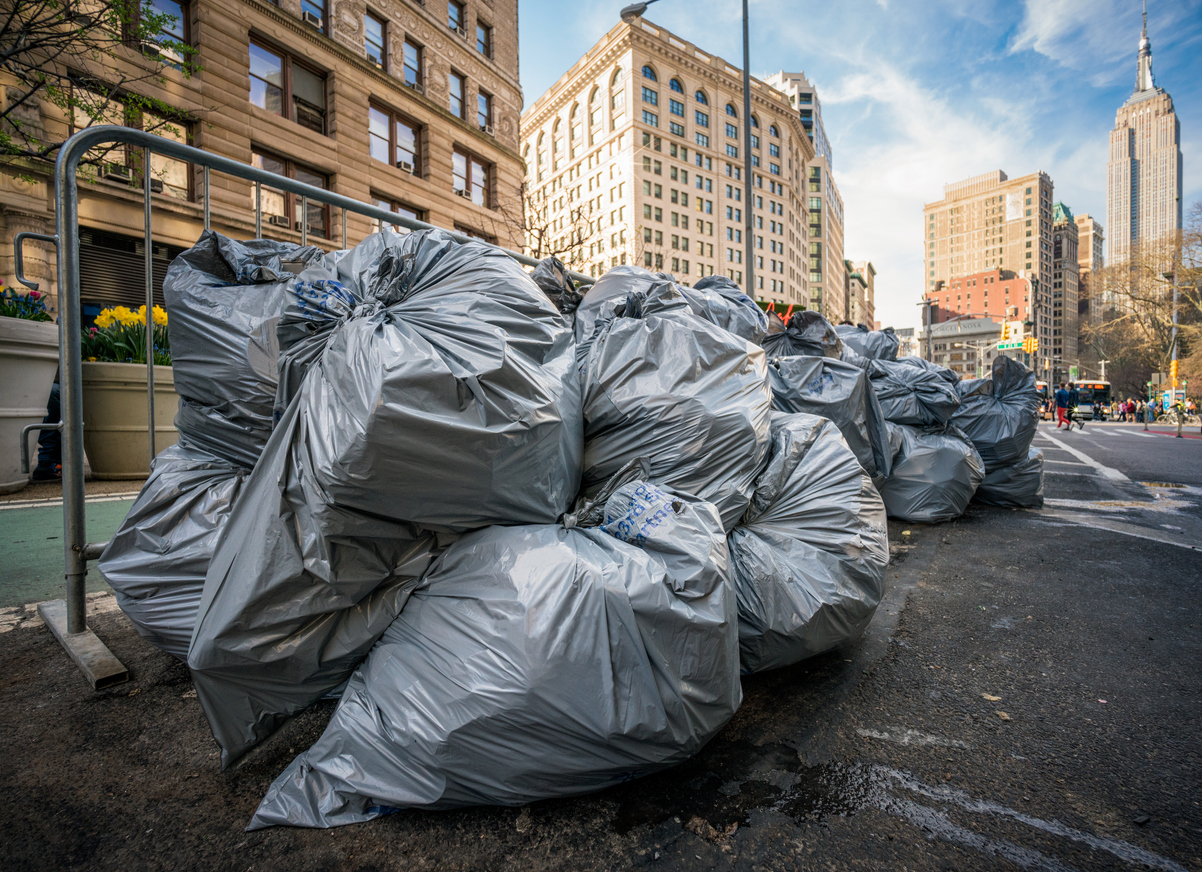 georgeclerk / iStock
Black trash bags on corners and curbs are as ubiquitous in New York City as hot dog carts and yellow cabs. Officials have struggled to devise a suitable solution to the city's trash problem for over a century, but the Clean Curbs Pilot Program could be it.
The program resembles public sanitation measures in cities like Paris and Barcelona, providing sealed, rodent-resistant, non-flammable trash sheds to house garbage bags awaiting pickup. Proponents say that taking the trash off the street could significantly improve the city's health, safety, and aesthetics.
On April 20, Mayor Eric Adams and New York City Department of Sanitation (DSNY) Commissioner Jessica S. Tisch unveiled the city's first container near Times Square.
"Environmental justice begins at the street level, and it starts now," Adams said, according to a press release. "Clean streets are vital to vibrant neighborhoods and to New York City's economic comeback. We need to stop dodging black garbage bags and instead fund and test container models throughout the city that will make our streets cleaner and more inviting for both New Yorkers and visitors."
Officials have discussed containerization for many years, but this is the first time it's being tested.
"Today's announcement is a key step in finding ways to take back our streetscape from the mountains of black bags," said Tisch.
Officials installed four additional bins in front of businesses in June and July, and the program will extend to residential neighborhoods, beginning with Hell's Kitchen, in the fall, The New York Times reports. Eventually, all five boroughs will have trash sheds.
"Clean curbs mean better experiences for workers, small businesses, families, and tourists," said Deputy Mayor for Economic and Workforce Development Maria Torres-Springer.
Joshua Goodman, assistant commissioner for public affairs at DSNY, told The Times the city had allocated $1.3 million to test different kinds of bins in varying configurations to determine what works and what doesn't. He said that includes the containers themselves and how they're collected.
Though it's "not a silver bullet," Goodman said, he and others believe the pilot program is a promising first step toward tackling the decades-long dilemma of what to do with millions of people's waste.
"It's time to toss out the old way of collecting trash in our city," said Councilmember Shaun Abreu. "The 'Clean Curbs' pilot will introduce a top-notch tactic for keeping trash from piling up on our streets. Our residents and businesses can breathe a sigh of relief knowing these containers will keep the neighborhood clean and rodents at bay. I applaud the mayor for giving the streets back to New Yorkers."