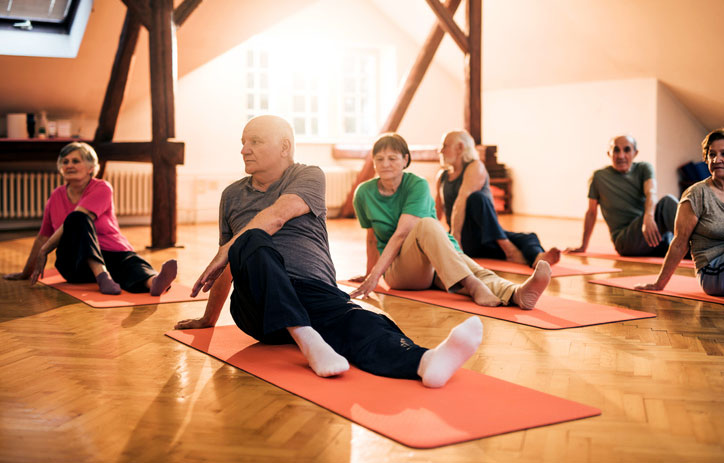 BraunS/ iStock
Yoga has long been touted as a beneficial practice for both physical and mental health, and recent research is only adding to that positive reputation.
A March review out of Boston's Brigham and Women's Hospital found that yoga could help prevent frailty, an age-related condition linked to an increased risk of death and decreased quality of life. The team looked at 33 past studies, involving a total of 2,384 participants over age 65. Per a press release from the hospital, they concluded that yoga can help improve walking speed and being able to rise from a chair, capabilities "associated with reduced frailty and increased lifespan." 
"When you look at a whole person, especially an older person, there may be a number of difficulties that each contribute to frailty," said lead author Julia Loewenthal. "Since yoga is an integrative practice that impacts multiple areas of health, it may be effective for preventing a syndrome like frailty, which has multiple causes."
RELATED: Grab Your Clubs! How Golf May Help Older People's Heart Health — Even More Than Walking
Below, we've rounded up some of the best free, online yoga classes geared toward older adults. With options for sitting-only and low-impact workouts, some as short as 10 minutes, there's something for everyone — just be sure to check with your doctor before adding a new exercise regimen to your routine. 
1. Slow and Gentle Yoga for Seniors (28 minutes) 
2. Gentle Chair Yoga (15 minutes)
3. Evening Yoga for Seniors (10 minutes)
4. Slow Paced and Gentle Yoga for Seniors and Beginners (40 minutes)
5. Yoga for Arthritis: Chair Yoga for Improved Mobility (7 minutes)
6. Wheelchair Yoga (10 minutes)
7. Standing Yoga for Seniors and Beginners (20 minutes)
8. Chair Yoga for Restricted Mobility and Seniors 65 and Up (20 minutes)
9. Adaptive Yoga Workout (20 minutes) 
10. Yoga for Those With Physical Limitations (17 minutes)