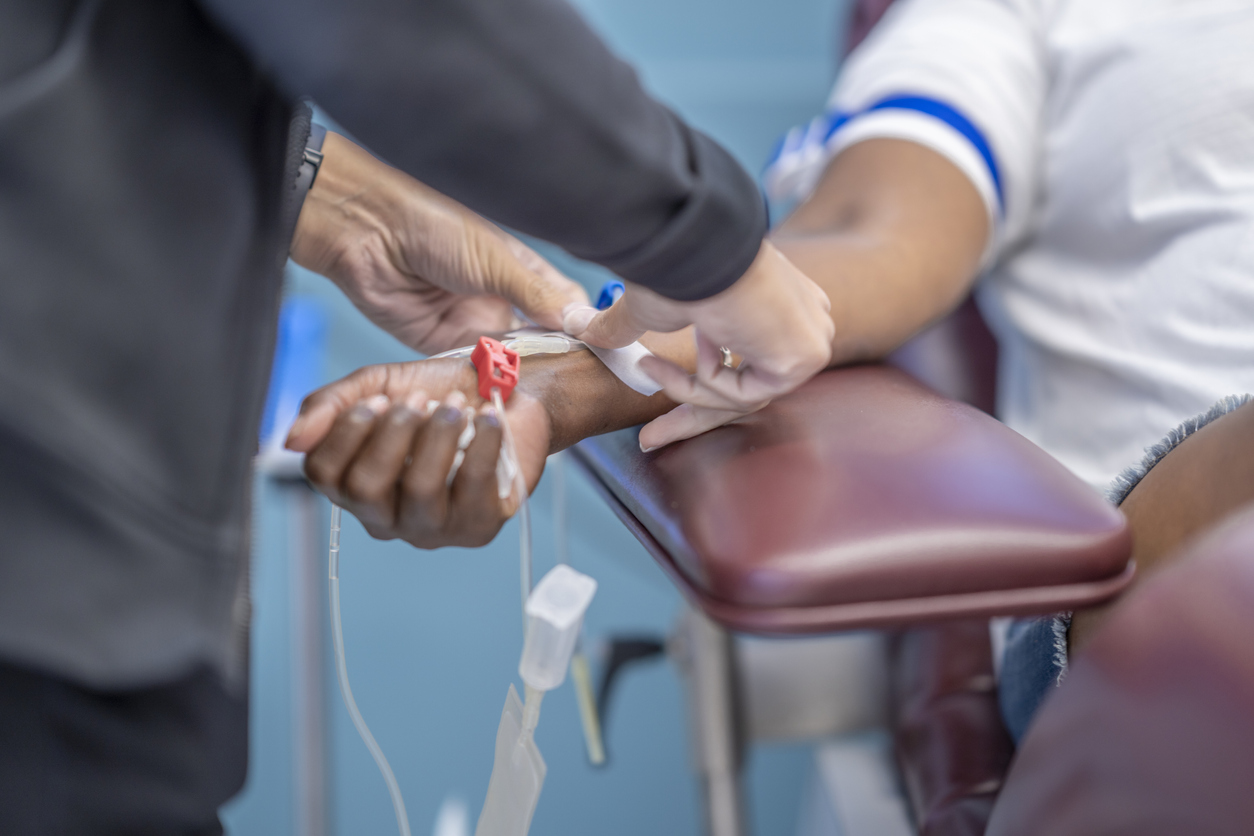 FatCamera / iStock
It's estimated that an individual requires a donation of blood or platelets every two seconds in the U.S., and a new initiative from the Department of Health and Human Services (HHS) is working to ensure everyone who needs blood can get it.
The national blood drive, called Giving = Living, aims to increase awareness of the importance of blood donation and encourage Americans to establish regular donation habits. "A consistent supply of blood and plasma is critical to the health of our nation," HHS Assistant Secretary for Health Admiral Rachel L. Levine said in an August 4 press release. "We simply need more people to give and to give regularly."
The initiative comes months after the American Red Cross, which supplies around 40% of the nation's blood, announced in January that the country was facing the worst blood crisis in over a decade, causing the organization to limit the distribution of blood to hospitals and forcing doctors to "make difficult decisions."
Each day, 29,000 units of red blood cells — necessary to aid in surgeries, childbirth, blood disorders, medical treatments, and emergencies — are needed across America. And blood plasma, used for transfusions, also plays a vital role in developing cures for diseases. 
"We also need donors from diverse ethnic and racial backgrounds."
Through the blood drive, the department also wants to emphasize the need for people of all races and ethnicities to volunteer. Having a diverse pool of donors is essential because certain blood types are unique to specific groups, and blood from a donor with a similar background is less likely to be rejected. Currently, blood donations made by communities of color only account for an estimated 20% of the nation's supply. "We also need donors from diverse ethnic and racial backgrounds," Levine said.
The campaign is funded through the Coronavirus Aid, Relief, and Economic Security (CARES) Act and features personal stories of people who regularly depend on donated blood or plasma to stay healthy as well as those whose lives were saved by emergency transfusions. The first-person accounts are included on the campaign's website, along with messages of thanks, like one from a man who was struck by a drunk driver: "From the bottom of my heart, I want to thank whoever donated the blood that helped save me. Your generosity allowed me to live and do everything I love again."
The program is also dedicated to helping people feel comfortable donating blood, providing information that addresses potential concerns someone who is new to the process may have.
Learn more about the initiative on the Giving = Living website, and find a blood donation center near you.