Mattel
There will be a new face in the Thomas & Friends crew — and it's exactly the kind of representation children's television needs. On the September 12 premiere of All Engines Go, Bruno will make his debut as the "joyful, pun-making" brake car that feels things a little differently than the rest of his friends. Mattel introduced the car to represent the autistic community and expand the world in the Thomas & Friends franchise.
Neurodivergent representation is often hard to find in media, especially on children's television, but autism spectrum disorder has been discussed more in recent years. ; Sesame Street launched an initiative in 2017 to incorporate more diverse faces to the Sesame Street world and introduced Julia, a muppet with autism. Other shows like Daniel Tiger's Neighborhood and Hero Elementary have also had neurodivergent characters to normalize the conversation around children with autism. 
Bruno will be voiced by 9-year-old Elliott Garcia in the United Kingdom and 10-year-old Chuck Smith in the United States, both of whom are autistic and have expressed the importance of representation in children's television. "He is funny, smart, and he's a very relaxed character. He can get really overwhelmed, he can get worried, and he uses comedy to get past situations," Garcia told CNN, adding that he's "really excited and happy" to be the representation he wants to see in his favorite TV shows.
In a press release, Mattel highlighted some of happy-go-lucky Bruno's best traits, like his knowledge of "where all the tracks lead on Sodor" and [his] preference for schedules and routines. A lantern on Bruno's red exterior will change depending on his emotional state, giving his friends and viewers the opportunity to learn more about how he experiences his feelings. When encountering an unpleasantly loud noise, Bruno's ear defenders will shoot steam if he's feeling overstimulated. "His ear defenders, I do relate to, because if there's a really loud noise, I can't cope. I have to think of new strategies, same as Bruno," Garcia told the BBC.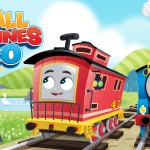 To ensure accurate representation, Mattel collaborated with the Autistic Self Advocacy Network and the National Autistic Society UK. Bruno's character adds to the Thomas & Friends world by normalizing life with autism and offering education for kids who may not know much about it. Thomas & Friends will kick off its 26th season on September 12 in the United States and September 21 in the U.K. See how to watch here.