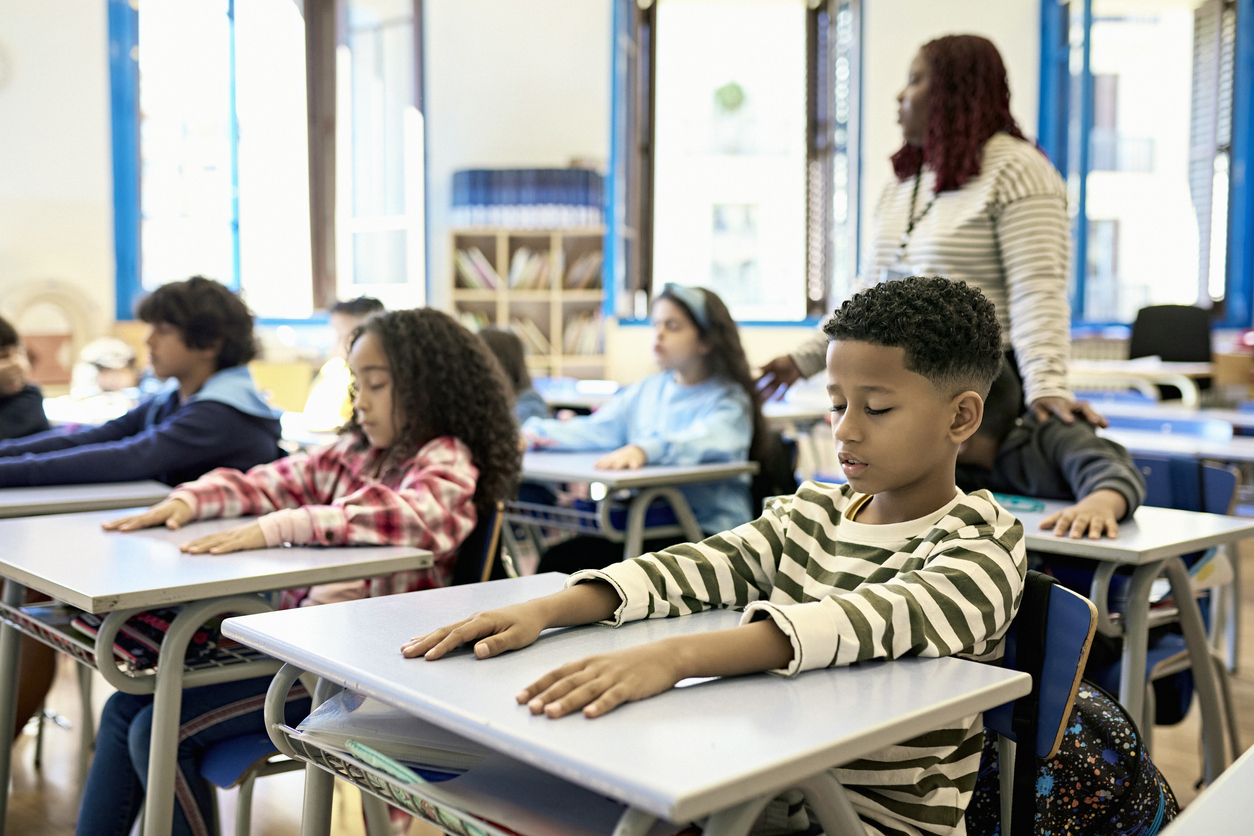 xavierarnau / iStock
About 30 years ago, Laura Bakosh was feeling overwhelmed by the demands of her corporate job, and began experiencing increased anxiety and insomnia. After several unsuccessful attempts at addressing these issues, she turned to a concept she'd read about: mindfulness. It worked. She felt calmer, more focused, and happier — so much so that people around her noticed the difference. Fast forward to today, Bakosh has dedicated her life's work to sharing the practice she calls "transformative" with pre-K through high school students across the country.
"It helps performance; it reduces stress and the biological effects of stress on the body, but it also really increases the way the brain develops so that it's optimized for more healthy cognitive growth," Bakosh told Nice News.
A few years after her initial experience with mindfulness, she dove deeper into the practice, earning a doctorate in psychology and becoming a certified Mindfulness Based Stress Reduction (MBSR) instructor. Then, In 2011, she and lifelong friend Janice Houlihan — who has a psychology degree from Northeastern University and master's in education from the University of Massachusetts-Boston — developed Inner Explorer, a nonprofit that provides daily 10-minute audio mindfulness sessions to classrooms.
"We both had young children at the time, and we were kind of like, 'Wow, this is something that should be in schools, so kids can learn this at earlier ages and have the opportunity to have healthy cognitive development,'" Bakosh explained.
Since launching, Inner Explorer has reached 5,000 schools in all 50 states and impacted over 2 million students, many of them in under-resourced communities.
"Most people have this belief of really massive potential in children. And what a lot of people don't understand today is that that little child who's born into a family that's maybe struggling with poverty or addiction or any number of things that can get you off the rails, that those influences significantly affect the trajectory for that child going forward," said Bakosh. "And if you think about geometry, right? A very slight change at the beginning can make a massive change over the course of a lifetime."
Inner Explorer aims to "cultivate critical life skills, such as self-awareness, self-regulation, empathy, and resilience." And according to the organizations website, the results are impressive: Schools that use the program reported a 28% increase in reading, math, and science grades and a 60% decrease in behavioral problems. And students aren't the only ones who benefit: the program reported a 43% reduction in teacher stress. Several other published studies have backed up those results, finding that mindfulness can increase compassion, enhance academic performance, and decrease substance abuse.
Though mindfulness meditation has sometimes been thought of as a religious practice, Inner Explorer is entirely secular, without any relation to spirituality. It's about helping kids take control of their thoughts and emotions, Bakosh explained. "We believe this is a human capacity first. And that any belief system that you might hold should and would be compatible with what we're sharing and teaching the children."
The organization encourages students to listen to their mindfulness sessions at home with their parents or caregivers, and provides free online access to them. "Now you have a shared experience," said Bakosh. "You have sort of a transparency of what's happening in the classroom … and you also have a way to bring stress relief into the community, into families."