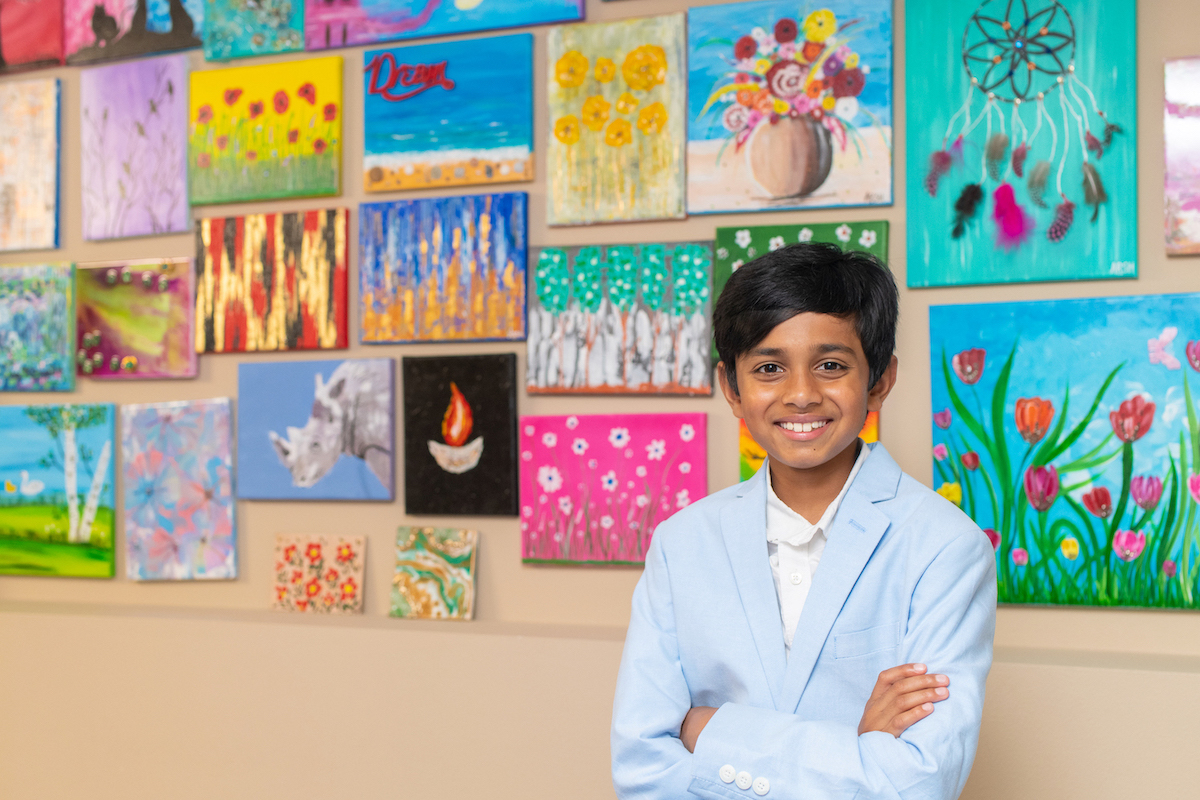 Courtesy of Arsh Pal
Arsh Pal believes in the importance of making the world a more beautiful place: The talented 12-year-old not only paints prolifically, but he also sells his artwork and donates the proceeds. And so far, he's raised over $16,000 for charities.
It all started when his parents, Divya and Sanjeev Pal, bought him an acrylic paint set for his 8th birthday. Though they had enrolled their young son in several extracurricular activities — karate and piano lessons, among them — Arsh had always shown an inclination for art. "We wanted to encourage him," mom Divya told Nice News. Once he had his own materials, he began spending much of his free time putting color to canvas.
As Arsh's paintings began to grow in number, he decided to give them as gifts to friends and family. Receiving a positive response from people around him, he soon realized his pieces had the potential to generate much more than smiles and praise.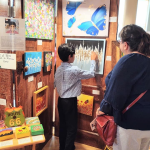 Divya, an occupational therapist, works at a nursing home in Dubuque, Iowa, where the family lives. Arsh would often accompany her there, striking up conversations and playing games with the residents. The impact his kindness had on them inspired Arsh. "That kind of made me want to help someone, or just help people in general," he explained.
His lightbulb moment came shortly after: He would sell his art and donate the proceeds to charity. His first initiative was to raise $1,000 for St. Jude Children's Research Hospital, which he accomplished in around nine months by selling his paintings on social media and at local arts shows and auctions. Since then, he's broadened his reach to benefit other organizations, including childhood cancer nonprofit Compass to Care and the Make-A-Wish Foundation.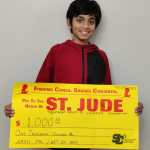 Arsh's artwork is often colorful and cheery, as one might expect from a youngster, but it demonstrates an impressive amount of technique indicative of a gifted artist. Some pieces are more abstract in nature; others feature realistic renditions of flowers and animals. They range in size and complexity, and, accordingly, price. Small paintings might sell for $10, The Washington Post reported, while larger canvases, up to five feet, have gone for $800.
Last year, at a charity auction to benefit disability advocacy group Easterseals, two paintings went for a whopping (and unprecedented) $10,000. "I'm making a goal that for every year, I donate at least a thousand dollars to a charity," he told Nice News.
This past July, Arsh won The Diana Award, an honor presented by a U.K. charity founded on "Princess Diana's belief that young people have the power to change their country." He also sits on the board of New York nonprofit The Loukoumi Make a Difference Foundation, which encourages kids "to make a difference in the lives of others by paying forward their talents through community service projects that mean something to them — all while having fun in the process."
Arsh still frequents the nursing home that prompted his philanthropy. With the aid of his younger brother, he gives painting lessons to the residents: "I decided to start teaching them for one of their activities to do. 'Cause they don't have much to do when they're over there. So every time I go there, they're always happy. They're always looking forward to it."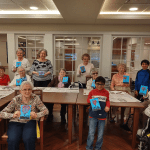 And the young artist has advice for other kids looking to make a difference: "Helping others doesn't have to be, like, money or anything. It can be your time, your skills, your talent," he said, adding, "and overall, just be kind to other people to make their day better."
RELATED: Inspiring Teen Invents "POSH Pillow" to Help Breast Cancer Patients Travel More Comfortably in Cars: Exclusive