mladenbalinovac/ iStock
It's difficult to convey just how much humans love dogs. We've penned odes to them, captured their likenesses in photographs — Queen Victoria even commissioned an oil portrait of Prince Albert's favorite greyhound to hang in Buckingham Palace. But it isn't difficult to understand why.
Canines are more than just our best friends; in many cases, they're family members. They can detect diseases, rescue us from impending disaster, and otherwise protect us as we walk through life. The thing we're most grateful for? They make us smile. They make us feel good when we're feeling down. And for that, dogs deserve all our admiration and affection (and all of the treats).
If you adore pups as much as we do, this list of 14 products, featuring everything from a snack dispensing ball to our favorite pet steps, is for you — or, more accurately, for them.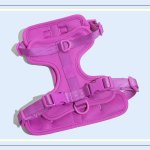 Wild One's comfy, lightweight dog harnesses come in bold and beautiful colors like strawberry, lilac, and limeade, so your dog will be just as stylish as you are. Plus, the company partners with rescue organizations across the country to provide pets with support, gear, and care, and to help find them their forever homes. Take a look at some of those adorable adoptable animals here.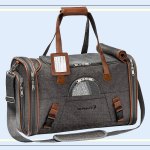 Tote your best friend in comfort and class with this airline-approved, soft-sided carrier by Mr. Peanut's. It features a removable fleece pad and plywood base, breathable mesh on all sides, and a padded shoulder strap. The family-owned business donates to rescues, shelters, and animal welfare organizations.
Courtesy of Mile High Life
This leash by Mile High Life proves that strong and sturdy can still be sleek and pretty — so even the fanciest of pups can trot along safely. It's made from climbing rope, with premium leather connections and a comfort grip. Aside from the pretty pink option above, it's available in 21 other colors (including an attractive brown and white combo), and in 48-, 60-, and 72-inch lengths.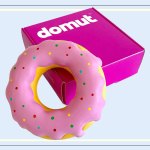 If Santa's Little Helper, the family dog on The Simpsons, had a favorite toy, this would be it. As colorful as the cartoon version of Homer's favorite snack, the "domut" is made of durable, no-squeak rubber — so even the toughest chewers won't turn it into crumbs.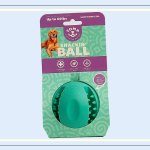 We can't always drop everything and play with our pups, and they certainly can't pick up a crossword puzzle to keep their minds occupied. Enter: Yomp's interactive snack-dispensing ball. With grooves made from non-toxic, food-grade silicone to hold peanut butter and other treats, it's perfect for entertaining your BFF when you're busy, and it even helps massage gums and clean teeth as they chew.
Vetreska Juicy Bowl, Spoon, and Mat Set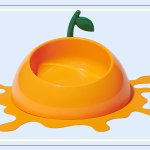 We thought Vetreska's watermelon bubble carrier was adorable, which is why we featured it in a Sunday edition of Nice News, but we were positively bowled over by the cuteness on display in this set. In addition to aesthetic appeal, it features an anti-slip mat for quiet, tidy mealtimes, and the bowl is designed on a 15-degree tilt to reduce cervical pressure as your pets dine.
If you're looking for something a bit more classic for your pup to eat out of, Havniva's set fits the bill. Two 6-inch ceramic dishes sit neatly atop a sleek, wooden stand, raised off the ground to reduce bloating and neck strain. The bowls are dishwasher safe — just be careful not to confuse them for your own nice chinaware when unloading.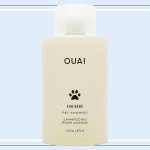 Who knew OUAI made dog shampoo? That's right, the buzzy brand touted by countless celebs might just be touted by their pets as well. The gentle, vegan formula includes rambutan seed extract, hydrolyzed vegetable protein, and panthenol to hydrate, strengthen, and add shine to canine coats. It even has the same trademark fragrance as OUAI's human products, so you and your pup can both smell as good as you look.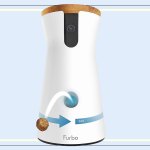 When you're a dog owner, leaving the house is never just leaving the house. We want to know our pups are safe and sound, either snoozing or staying busy in a manner that doesn't involve chewing furniture or shoes. With the Furbo camera and subscription, you can monitor your pet remotely, get alerts when they bark, and stay informed on other events taking place inside your home. It can even dispense scheduled treats to help stave off boredom and anxiety.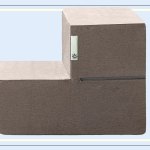 This dog-loving writer swears by these sturdy, fabric steps, and they're far from the first pair her pups tried. They're heavy enough not to slide around yet soft enough that they don't cause extra impact on stiff joints, making them the perfect choice for small or elderly pets (or both). And unlike some less attractive plastic models, the cozy, understated aesthetic fits in well with living room and bedroom decor.
This one's not so much for your dog as it is for the person who walks your dog. Rocket needs to go out in rain or shine, so the proper footwear is a must for any pup parent or professional. Merry People boots are 100% vegan, made with natural rubber, and lined with flexible neoprene — meaning they keep your feet comfortable, warm, and dry. Plus, they come with a one-year warranty.
First things first: best name ever, right? Nom Nom is fresh dog food made with whole ingredients you can actually see, like beef, chicken, eggs, squash, and carrots — no bizarre animal byproducts or fillers with names you can't pronounce. Plus, each meal is tailored to your pup's dietary preferences and pre-portioned for their specific caloric needs.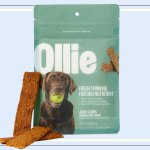 Ollie's all-natural jerky treats are a great choice to give your pup between meals and as training rewards. They're made with human-grade ingredients and contain zero artificial preservatives, fillers, or meat byproducts. Formulated with a "meat-first" philosophy, the jerky strips come in three flavors, all of which are also free of corn, wheat, and soy.
A Better Treat Freeze-Dried Salmon
Courtesy of A Better Treat
Got a four-legged seafood fanatic in your house? These freeze-dried treats are free of preservatives, made from 100% wild-caught salmon, and sustainably sourced from the Alaskan/Canadian coast. A Better Treat is a family-owned business from California, with a mission to "help your dogs live a healthier, happier life for longer."