3M and Discovery Education
On October 19, 3M and Discovery Education crowned the first place winner of the 2022 3M Young Scientist Challenge: an annual competition that's been awarding middle school science enthusiasts for their creative problem-solving for the past 15 years. This year, Leanne Fan from San Diego, California, took home the grand prize with her innovative approach to detecting and treating mid-ear infections, which can result in hearing loss. The 14-year-old's invention, the Finsen Headphones, incorporates machine learning with blue light phototherapy to target infections, all while users listen to music. The low-cost device could potentially reduce the number of children who experience hearing loss by up to 60%, per a press release.  
Participants in the competition are expected to apply their knowledge of STEM (Science, Technology, Engineering, and Mathematics) to "identify a solution to an everyday problem that aligns with one of the six entry topics and that directly impacts them, their families, their communities, and/or the global population," according to the official rules. Each of the nine finalists were paired with a mentor in the field to help develop their ideas. Fan worked with scientist Dr. Ross Behling, "a research specialist in the corporate research material laboratory division at 3M," the release states. With Behling's guidance, Fan was able to turn her concept into reality.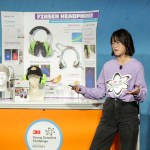 Fan was inspired to create the headphones after learning about Niels Finsen, who won a 1903 Nobel Prize for inventing light therapy for skin tuberculosis. "I thought, 'This is an amazing idea, I can apply it to something else in my daily life,'" Fan told The Week. In her applicant submission video, Fan explains that over 10% of the world's population annually experiences a middle ear infection, also called acute otitis media (AOM). More common in children and underprivileged communities that don't have as great of access to traditional healthcare, 700 million cases of AOM are recorded every year, with almost 21,000 of them resulting in death.
The Finsen Headphones, which detect and treat AOM, use Google machine-learning software and a database of otoscopic images. By training the model to recognize what AOM looks like within the ear, the device can detect its presence using a built-in camera. Then, a 405-nanometer blue light treats the infection. The treatment can be used in lieu of antibiotics and doesn't damage healthy cells. To make the experience more tolerable for children, music can be listened to through the headphones during the process.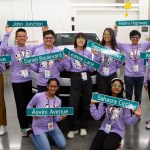 The Young Scientist Challenge winner receives $25,000 cash, a special destination trip, and the title of "America's Top Young Scientist." With the awarded money, Fan aims to patent the technology used for the Finsen Headphones, she told The Week. And down the road, she hopes to one day found a biomedical device company in order to "provide affordable and accessible medical devices to people that need them," she explained in her bio.
"We are thrilled to celebrate this next generation of scientific leaders. Each of this year's finalists demonstrates the power of science to improve lives and the communities we live in," Karina Chavez, senior vice president and chief strategy officer at 3M, said in a statement. "Congratulations to this year's Top Young Scientist, Leanne Fan, and all the finalists. Your dedication, ingenuity and innovative spirit are inspiring to us all."