Courtesy of Providence Day School
One day a group of high school students were making keychains in their 3D-printing class. The next? They were building a prosthetic leg for a teacher's three-legged dog, Bentley.
"This was a very massive leap," Brandon Hollis, a senior at Providence Day School in Charlotte, North Carolina, who helped design the prosthesis told WCNC, a local NBC affiliate.
Early last year, Bentley, then 8, was diagnosed with cancer after a vet found soft tissue sarcoma in his right elbow. His owner, Ashley Liberto, who is also a middle math teacher at Providence, was faced with the decision to either put him down or amputate his leg — and she chose the latter.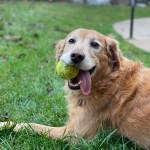 Courtesy of Providence Day School
"I don't have kids; he's my child. It was terrible. It was emotionally exhausting. I was crying every night," Liberto told People magazine.
Fortunately, Liberto said Bentley's surgery and recovery were successful. He was still vibrant and eager to play with tennis balls, though he started to get a little more tired due to his missing limb.
That's when she had the idea to see if some of her former students in an introductory computer-aided design and 3D-printing class could help her golden retriever, all the while getting meaningful and practical experience. And her colleague who teaches the course agreed.
Courtesy of Providence Day School
"I thought it was a great opportunity for the students to see a real-world application for what they're learning at school," teacher Todd Johnson told People. "I knew once the students wrapped their heads around it, they would come up with designs that are viable solutions."
So with an ambitious goal, the class embraced a little friendly competition by splitting into small groups to see which team could make the winning design for Bentley. For weeks, Hollis, a team leader who previously took math with Liberto, and his group created a harness and prosthetic leg that ended up being best for the grateful dog.
Courtesy of Providence Day School
"How can you not help Bentley, obviously," Hollis told WCNC. "Just seeing Bentley walk into class and seeing the very real impact this project was going to have was really something special."
Even though the class had ended, the group continued to work on the project in their own time, determined to make the final adjustments a perfect fit for Bentley.
"It's pretty cool," Reed Nobili, another student working on the project, told People. "A lot of times, we do these kinds of projects and don't get to think of it as doing much or helping someone, and then Bentley showed up, and it was like, we're doing this to help someone and help such a sweet dog."
Courtesy of Providence Day School
Now every time Bentley uses his prosthetic leg, it will be a reminder to Liberto of the compassion and creativity of the students who worked so hard to help make his life a little easier.
"Students are amazing," Liberto said to WCNC. "They have such an imagination. They want to do big things in life."
RELATED: Nonprofit Helps Older People Care for Their Dogs: "They Deserve Every Kindness"