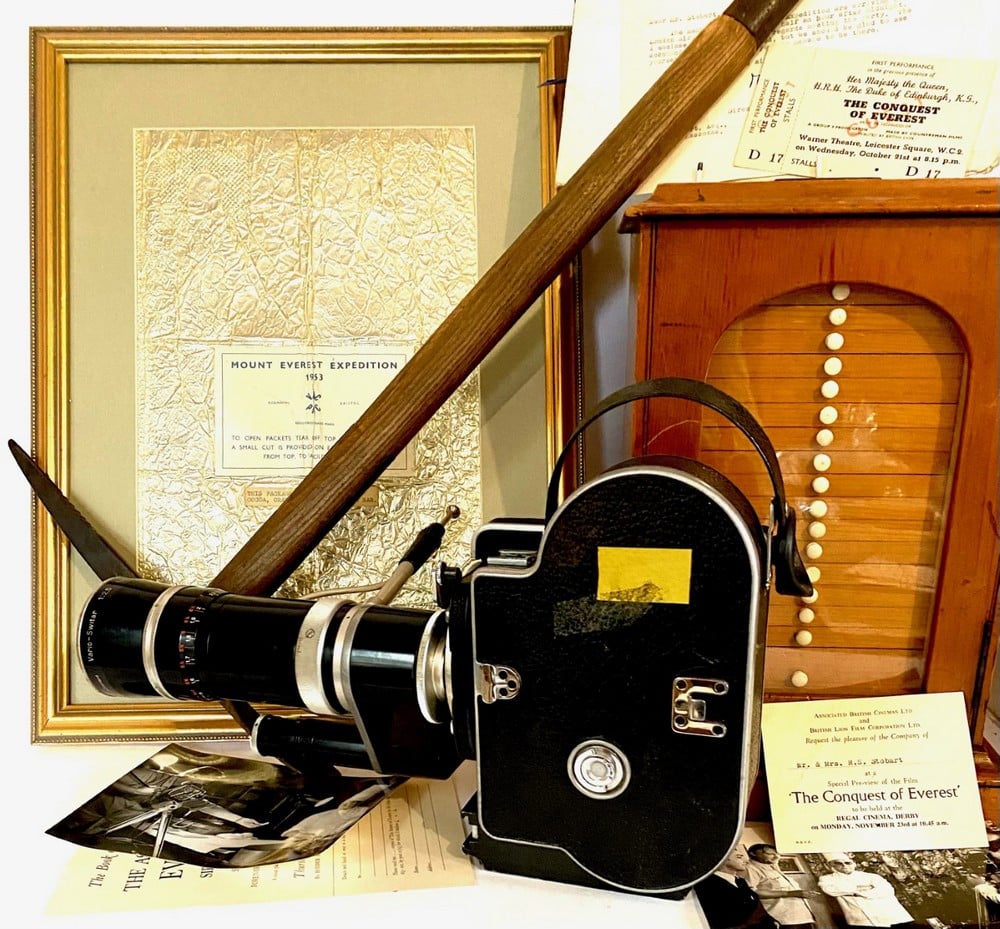 Hansons
A packet once containing food that sustained the first explorers to successfully summit Mount Everest in 1953 went under the hammer on October 29. The vestige of the triumphant expedition was part of a cache of other mementos owned by late English adventurer, author, and filmmaker Tom Stobart, who served as an official documentarian during the ascent. The entire archive sold for over $13,000 at Hansons Auctioneers in the U.K.
Formerly holding cocoa, orangeade powder, and a banana bar, the open foil food packet bears the faded signatures of Colonel John Hunt, the British expedition's leader, and two of his famous fellow climbers, New Zealander Edmund Hillary and Nepali-Indian Tenzing Norgay.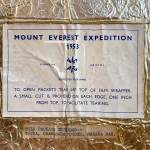 Along with the other items in Stobart's archive, the packet has been cherished by Stobart's son Patrick Stobart since his father died in 1980. Now 77, Patrick saw fit to pass on Tom's mementos to ensure their place in history.
"I hope the collection may go to a museum," Patrick said in a statement to Hansons. "I am extremely proud of my father and my grandfather Ralph Stobart. He was also a mountaineer. There is a microscope in the collection coming up for auction used by all three of us."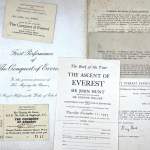 Tom is best known for his documentary The Conquest of Everest, which chronicled Hillary and Norgay's historic 1953 climb up the world's tallest mountain. The film was nominated for a 1954 Academy Award and won a BAFTA the same year for best documentary film. It also earned Stobart an Order of the British Empire, or OBE.
The collection, purchased by a mountaineering museum, includes a program and tickets for the first showing of the film — an event that was attended by Queen Elizabeth II — as well as a scrapbook of newspaper clippings about the expedition. The rest of the archive comprises other ephemera, climbing tools, scientific equipment, and cameras, including one thought to be used by Tom during a 1954 hunt for the Abominable Snowman in Tibet.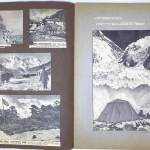 In addition to being a filmmaker and documentarian, Tom was an avid home chef, publishing two cookbooks, Cook's Encyclopedia and Herbs, Spices, and Flavorings. He also released an autobiography in 1958, entitled Adventurer's Eye.
"As an auctioneer, it's wonderful to see bids climb and climb and this lot was unique like no other, which caused interest across the world and even caught the attention of a museum on a large mountain to Europe," Charles Hanson, owner of Hansons Auctioneers, said in a statement to Nice News.
"This is an incredible collection which reminds us of a magical moment in history," Hanson said in the press release, referring to the 1953 expedition. "They were the first people to ever reach the summit. Tom captured the emotion of the moment on film."