Cody Powers, Bloomberg Philanthropies
It might seem too easy, but some colorful paint and a little bit of creativity could be all that's needed to transform roads and make them safer for pedestrians, cyclists, and drivers alike. Cities around the country have begun investing in asphalt art — painting murals on intersections, crosswalks, plazas, and sidewalk extensions.
The Asphalt Art Initiative was created in 2020 by Bloomberg Philanthropies. Within its first year, it helped cover "nearly 86,500 square feet of streets with artwork in 16 [U.S.] cities," according to a news release by the City of East Providence, Rhode Island. It's since expanded its grant program, and has now supported a total of 64 art projects in U.S. and European cities.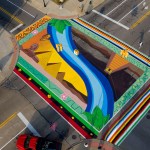 Cody Powers, Bloomberg Philanthropies
In April of 2022, the organization published research demonstrating just how much of an impact the colorful transformations have had. Data showed that implementing asphalt art projects led to a 50% decrease in the rate of crashes involving pedestrians or other vulnerable road users, a 37% decrease in the rate of crashes leading to injuries, and a 17% decrease in the overall crash rate.
"It forces you to stop and look at your street differently," Janette Sadik-Khan, New York City's former transportation commissioner, told NBC News of asphalt art. "Drivers, when they see color and life on the street, they naturally slow down."
In an October news release announcing that Asphalt Art Initiative grants had been awarded to 19 European cities, she added: "Projects like these not only connect people, but make streets safer, and we encourage cities everywhere to paint their own transportation masterpieces."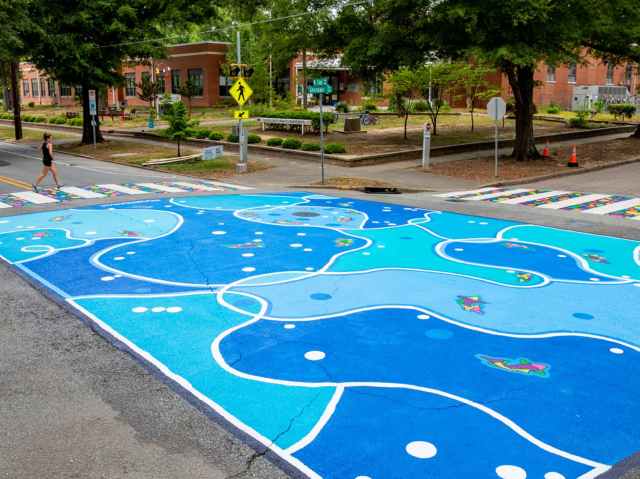 Eric Waters, Bloomberg Philanthropies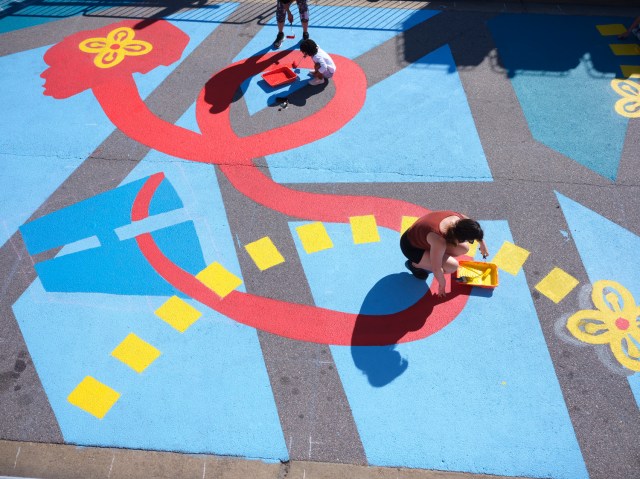 Matt Eich, Bloomberg Philanthropies
Jason Alden, Bloomberg Philanthropies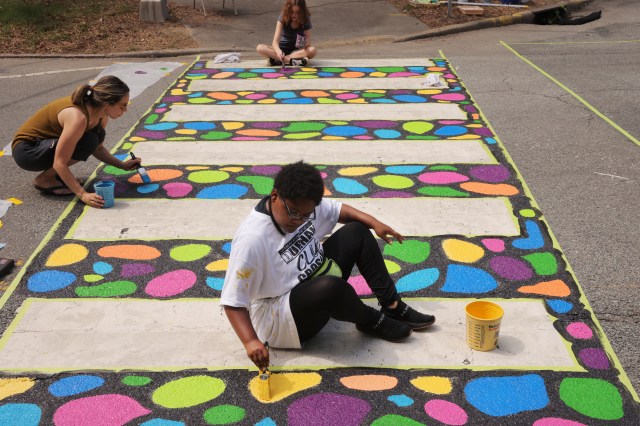 Travis Dove, Bloomberg Philanthropies
A similar program out of Washington D.C., called Arts in the Right-of-Way and launched by the city's District Department of Transportation, has also been adding color to crosswalks and curbs since 2019, according to People for Bikes. The program offers a design guide to help residents learn how to paint asphalt safely and without breaking any city ordinances, and provides an "art map" on its website for those who wish to visit the painted locations around town.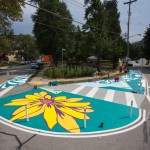 Sean Carroll, Bloomberg Philanthropies
In addition to cultivating community and promoting safety, the colorful streets add an element of beauty to once-gray pavement — and who couldn't use an extra dose of brightness while taking a walk or drive around town?