Valbaun Galloway Photography Ltd, Montserrat Tourism Division
Celebrated annually on March 17, St. Patrick's Day commemorates the feast day of Saint Patrick, the patron saint of Ireland. The religious holiday has been observed by the Irish for over 1,000 years, but the secular revelry commonly associated with it (think: drinking green beer and sporting shamrocks) is a more recent development. The first official St. Patrick's Day parade took place in 1601, in what is now St. Augustine, Florida. Boston and New York followed up with their own marches in the 18th century, and today, countries and cultures all over the world partake in the festivities. See Photos of St. Patrick's Day Celebrations Around the World — And One in Outer Space
Scroll for a look at St. Patrick's Day celebrations around the globe — and one in outer space!
Chicago, Illinois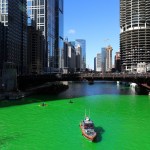 Raymond Boyd/ Getty Images
Perhaps one of the most recognizable traditions on this list, the Chicago River flows emerald green each year to mark the holiday — and has since 1962. The eco-friendly dye disperses after several days, and its formula is a "closely guarded secret," according to Enjoy Illinois Magazine.
Tokyo, Japan
Takashi Aoyama/ Getty Images
Though Tokyo's Irish population is small, the city's love of Irish culture is strong. Its annual St. Patrick's Day parade — which takes place the same weekend as its I Love Ireland Festival — is said to be the largest in Asia.
YOSHIKAZU TSUNO/AFP via Getty Images
Humans aren't the only ones who get in the spirit in Tokyo. Proud pups belonging to local Irish Setter Club members have been known to dress for the occasion and strut their stuff in the parade as well.
Indonesia
Robertus Pudyanto/ Getty Images
Green beer is a pub staple on St. Patrick's Day, and not just in English-speaking countries: Bars in Indonesia also offer the celebratory beverage on March 17.
Portland, Maine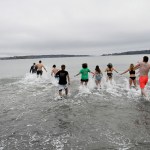 Shawn Patrick Ouellette/Portland Press Herald via Getty Images
An annual benefit for Portland Firefighters Children's Burn Foundation, the Paddy Plunge has raised over $375,000 since its inaugural event 18 years ago. Sponsored participants brave the icy Atlantic Ocean in the morning as spectators cheer them on.
Sydney, Australia
Brendon Thorne/ Getty Images
The Sydney Opera House is famous for the awe-inspiring arias performed within its walls, but on St. Patrick's Day, it's the outside of the building that visitors admire. Learn the history of the illuminating tradition.
New Orleans, Louisiana
Matthew HINTON/AFP via Getty Images
Certainly one of the wackier ways to celebrate, New Orleans' revelers toss cabbages on St. Patrick's Day — an homage to the traditional Irish-American meal of cabbage and corned beef. The key word in this ritual is toss; throwing the produce overhand is not permitted.
International Space Station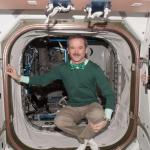 In a truly out-of-this-world show of support for the holiday, Canadian Space Agency astronaut Chris Hadfield donned a green bow tie and shirt aboard the International Space Station back in 2013.
Boston, Massachusetts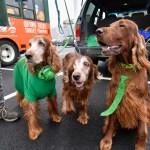 Paul Marotta/ Getty Images
The Irish Setter Club of New England regularly participates in Boston's St. Patrick's Day celebrations: These handsome canines from 2017's parade couldn't look any more dapper.
South Boston, Massachusetts
Joe Sohm/Visions of America/Universal Images Group via Getty Images
South Boston has its own parade, often featuring elaborate floats like the one seen above. Here, a stand-in for St. Patrick blesses the crowd as he passes.
Dublin, Ireland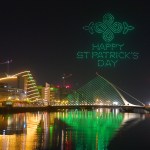 Charles McQuillan/ Getty Images
A roundup of St. Patrick's Day celebrations wouldn't be complete without a visit to the Emerald Isle herself. Though Dublin's annual festival was canceled in 2021 due to COVID-19, it didn't stop the city from putting on a stunning light show that featured 500 Intel drones "dancing" across the evening sky.
New York City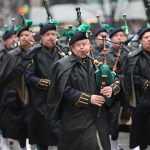 Spencer Platt/ Getty Images
The New York City St. Patrick's Day parade is said to be one of the largest and oldest in the world. Here, members of a police band march through the city while playing bagpipes.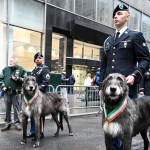 Slaven Vlasic/ Getty Images
The U.S. Army Color Guard also joined the Manhattan parade last year, bringing along some handsome canine compatriots.
Montserrat
Valbaun Galloway Photography Ltd, Montserrat Tourism Division
This small Caribbean island honors its "rich Afro-Irish heritage" each year with a 10-day festival. The celebrations not only commemorate the feast day of St. Patrick, but also the March 17, 1768 attempted uprising by enslaved African residents. Read more about the festival and the island's history here.
Hounslow, England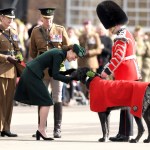 In England, women in the royal family hand out shamrocks to the Irish Guards each St. Patrick's Day, a tradition that began in 1901, per Town & Country magazine. Princess Kate has had the honor nine times. As seen here in 2019, she also presents the Guards' mascot — a position currently held by an Irish wolfhound named Domhnall — with one of the green sprigs.
Montreal, Canada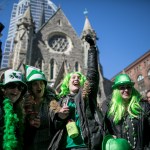 Amru Salahuddien/Anadolu Agency/ Getty Images
Attendees in downtown Montreal were decked out in green and brimming with St. Patrick's Day spirit during the city's 2017 parade.
Philadelphia, Pennsylvania
Mark Makela/ Getty Images
Finally, feast your eyes on this crisp, green beer, courtesy of McGillin's Olde Ale House — "the oldest continuously operating tavern in Philadelphia." It opened in 1860 and has kept the kegs tapped ever since.