UIAA/Kaspar Kellerhals
Meet Landers Gaydosh: an ice climbing world champion who has competed across the globe by climbing up slippery ice walls with long-handled hammers with blades. In January 2022, at the Ice Climbing World Youth Championships in Switzerland, he scrambled all the way to the top of an 80-foot-tall ice wall — and bested others in his category by 20 seconds.
The most impressive part? Landers is only 13 years old.
"I really enjoy climbing ice because I have to rely on myself and it's really fun when you get into a rhythm," Landers told Nice News, adding: "I also like traveling to climb because I get to see new places, eat different foods, and I get to meet a lot of really cool people from other countries."
Though he's still an adolescent, Landers has years of climbing experience under his belt. The young teen, who lives in Salt Lake City, was first introduced to rock climbing when he was a toddler, thanks to his dad Jonathan Gaydosh's job at an indoor climbing gym. There, Landers was soon scrambling up the walls and loving it.
However, climbing on ice didn't start until many years later. In 2021, his coaches approached him about getting into the sport. Up for the chilly challenge, Landers spent a few months training — and an untapped talent became a newfound passion.
"Landers is a big-picture kind of kid, who wants to see things from up above," Jonathan told KSL, an NBC affiliate.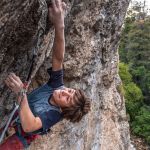 Soon, his son had qualified for the USA team and went on to compete at the 2022 International Climbing and Mountaineering Federation's (UIAA) Ice Climbing World Youth Championships in Switzerland. There, he won first place even as a new ice climber and the youngest climber in the competition, surprising himself and his family.
"Landers has been used to being on top of the game as a rock climber, so going to Switzerland as an underdog took a lot of humility on his part," said Jonathan, who was unable to attend the championships last year. "I remember talking to him the night before, and he was feeling a little out of his league, but my wife and I and his coaches made sure not to put any pressure on him. We wanted it to be a good learning experience for him."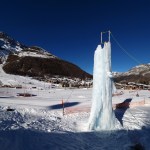 When asked by AccuWeather about the differences between rock climbing and ice climbing, Landers explained that they are "similar with strength … but the techniques are way different." He added, "If you can just keep the strength, you can get the technique back really quick."
Wondering what keeps this young athlete calm on the ice? He said the keys are deep breathing and "thinking to himself."
Steady, skilled, and motivated, Landers is now looking ahead to his next goal. "I would like to go back to the ice-climbing world championship and win again," he said.
RELATED: Meet Andres Valencia: The 11-Year-Old Who Made $1.3M Selling His Paintings at Art Miami