Remark Glass
Some may see an empty glass bottle as an item to be tossed away, but Danielle Ruttenberg views it as something worth a closer look.
Ruttenberg is the co-founder, alongside Rebecca Davies and Mark Ellis, of Remark Glass, a Philadelphia-based company devoted to transforming recycled glassware into small batch home and kitchen accessories. Every piece is made by upcycling — turning something old into something new.
The team's approach is simple but powerful: take things that others don't want and make them desirable. They're not only finding the beauty in trash; they're transforming it into something worth sipping from, displaying on a bookcase, or lighting a room.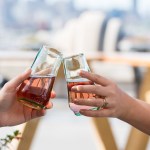 Old kombucha bottles become picturesque pint glasses, empty wine bottles become bowl sets, and champagne bottles become chandeliers. The collection features one-of-a-kind, heirloom-worthy pieces made from juice jugs, recycled crushed glass, and nearly every type of glass bottle you can think of.
The process involves cleaning and delabeling the bottles, cutting and prepping the glass for heat, and then melting the glass and reshaping it into a new form. Even though what the pieces become may look completely different from what they once were, they carry on delightful characteristics from their original shape.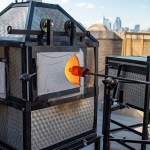 A recent post shared on Remark Glass' Instagram account sums it up quite poetically, "The glasses you see here are ones that aren't perfect, but beautifully flawed in some way that does not make them less structurally perfect or more fragile, but just a bit more funky."
In a feature on Good Morning America, Ruttenberg said the idea for the company, founded in 2016, originated from "some dusty bottles in the basement."
She and her co-founders asked themselves how they could turn old glassware into something that gets used in everyday life. The question sparked what is now a zero waste certified business.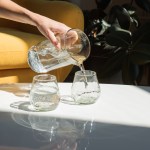 One of their first projects was a family friend's 35-year anniversary champagne bottles that they turned into serving bowls.
"We saw this really cool opportunity to take sentimental pieces of glass and transform them into a living memory," she said.
But as they worked to give more old glass new beginnings, they saw an even bigger problem: post-consumer glass going straight to landfills.
While glass is 100% recyclable, millions of glass pieces end up in U.S. landfills every year, according to Chemical and Engineering News.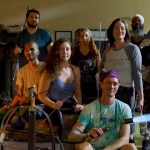 So they started a sister nonprofit, Bottle Underground, which is "dedicated to reducing waste now and making the best use of glass for our future." Through Bottle Underground, anyone can donate whole bottles and jars from households, communities, and businesses with scheduled drop-offs or at donation events. They also offer a monthly pickup subscription in certain zip codes.
It's all a part of Remark's mission to "build a more sustainable artform and manufacturing practice that simultaneously reduces glass waste on a local level."
To date, Remark and Bottle Underground have recycled over 159,000 pounds of glass over about seven years of business.
Ruttenberg told GMA, "I hope that organizations like ours, while small, can help to inspire larger ones to really think critically about how they do their business."