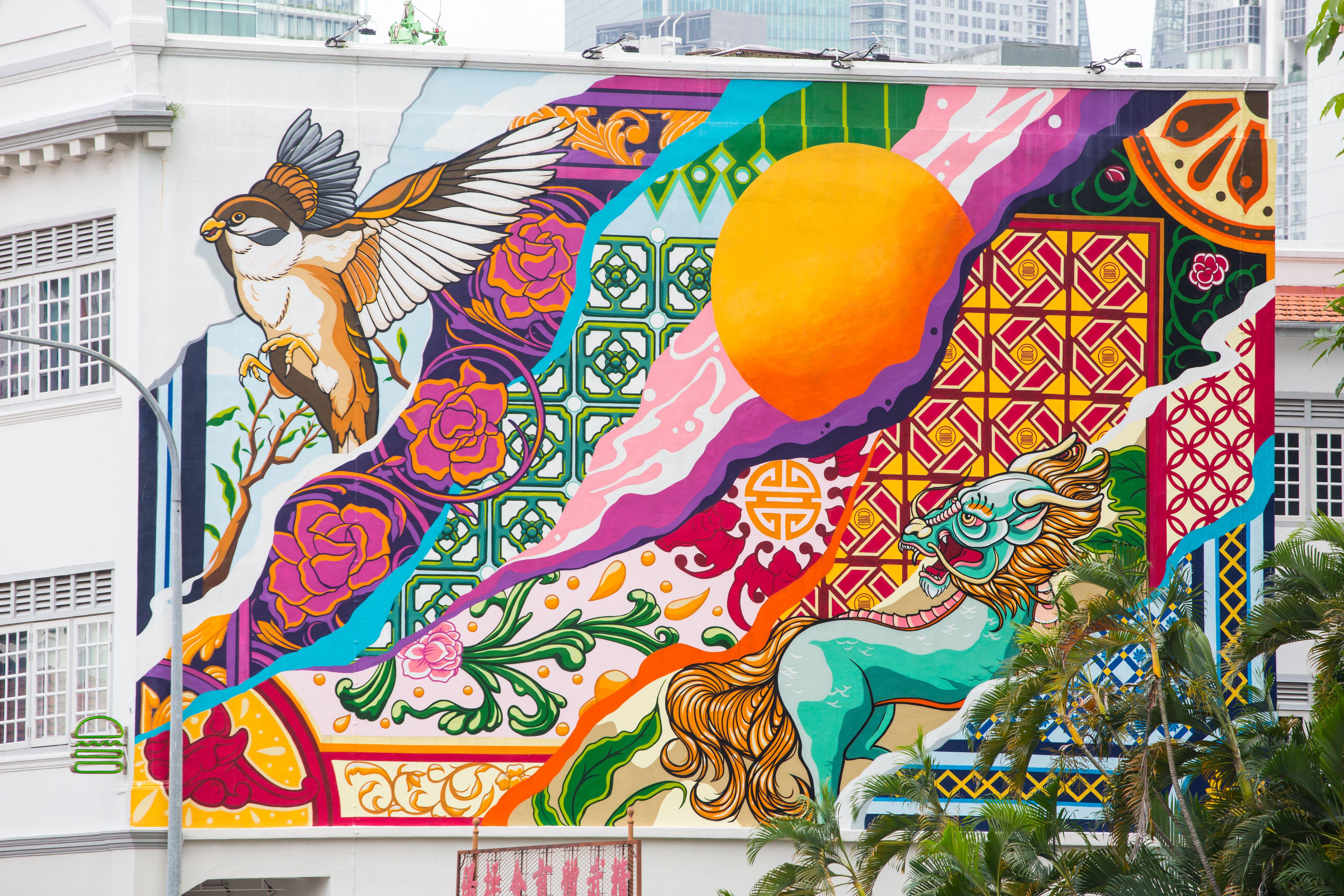 Buy my stock picture / Alamy Stock Photo
The joy of wall murals is contagious. Pops of art — on brick walls, freeways, and street corners — brighten our routines and remind us that the world is full of wonder, surprise, and opportunities to look up when we're all too often looking down.
But wall murals do even more than provide something nice to admire. They are also shown to have some serious benefits, ranging from uniting diverse communities, sharing messages for social change, improving mental health, and increasing tourism and safety.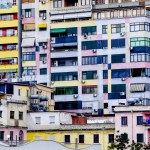 mageBROKER/Arnulf Hettrich/ Getty Images
One of the most impactful examples of the power of paint to transform a community was led by Edi Rama: an artist who spent 11 years as mayor of Albania's capital city and is now the country's prime minister.
In 2000, Rama set out on a mission to restore Tirana. According to The Guardian, there was "little money to repair the city's rundown infrastructure," so the then-mayor decided to makeover the apartment buildings by having them repainted in bright colors.
"It had a chain effect I didn't imagine," Rama said. "Once the buildings were colored, people started to get rid of the heavy fences of their shops. In the painted roads, we had 100% tax collection from the people, while tax collection was normally 4%. People accepted to pay their share for the city, because they realised that through the colors the city exists."
To celebrate wall murals for the world-changing art that they are, we compiled nine artists across six continents who are harnessing their talent to make communities stronger and places more unique. From an artist in Australia adding positivity to playgrounds to the "queen of graffiti" in South Africa highlighting women of color, each artist is creating harmony, connection, and togetherness — and hope for a brighter, better tomorrow — one paint stroke at a time.
Shamsia Hassani | Afghanistan
Known as "the first female graffiti artist of Afghanistan," Shamsia Hassani uses her art to portray women in a male-dominated society: an act of profound bravery. "Her art gives Afghan women a different face, a face with power, ambitions, and willingness to achieve goals. The woman character used in her artworks portrays a human being who is proud, loud, and can bring positive changes to people's lives," her website explains. Hassani's powerful murals, which can be seen around the world but mostly in Kabul, primarily feature women with closed eyes and no visible mouth, and often the figures are illustrated alongside musical instruments.
Hassani explained the intention of pairing women with music to DW: "She can use musical instruments to talk with people, to speak louder and [get] more attention, as she has no mouth. But this musical instrument gives her power to speak in society."
In addition to her work as a graffiti artist, Hassani is also a lecturer of Fine Arts at Kabul University and a co-founder of Berang Arts, an artist-run group that promotes contemporary art and culture in Afghanistan.
Kevin Ledo | Canada
Specializing in "portraiture meets abstraction," Kevin Ledo is an artist from Montreal, Canada, on a mission to "inspire others to embrace and celebrate their own cultural heritage and promote inclusivity." His art features colorful portraits of people of all ages, races, and backgrounds, including iconic faces such as Malala Yousafzai and Alex Trebek.
Since starting his artistic practice in 2005, he has worked with The RAW Project, a nonprofit bringing artists to schools to paint murals, and Beyond Walls, a nonprofit strengthening communities through art.
SimpleG | Greece
SimpleG is an artist from Greece known for his awe-inspiring scenes, usually located in places of the city that lack color and art. He told Up Magazine, "We can have so much beauty in such a good frame. I want my art to create an atmosphere that makes it prettier."
According to an interview with Greek City Times, SimpleG primarily sees art as "self-expression." However, he added, "I guess if there's anything I try to convey to the people who see my work it's that people are trapped in the city and forget to live. Last night I was watching an entire galaxy of stars traveling over my head!"
Charlo Walterbach | United States
Charlo Walterbach's murals capture abundance and surprise, transforming blank walls into delightful worlds of interconnected shapes, symbols, and often hidden messages. The goal behind each mural is simple but significant: Spread joy! "I had realized by doing something I really wanted to do, I could create joy — not just for myself but also for others around me," he told Nice News last year.
The Mexico-born artist and principal designer at Pardon Inc. (Nice News' parent company) now lives in Denver and shares his optimistic murals across Colorado's capital. "[Denver] has become my gallery," he told Real Simple.
So far, he's created more than 60 murals and has beautified over a dozen alleyways. He has also collaborated with many organizations, including Project Angel Heart, and was a speaker at a TEDxMileHigh event in 2022.
Yip Yew Chong | Singapore
Based in Singapore, Yip Yew Chong (also known as YC) makes "art that tells stories." His murals often feature whimsical scenes paying tribute to Chinatown and Asian culture, along with imaginative paintings of children, cats, nature, and even his grandmother.
Chong also offers "live paintings," where curious onlookers can witness the process of creativity coming to life.
Cloe Hakakian | United States
An Iranian-American artist, Chloe Hakakian creates wall murals for festivals, yoga studios, and coffee shops, turning blank canvases into picturesque places for gathering. In 2022, the LA-based artist made headlines for using her art to raise awareness for the "Women, Life, Freedom" movement and support women and girls in Iran. She also started the Murals for Freedom not-for-profit, which works to unite and expand awareness for the Iranian revolution through art.
"I'm Iranian American before anything else, I feel my roots deeply," she told the Los Angeles Times. "And I just wanted to be the voice for the voiceless."
Happy Decay | Australia
"Making places happy, colorful, and quirky," Happy Decay's art is the equivalent of a big hug. His feel-good wall murals show bright flowers, whimsical birds, and friendly characters, such as cheerful bees and bunnies. Brightening up spaces of all kinds, the New South Wales-based artist's work can be seen at schools, skate parks, parking structures, and roadways.
Alex Senna | Brazil
Brazilian artist Alex Senna creates scenes of people kissing, holding hands, reading, and experiencing simple moments of being alive. Much of his art fills massive walls with monochromatic and lengthy characters, yet the scenes are surprisingly warm.
Street Art News wrote, "His peaceful, loving characters manage to arouse empathy and complicity, as if they were friends who have always been present in our neighborhood."
Nardstar* | South Africa
Called the "queen of graffiti," South Africa-based artist Nardstar* captures liveliness, joy, and connection in her wall murals, which can be seen in many places across Cape Town and beyond.
According to her website, Nardstar* describes her style as "bold and diverse, focusing on women of color, local fauna and flora, as well as embracing the more traditional style of lettering."
While her art undoubtedly stands out for its vibrant colors and large scenes full of life, many of the murals also represent even bigger messages. These include celebrating the strength of women who work in factories and inspiring climate change awareness.
RELATED: New Architecture Award Celebrates the Reinvention of Old Buildings: See the Finalists