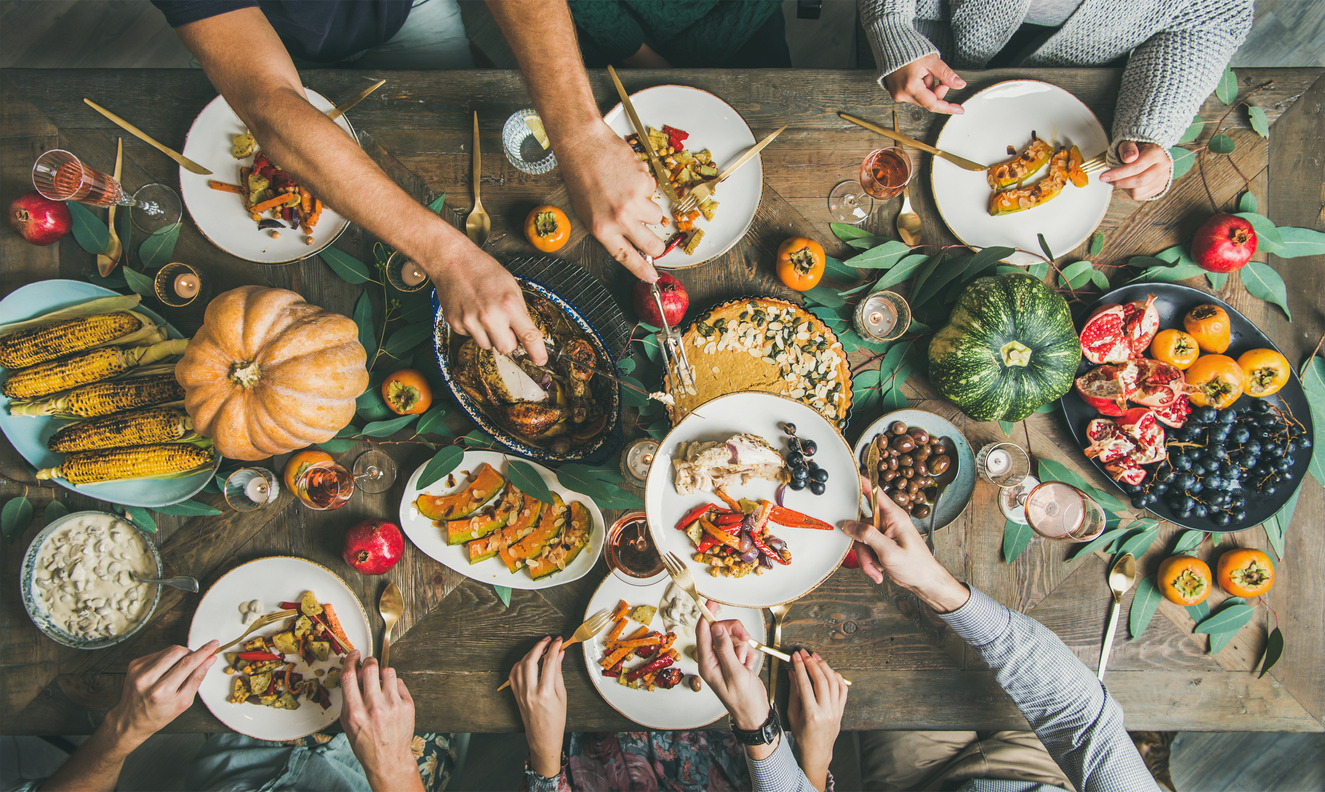 Foxys_forest_manufacture/ iStock
When it comes to holidays, Thanksgiving has it all. In one wonderful day, we get the opportunity to practice gratitude, enjoy delicious food, and gather with the people we love.
If you're hosting the feast on Nov. 23, you're likely already in the planning stages: picking out party games and deciding whether to go traditional or untraditional with the stuffing this year, perhaps.
The impending festivities are top of mind for us as well, which is why we compiled some of our favorite products to help make your holiday even more memorable. Scroll to see our finds — from a convenient cookbook stand to a gratitude scavenger hunt and a fun backdrop for family photos.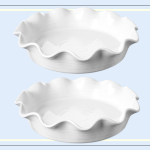 This charming set of two ceramic dishes is ideal for presenting your Thanksgiving pies with a little extra pizazz. Available in three colors, they're microwave-, oven-, and dishwasher-safe, making them as practical as they are pretty.
This attractive book holder frees up your hands in the kitchen, meaning no more getting flour and butter all over your recipes. Made with natural walnut, the portable piece props up your book at several possible angles while holding the pages open.
Nathalie Lete Collection at Anthropologie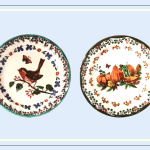 Courtesy of Anthropologie
French designer Nathalie Lete's enchanting, nature-themed collection will infuse your home with vibrant color and charm this Thanksgiving. From throws, pillows, and towels to tableware and candles, these pieces are more akin to art than homewares — Managing Editor Natalie Stone loves how the whimsical oven mitt adds a subtle floral pop to her kitchen.
Food52 x Dansk Købenstyle Saucepan
The midcentury look of this gourmet sauce pan was inspired by Danish sculptor Jens Quistgaard. But beyond its beauty, it boasts a number of clever design features, like the ability to go from the stovetop to the table with a matching lid that doubles as a trivet.
Courtesy of Anthropologie
An apron is essential for anyone whisking, stirring, or otherwise cooking up a good time this Thanksgiving, and this option is both festive and stylish — you could wear it all year round if you like. Pair it with a pumpkin spatula and pumpkin oven mitt from the same collection.
Hygge means "comfortable conviviality" in Danish, and that's just what this game will bring to your holiday gathering. With over 300 questions designed to spark meaningful conversations, Hygge can help you learn new things about the oldest of friends and closest of family members.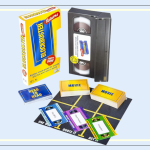 Movies with boats? Flicks featuring someone who can fly? Those are a couple of the categories in this game for film buffs or "anyone who has ever seen a movie." The sequel version of the original game is a combination of charades and Jeopardy! with a special touch of '90s nostalgia.
Fujifilm Instax Mini 11 Instant Camera
Capture all of Thanksgiving's special moments with this modernized throwback. Leave the camera on a counter or coffee table and let your guests point and shoot to save a sliver of time in one small square — then send them home with a special memento to put on the fridge.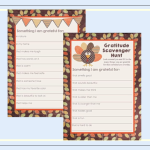 Courtesy of Amanda Creation
These sweet fill-in-the-blank cards add an extra element of fun to the time-honored Thanksgiving tradition of going around the table and sharing what we're grateful for. Designed by a mom and sold in packs of 10, each 5-inch-by-7-inch card has 18 categories.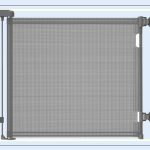 If you're expecting any toddler or furry four-legged guests this year, consider purchasing a safety gate for peace of mind. Perfect for blocking off the kitchen, staircase, or off-limits desserts (we're looking at you on that last one, Fido).
Featured on Good Morning America and The View, Wax & Wit's paraffin-free soy candles are handcrafted in small batches in Portland, Oregon. We also love the pumpkin spice scent for creating a cozy, fall vibe. Once your candle has burned down, the glass jar can double as a pencil holder, planter, and more: Check out this guide to cleaning it for reuse.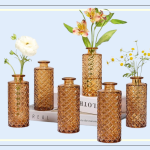 These vintage-style mini vases are made from sturdy glass and embellished with a pretty diamond pattern, and the deep amber color is ideal for autumn. Get a set of six or 12 and pair with some dried flowers for a boho look.
Dial up the fun even more this Thanksgiving by hanging a fall photo backdrop for your guests to pose in front of. Pair it with the Fujimax instant camera and a few festive props — or take advantage of having your loved ones in one place to take this year's family Christmas photo.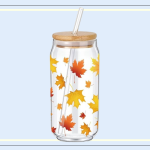 These fall-themed glasses not only spare your carpet from the spills that often occur amid the hustle and bustle of a big gathering, but they also make great party favors. Available in sets of six, they hold 16 ounces and come with reusable glass straws.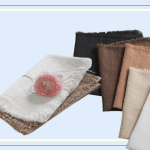 If you're anything like this writer, there never seems to be enough matching napkins in your house for the number of people you're entertaining. We love the elegant yet rustic look of these handmade, cotton options, and they come in 15 different hues to go with any color scheme.
Napkin rings are the perfect finishing touch to a beautifully decorated dining room table that will have your guests oohing and aahing as they sit down to eat. Each set comes with 12 metal alloy rings in eight charming styles.
RELATED: The Nonprofit Spreading Kindness One Lasagna at a Time: "We Have the Power to Shift Communities" — Exclusive