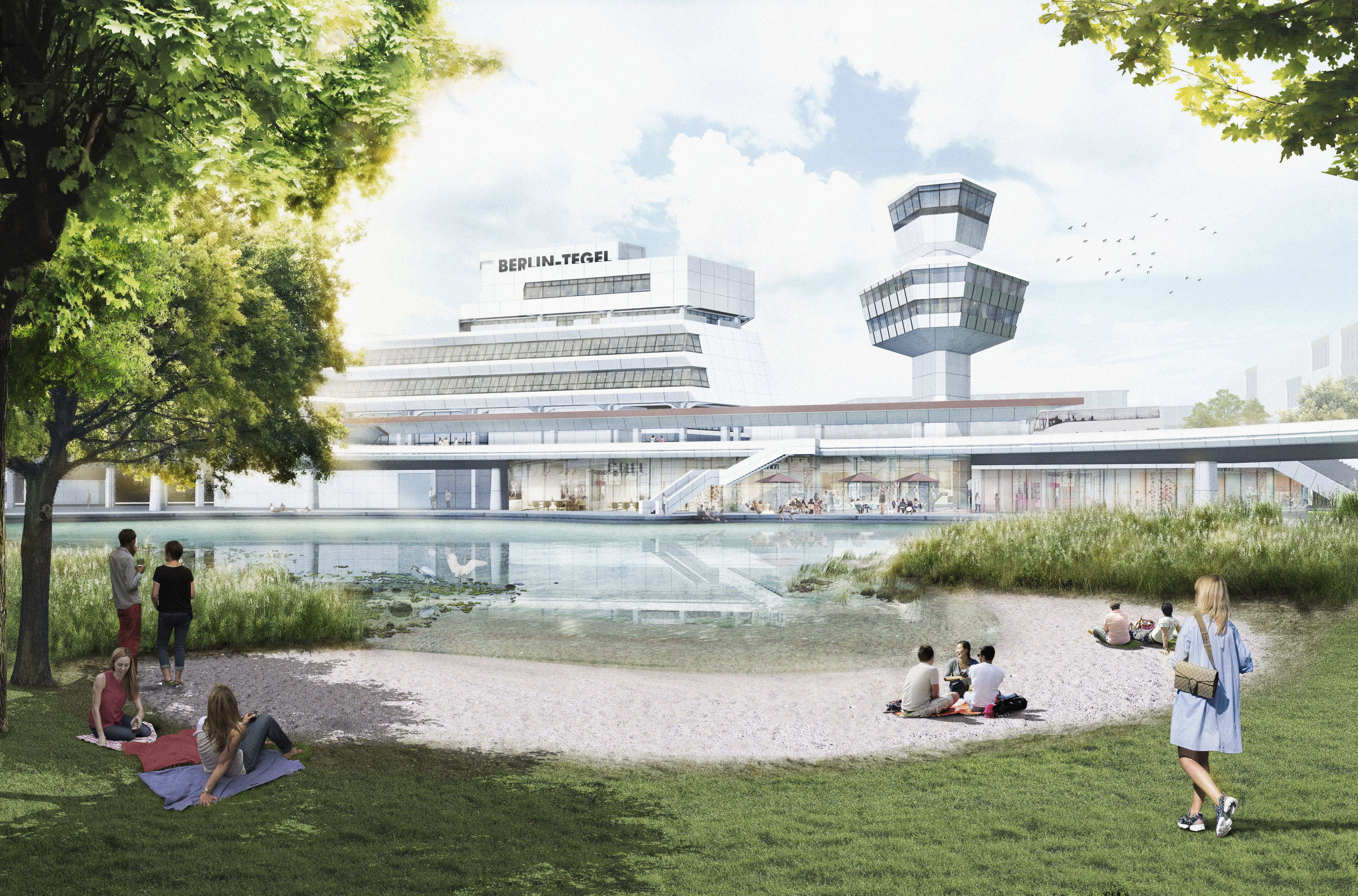 Atelier LOIDL
Berlin, Germany, is transforming a disused airport into an über-modern, green metropolis.
After the Tegel international airport saw its final plane take off in 2020, the 1,235-acre site sat unoccupied, and air traffic transferred over to the newer and nearby Berlin Brandenburg Airport. But the space wouldn't be abandoned for long.
By 2021, plans for the Tegel Projekt, an eco-friendly initiative commissioned by the state of Berlin, were underway. Construction on the ambitious project will begin later this year, with the initial phases set to be completed by 2027. Also referred to as Berlin TXL, it comprises two main components: the Urban Tech Republic and the Schumacher Quartier.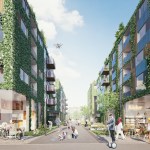 Tegel Projekt GmbH rendertaxi
The Urban Tech Republic will serve as a hub for innovative research and production, with around 1,000 businesses, 20,000 employees, and even a college campus. Over 2,500 students are expected to live in the former airport terminal building as they study at the Berlin University of Applied Sciences (Berliner Hochschule für Technik University).
The residential portion, Schumacher Quartier, is one of Berlin's answers to the need for more affordable, sustainable housing. It will be home to 5,000 apartments and will boast shopping centers, daycares, schools, and vegetation. With an emphasis on renewable energy and environmentally friendly transportation, the car-free area will promote cycling and walking over driving. Electric buses and a tramway are planned for a future stage of development, Euronews reports.
"We want to let people rediscover the public space, for socializing, playgrounds, places to relax and talk," Constanze Doll, spokesperson for the project, told Discovery.com. She added: "The Schumacher Quartier is planned in such a way that the streets and squares belong to the people again, rather than to cars."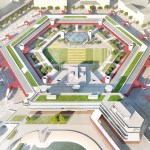 Tegel Projekt GmbH gmp Architekten
The very fabric of the community itself will also be eco-friendly. Buildings will be made with at least 50% wood, which absorbs carbon dioxide and is a renewable resource. Vertical gardens will provide aesthetically pleasing greenery, known to boost morale in urban areas, while helping cut down on air conditioning energy expenditure. Solar panels will be placed on every rooftop, and "sponge city" technology — such as permeable pavement and rain gardens — will absorb water to help keep the city cool and mitigate potential flooding damage.
In addition, a sprawling nature reserve and protection area will cover almost half of the development's acreage. Experts have identified 14 species, including birds, mammals, and insects, that they hope to create habitats for in the residential district.
Berlin as a whole intends to become climate neutral by 2050, and developers hope the Tegel Projekt will serve as a blueprint for that goal — not only for Germany and Europe, but for the rest of the world.