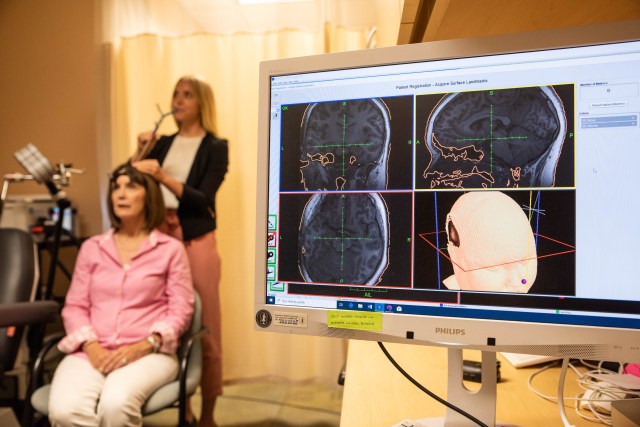 Steve Fisch/Stanford Medicine
In October 2021, researchers from the Stanford University School of Medicine published a study demonstrating the effectiveness of a new, rapid-acting magnet therapy on patients with treatment-resistant depression. SAINT, or Stanford accelerated intelligent neuromodulation therapy, is a more intensive and individualized iteration of transcranial magnetic stimulation (TMS), which has been in use for years. This past September, the FDA cleared the new therapy for marketing, paving the way for SAINT to be used in clinics and hospitals across the country.
"It works well, it works quickly and it's noninvasive," Dr. Nolan Williams, senior author of the October study, and an assistant professor of psychiatry and behavioral sciences at Stanford, said in a press release last year. "It could be a game changer."
Both SAINT and TMS utilize magnetic pulses to stimulate regions of the brain. TMS is a standardized protocol that requires six weeks of near-daily treatment. It uses 600 pulses per session, and each session lasts about 40 minutes; only around half of patients see improvement, with a third going into remission. SAINT, on the other hand, employs MRI to determine the best location to target within each patient's unique prefrontal cortex, and uses 1,800 pulses per three-minute session.
RELATED: Doctors in England Can Now Prescribe Walking, Cycling to Improve Mental and Physical Health
In the October report, the authors noted that the protocol had been previously "associated with a remission rate of ∼90% after five days of open-label treatment." To further investigate, they split 29 patients experiencing treatment resistant depression into two groups for a double-blind and randomized trial. One group was given a placebo treatment that mimicked the procedure, while the other received the actual therapy.
After five days of the magnet therapy, 78.6% of patients in the active group no longer felt symptoms of depression. Four weeks after the treatment had been completed, those in the active treatment group continued to experience a mean reduction of 52.5% in their baseline depression rating, a figure determined via the Montgomery-Asberg Depression Rating Scale (MADRS).
Experts in the field are pleased with the recent FDA clearance, which was granted to a California company called Magnus Medical that will commercialize the protocol. Dr. Mark S. George, a member of the Brain & Behavior Research Foundation's Scientific Council, said in a statement: "This is more than just clearance of just another device. It expands the way we can use TMS to treat depression." He added that it "opens up many new possibilities to use SAINT in hospitalized patients, and for patients who present to the emergency room."
"It's humbling to be able to see that your work has had a positive impact on people and able to change their life," Williams told NBC in July.
For one 30-year-old patient named Sergio, the results really were life-changing. "It's wonderful to be able to enjoy the things I loved again," he said. "I have a greater appreciation for life and all of the gifts and blessings that I have."