StefaNikolic/ iStock
For the billions of people who live in the Northern Hemisphere, the winter months usher in frigid weather: from heavy rains to blustery blizzards. While these cold, outdoor temperatures can make for a cozy setting of sitting fireside at home and drinking hot tea, the repetition of weeks spent indoors can feel monotonous. In the interest of warding off cabin fever, and avoiding the tendency of phone scrolling or binge-watching TV from the couch, we've rounded up some creative activities to stay engaged while inside — and maybe even learn or try something new.
Create a Donation Box of Items to Get Rid of
Looking for a productive way to stave off boredom, clear out clutter, and do some good, all at the same time? Gather up the things you no longer use and donate them to a worthy cause. Nothing beats the satisfaction of heading into spring newly organized. Once you've gotten everything into a pile, here's a list of eight charities that will come pick up your unwanted items for free. The list, from Moving.com, includes a brief overview of each organization's mission, which ones are located in your area, and what types of items they're looking for.
Try Out a Few New Recipes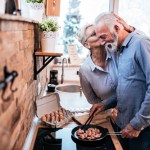 Sure, spaghetti carbonara is a classic, and an easy weeknight dinner staple, but being stuck indoors offers up an excellent opportunity to learn a few new recipes that you can then introduce into your meal rotation — ensuring delicious variety for the year ahead. Mix it up even further with different techniques: cooking, baking, and stirring up delicious new drink recipes (alcoholic or non-alcoholic). There are nearly as many sites with new recipes to discover as there are new things to cook. Consider checking out the likes of Epicurious, Food Network, Yummly, or Allrecipes to get yourself started.
Write Handwritten Letters to Friends and Family
While texting or emailing certainly gets the job done when it comes to communicating with the people you care about, receiving a handwritten "just because" note on cute, classic, or funny stationery is a lost art that deserves to be revived. Friends and family will be touched that you took the time to pen a personal message, and nothing brightens up a mailbox quite like snail mail. Etsy offers a creative array of cards and stationery sets, and as an added bonus, you can support a small business with your purchase while finding a thoughtful way to communicate with someone you care about.
Try an At-Home Workout
If you're committed to getting healthier this year but aren't as motivated to hit the gym when it's chilly out, there is an infinite variety of at-home workouts available, many of which don't require a single piece of equipment. Here are 12 different workouts courtesy of Self.com that require nothing more than your own bodyweight. Or, for a minimal investment in some simple pieces of equipment — including a jump rope and resistance bands — here are Today's recommendations for affordable additions to your home exercise routine.
Play a Game — Either the Tabletop Kind, or a Digital Version of a Classic
If game night isn't already part of your routine with family or friends, consider winter the perfect time to launch a new tradition. Research has shown that playing board games offers a variety of health benefits, including the improvement of cognitive impairment and depression for people of all ages, and it's a fun way to connect. Whether you go old-school with a tabletop classic like Monopoly or Risk, discover a new board game (here's a roundup of games recommended by The New York Times), or opt for a digital version, the options for a good time are nearly infinite.
Create a Monthly Vision Board
If you've set goals you'd really like to accomplish this year, nothing boosts motivation quite like being able to envision what you're aiming for — and putting it in plain view as a reminder of why. It's a fun craft that you can tackle in an afternoon with posterboard, glue, and old magazines to cut up, or there are plenty of online options, like Pinterest, if you prefer to carry your inspiration with you wherever you go. Here are Oprah's recommendations for making your board especially effective.
Journal
Medical professionals agree that journaling is excellent self-care and delivers myriad benefits, like helping you set and achieve goals, reducing stress and anxiety, and improving your communication skills. Not to mention, there's more than one way to journal: you can log your dreams, practice gratitude, sketch, or keep track of special moments in your life. To enhance the relaxation aspect of your journaling and turn it into more of a meaningful ritual, pair it with your favorite beverage, like tea, coffee, or hot cocoa.
Create a Gratitude Jar (or Box)
Similar to a gratitude journal, a gratitude jar (or box) involves the practice of writing down positive things that happen in your life and capturing special moments that bring you joy. Why is this a good thing to do? Our brains are naturally geared to focus more on the negative as a means of keeping us safe from threat — but leaning too far into this natural tendency can have a negative impact on our moods. Writing down things you're grateful for can help you keep a more balanced perspective on life. Here are some tips from Mind Body Green on how to get started with a gratitude jar of your own.
Create a Reading List — and Start Reading
It's never too late to cultivate a love of books and reading, and experts agree that reading is good for you, delivering benefits to your brain and your mental health. Reading helps to reduce stress and anxiety, it battles mental decline, and helps to cultivate empathy and compassion, among other benefits. Apps like Goodreads keep it interesting by providing reading challenges, making recommendations based on your preferences, and connecting you with fellow readers to create a sense of connection and community. BuzzFeed has curated this list of 22 reading-related apps, all but ensuring you'll find the one that can kindle, or rekindle, your love of reading.
Turn Up the Tunes While Doing Chores
Let's face it — there's no getting away from the need to do chores, but adding your favorite music into the mix can turn those otherwise dreary indoor activities into more upbeat experiences (and maybe even the occasional opportunity to dance while vacuuming). There are countless music streaming services like Spotify, Apple Music, and YouTube (check out WIRED's picks for the best options), or if you own a record player, you can break out your favorite vinyl while you work.
Take Up Scrapbooking
Scrapbooking brings together the fun and satisfaction of crafting with the meaningful act of documenting your memories. Not only does it provide you with a creative activity to do in the present moment, it also leaves you with an extraordinary archive of meaningful life events that you — as well as family members and friends — can enjoy looking back on for decades to come. Here are some tips for beginners, courtesy of The Spruce Crafts, plus YouTube has no shortage of inspirational videos to guide you.
Enjoy a Classic Movie Marathon
If you've never taken the time to enjoy classic films in this era of ongoing new content, catching up with some oldies is a great palate cleanser, and may even infuse you with a newfound appreciation for the movies that inspired the next generation of your favorite filmmakers. Streamers like Tubi and Pluto offer an array of free selections, as does YouTube. Having trouble deciding where to start? Check out Rotten Tomatoes' picks for the top 100 classic movies of all time. But if they simply aren't your thing, consider watching a documentary for a refreshing change of pace.
Learn Something New
The internet, of course, offers an infinite array of ways to learn new things. An incredible number of universities have free course options available to the public: edX has curated a wealth of free courses offered by various institutions of higher learning, including top tier schools like MIT, Harvard, and Boston University. Many public libraries also offer free online courses; check out your local library's website for more information. Websites like Instructables.com provide a wealth of free how-to guides for crafters, builders, and makers. Or consider learning a foreign language — a number of language learning apps have free versions available. See PCMag's recommendations for the best free language learning apps here.
Engage in an Act of Kindness
Doing something nice for someone else — be it a friend or family member, stranger, or charitable organization — has been proven to boost one's mood and sense of connection to the world at large while simultaneously strengthening the community. The Random Acts of Kindness Foundation has gathered a bounty of excellent suggestions for what to do and how to get started, with specialized suggestions for schools, businesses, and individuals.
Invite Friends and Family Over for Game Night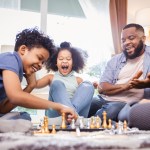 This takes No. 5 on our list (Play a Game — Either the Tabletop Kind or a Digital Version of a Classic) a step further. Make game night an all-out event with delicious food, your favorite snacks, and the company of your loved ones. Turn it into a potluck, or make it simple with pizza delivered to your door. The point is to enjoy people in person while staying cozy indoors. Good Housekeeping has compiled some tips for how to host a game night your guests are sure to remember.
Throw a Virtual Party
The COVID-19 pandemic certainly elevated virtual socializing to an art form. Even as mandated social distancing has eased up, it's still a safe way for immunity-compromised individuals and people with disabilities to socialize, and it remains an inexpensive option for staying connected to friends and family who live far away. Popular Science created a list of top tips for making an online party extra special. Get everyone involved with a household scavenger hunt, watch a movie together on your favorite streamer, or take a virtual mixology or cooking class together.
Take a Virtual Tour of the World's Top Museums & Historical Sites
Did you know you can enjoy virtual tours of many of the world's finest museums and historical sites without ever leaving your sofa? With Google Arts & Culture as your guide, you can hit Rome's La Galleria Nazionale, the Opera de Lyon in France, and the Taj Mahal in India — all in a single afternoon. The site allows you to curate your own experience from a variety of options: favorite artist, medium, time period, or even a particular color (thanks to its Color Explorer option).
Get Crafty
Learning a new craft or upleveling your skill at one you're already familiar with — be it painting, embroidery, candle making, calligraphy, woodworking, or one of the endless indoor activities out there — is another excellent option for warding off boredom while granting you the satisfaction of creating something you'll later use, enjoy, or gift. As mentioned above, sites like Instructables.com can walk you step-by-step through a particular project, while conducting a general search for "craft ideas" on sites like Pinterest or even Google can introduce you to hobbies you might not otherwise have considered trying.
Explore or Create Your Family Tree
If you've never explored your family roots, there are a number of free and subscription-based services to get you started. Sites like Canva and Adobe offer free templates if you prefer to do your own research and start from scratch. WikiTree is another free site, run almost entirely by volunteer genealogists, while FamilySearch.org — a nonprofit organization run by the Church of Jesus Christ of Latter-day Saints — grants users access to its extensive database of information, regardless of their religious affiliation. If you're comfortable providing a DNA sample, subscription-based services like Ancestry.com and 23andMe.com allow you to verify your connection to other family members based on DNA you have in common.